How to properly describe the sound of an ice skater? I'm not sure. But the image of one is easy. Skaters bundled, some woolen from head to toe. Rosy-cheeked, Cheshire-grinned little ones with pink fuzzy earmuffs, arms linked with their buddies or their grown-ups. This scene may sound like it hails from some far-off place, somewhere where it rains less and freezes more, but fortunately for Thurston County, this is not just a fantasy. This is Oly on Ice as it returns this winter for its second season!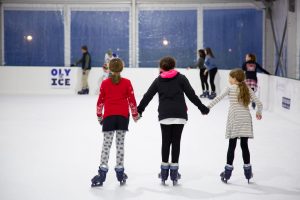 Triple Axel…Lutz…Salchow…upright spin. Do you have it in you? You'd never even have the chance to try if it not for the support of generous community sponsors. In a season where darkened, angry skies usually keep us home, City of Olympia's Parks, Arts & Recreation department and their sponsors have found a way to make this winter shine, even if it's only the reflection of the ice.
With more than 20,000 skaters in its first season and thousands more spectators, year two is poised to be bigger and better. This year, more than 65 community sponsors and program partners are supporting the rink. Thanks to their generous contributions, both the tent and the rink will increase in size and the season will extend to January 20, 2020.
Skating for Good Health
Dr. Scott Rowley, DDS, and Dr. Ben Ruder, DDS own Small to Tall Pediatric Dentistry, which caters to the youngest of the skaters. They are a Premier Sponsor of the rink this year. "I love the creative use of space," says Rowley, "and how Oly on Ice brings people together in an active way, celebrating the winter season in downtown Olympia. Ice skating is a winter sport most kids in our community only read about in books. Bringing this storybook activity to life is memorable for kids of all ages, and we look for ways to support and create positive experiences for the kids in our community."
Ruder echoes Rowley's sentiment. "As a local, small business focused on children and their health, we like to promote other like-minded organizations that offer children and families the opportunity to engage in healthy, educational, and nurturing experiences," he adds.
And they aren't the only sponsor focused on health. Rachael Sherburne, from Olympia Orthopaedic Associates, says her organization strongly believes in helping get their patients' lives back in motion. "We try to support other organizations in our community that promote health/fitness and an active lifestyle," she says.
Skating for Togetherness
There's a theme that each ice rink sponsor touched on when asked why they've chosen to support the rink this year: family togetherness. Ann Flannigan, vice president of public relations for Washington State Employees Credit Union (WSECU), stopped by the rink last year to observe the festivities. "I saw families with kids of every age having a great time," she says. "The fun they were having, no matter what their skating ability, was what I liked best. Phones were in pockets and people were just in the moment." Seeing that fun in action was what prompted WSECU to join as a sponsor this year.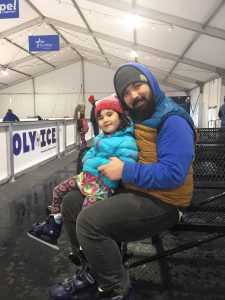 Propel Construction Company is the rink's Presenting Sponsor this year. Propel President, Jerad Bender, looks for ways to show up for his community in a meaningful way. He often sponsors events for children, including events at the Hands On Children's Museum and his daughter's school, Black Hills High School. "I like that the ice rink is something different for my family to do in the winter," he says.
"Oly on Ice has been a wonderful addition to the community because it offers precisely the sort of experience we seek to promote," says Dr. Ruder, "it allows kids to have fun, experience something new, and brings families together."
"I like that this is a family event," Sherburne says. "It's a great way to bring folks downtown and see all that Olympia has to offer. We live in a growing, vibrant community, and I think events like this really showcase that."
Skating for Community
Paul Simmons, Olympia Parks, Arts & Recreation director, is clear that this magical event does not come to life by the wave of a wand. "Quite frankly, Oly on Ice would not be possible without the support of our sponsors and program partners," he shares. "This was a massive undertaking for our department, and we could not have done it alone."
The rink is for everyone too, as Simmons goes on to illustrate, "Oly on Ice has generated a tremendous amount of both financial and in-kind support. In addition to increasing the rink size and extending the season, that will allow us to maintain affordable general admission fees, provide discounts to foster, military, and first-responder families, and distribute almost 500 passes directly to low-income families."
All of the sponsors I spoke to shared, in some way, that supporting the community was paramount to their business practices, and Flannigan sums it up well. "WSECU is a big believer that when we join together, we can do more together," she says. "We all have a role to play in making this a special place to live and connect."
Oly On Ice
November 22, 2019 – January 20, 2020
Isthmus Park
529 4th Ave W, Olympia
For a full calendar of events, hours, and rates, visit the Oly on Ice website.
Sponsored