Over the past few years, in response to industry demands and student requests, Saint Martin's University has added several new graduate programs. In addition to its established programs in accounting, business administration, civil engineering, counseling, education, engineering management, mechanical engineering and teaching, Saint Martin's has added programs in computer science, higher education and student affairs, and environmental engineering. Though Saint Martin's graduate students go on to work around the world, the focus on the needs of the local community in current and emerging fields drove the adoption of the new graduate programs. And as graduate program offerings have increased, one thing has remained the same: their focus on student-centered learning.
Saint Martin's can provide graduates to meet the needs of industries and organizations within Thurston county, says Chantelle Petrone Marker, director of graduate admissions. But even though the number of degree programs that Saint Martin's offers have increased, professor-student interaction is at an all-time high. "Many times, professors are the ones that initially developed the graduate programs, nurturing the ideas, planning and building the programs piece-by-piece until they're fully accredited," she says. "So they are deeply invested in the degree programs, and the students enrolled in them."
Master of Science in Computer Science
The Master of Science in Computer Science program came online in 2018. "We have a diverse faculty with varied expertise in areas such as security, e-commerce, and big data and data analysis," says Mario Guimaraes, Ph.D., chair of computer science. "We have small classrooms. We give individual attention, and we are very student-centered in our teaching approach." Guimaraes highlights the ability of all Saint Martin's graduate programs to be nimble and flexible as breakthroughs happen in their fields. This sentiment is shared by one of his colleagues in the engineering department.
"We've chosen areas that are all in advanced or emerging technology fields, in an environment where technology is shifting rapidly, the degree concentrations are developed specifically by the faculty to meet those needs, says Rico Picone, Ph.D., coordinator of mechanical engineering. Mechanical engineering and civil engineering are two of Saint Martin's most popular degree programs.
Master of Education in Higher Education and Student Affairs
Jackie Clark, Ph.D. is the program director for the Master of Education in Higher Education and Student Affairs. The program is designed to prepare college administrators who are assisting students outside the classroom in jobs focusing on housing, student activities, admissions, and many other areas. "We follow a set of standards, which includes about 45 different areas where college administrators will work," says Clark, "so students will be prepared broadly to work in many of those areas, and they can also focus their education greatly in the specific areas that interest them." The program launched in fall 2018. "It's uncommon for a university of our size to have this type of program, but because of our smaller size, we can work directly with the student to focus their education," she adds.
Master of Environmental Engineering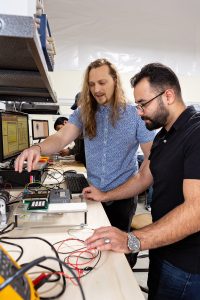 New in 2019, Saint Martin's has introduced its Master of Environmental Engineering program.  "We are trying to meet the emerging needs of our community, and we have very close relationships with the Department of Natural Resources and forestry industries," says David Olwell, Ph.D., dean of the Hal and Inge Marcus School of Engineering. The program prepares graduates to create sustainable solutions to complex problems in areas like wastewater treatment, solid waste management systems, air and water purification, as well as environmental protection issues.
"We love to build on the relationships that we have with industries and manufacturers in this state to keep producing highly qualified graduates to fill positions in local businesses and organizations," he adds.
What Does a Saint Martin's Graduate Student Look Like?
With graduate students from all ages, experiences, backgrounds, and points in their careers, there is no one single picture of a Saint Martin's graduate student. That's what makes the close-knit student-focused programs such a great fit for so many. "Having such a diverse classroom makes our classroom discussions richer, as we are learning more from each other," says Clark.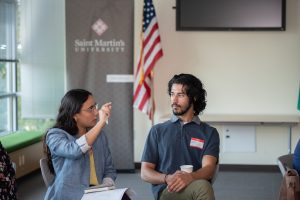 Ryan Johnston is in his second year of the Master of Business Administration (MBA) program. With a lot of professional experience in different areas from management to training program creation, he wanted a program that would take his experience and help him hone his skills, while also strengthening his learning and understanding in new areas, allowing him to come out on the other side with a graduate degree. "There can be some uncertainty about where to go next in your career, but with the personal growth that comes from a degree program, I knew it was going to be beneficial, but I didn't realize just how beneficial it would be," he says. "Programs are not geared toward what will make you good on some test, but what will make you successful after the test in your professional life," he adds.
In addition to graduate programs, Saint Martin's offers certificate programs in many areas to help professionals gain new skills, put a new shine on the ones they already have, and demonstrate their learning and capabilities in a way that is recognized and received well by employers.
"When you're looking to kickstart or reorient your career and you are looking at the jobs you find most interesting, the jobs that everybody with a bachelor's degree wants, graduate work tends to help set you apart and gives you an edge to get hired in those jobs," says Picone. To find out more about the many graduate degree and certificate programs available right here in Thurston County, take a look at the Saint Martin's University website.
Sponsored