When Ginny, Ron and Dennis gather around a table, the room fills with laughter and tales of adventures from far-away places. Their shared camaraderie is built on years of experiences with Friendly Water for the World. They started in the early days when Friendly Water was finding its footing. All three have dedicated impressive amounts of time and talent to the growth and development of what has become a global network. They have recently "graduated" from board positions, but remain true ambassadors for this worthy organization.
"I've done water my entire life," said Ginny Stern, a retired hydrogeologist who worked for the State of Washington for 28 years. Her career was about delivering safe and reliable drinking water. Some time ago, Ginny was excited to participate on a trip to Tanzania to teach English to eighth graders. Learning English allows these youth to continue on to high school which opens the doors for greater opportunities. Initially, she didn't go to teach people about water filters; that would come a little later.
Ginny was taken with the helpful and caring people of Tanzania. As an older, white woman, she stood out. At first, they called her Madam Gin, a pleasant formality. On a return trip she became Mama Gin and later Bebe Gin, as she grew closer to the people there. As she became more involved with Friendly Water, Ginny was interested in helping at-risk communities with their water needs. One significant group is the albinos in Tanzania, who are persecuted because others believe there are magical powers in their body parts.
"I'm really a Friendly Water supporter," affirmed Ginny, who also commented that she has found that people in Africa have an entrepreneurial spirit that just needs a little help to make a difference. This may come in the form of modest financing or helpful training. She's loved being part of the spark.
Then there's Ron Storey. A long time Rotarian, he believes in the value of service. Ron happened to attend a Friendly Water event and was intrigued. To get more information, he attended a second event where he met David Albert, a dynamic force in the evolution of Friendly Water. "I'm on David's speed dial," Ron joked, who has since been on trips to Rwanda and Uganda. His last trip to Africa included his wife and 9 of the 12 board members: Clearly the Friendly Water board demonstrated their commitment to bringing clean water where it is direly needed.
On a personal note, Ron has family members whose baby died from SIDS. Witnessing and living through such grief brought first-hand experience about the traumas faced by other families. Every 20 seconds a person gets a waterborne illness. Many children get sick and die. "I needed and wanted to make a difference," reflected Ron. He is especially enthused to be part of training representatives from eight different countries where filter technology is being implemented.
For Dennis Mills, Friendly Water is about peace and reconciliation. People work side by side to teach about water filters when in times past they were at war. Dennis, a retired professor of English, has been instrumental in the past, writing training materials, creating the website and developing social media. On a trip outside the U.S., he came face to face with the lack of potable water. "You just don't go to the tap," he remembered. "They don't have the water we have." Even the hotel's water was unsuitable for drinking. "I can help spread the message," he added and pointed out that Friendly Water has delivered solutions to communities in 15 countries.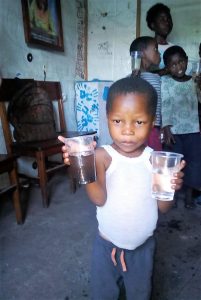 All three recently volunteered time at the Friendly Water table at the downtown festival Harbor Days. They enjoy sharing information about making low-cost clean drinking water a reality for all parts of the globe. Their past work has opened doors and helped reveal an expanded role for Friendly Water abroad.
Friendly Water has introduced the BioSand Water Filter to communities through training and knowledge sharing. The filter is a proven way to remove bacteria, viruses, protozoa, worms and heavy metals from water. But clean water also requires a water source. Rainwater catchments are often now installed in communities where many women and children are required to travel far distances to find water. Other low-cost essential technologies including brick making, microflush toilets, soap making and rocket stoves have also been requested and are being implemented and tested.
"We've made a difference," the trio agreed. Being part of Friendly Water has extended their families, both locally and on other continents. You, too, can make a difference. There are many ways to participate with this organization. You might want to sign up for their newsletter to keep abreast of upcoming events and trainings or take a look at the Friendly Water for the World website.  You could arrange to have a Friendly Water speaker come to your service organization, become a volunteer or make a donation. Every one counts.
Friendly Water for the World
1421 W Bay Dr. NW
360-214-3145
info@friendlywater.org
Sponsored