Nearly 2,000 excited fans packed the Yelm High School stadium as the Yelm High School Tornados took to the new synthetic-turf field for the first home football game of the season under the Friday night lights.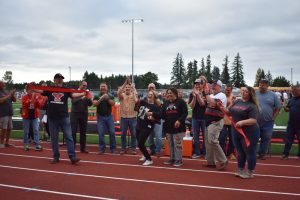 Each year the National Football League's Grassroots Program provides a number of grants of up to $250,000 for capital improvement projects to select organizations around the country. In 2018, Yelm Community Schools (YCS) was chosen as one of just 14 groups nationwide to receive funding for a brand new, state-of-the-art athletic field. The project concluded at the end of August with a record breaking crowd of local residents and alumni attending the first home football game on the new field September 6.
"We were very fortunate that out of all the applications in the Seattle Seahawks' zone, they picked ours to move forward to the NFL," says YCS Superintendent Brian Wharton. "From what I can see, we're the only small town that got one. It's mostly large urban centers with huge partnerships. We're really proud of that."
Construction on the stadium began May 15 and included a new scoreboard, new field lights, and a new synthetic turf playing field. In addition to the new field, fencing was improved, and the track was repaired, cleaned and restriped. The entire project was completed on August 16, just in time for the fall sports season.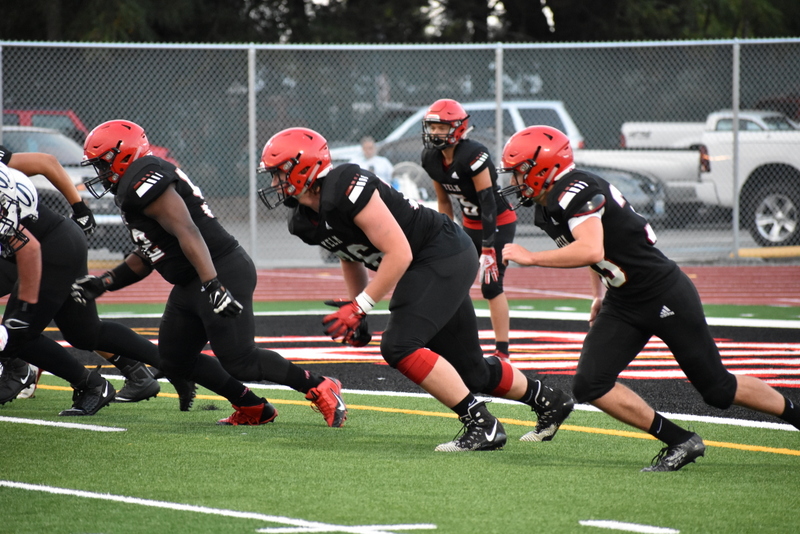 To qualify for the grant, the school needed to demonstrate a need for a new field as well as strong partnerships with other community groups who would also use the facility. The first part was easy, according to Wharton. "We were only able to use this facility about 30 times a year," he explains. "If it rained in the fall and we put football and soccer on it, it would become mud and none of our varsity sports could practice on it. We were missing out on the ability to host community events and state playoff games in multiple sports while using two million gallons of water a year."
Yelm High School Head Soccer Coach Jay Dorhauer offers a glimpse of what it was like for players using the previous field. "Last year we had a terrible fall and spring weather-wise, and the field got pretty torn up and never recovered," he says. "It became a game of chance because there were ruts and clumps of grass and dirt all over and you didn't know which way the ball was going to bounce. It was hard to maintain possession because it was a guess where it would end up after you passed it." The new artificial surface will allow the team to control the type of game they play, he says, and players can have confidence that the ball will reach its intended destination.
Getting the project completed on schedule was a team effort on the part of multiple local companies and organizations, led by Donny Jones, regional vice president of Field Turf's Northwest division. Before the home opener between the Tornadoes and Skyview, Seattle Seahawk Demetrious Knox and dancers presented the $250,000 check. After the presentation, Mayor JW Foster and Yelm Chamber of Commerce Executive Director Line Critchfield held the ribbon as School Board Member Debbie Edwards made the celebratory cut at the grand opening of the new field.
YCS was sure to recognize many local and regional partners including the City of Yelm,  Project Manager Greg Weisbrich, landscape architect Robert Droll, Tim Butz of Musco Lighting, MB Electric Project Manager Abe Abrahamson, Kyle Williams of Daktronics, Jim and Tracy Brumfeld of Wood and Link Fence Company, Cory Kollis of Puget Sound Entertainment, and YCS's Thad Nelson, Athletic Director Rob Hill, and Director of Facilities Chris Hansen.
Wharton credits Jones with bringing the team together. "I truly believe that Field Turf is the best organization in the business," he says. "They connected us with all of these local contractors. I also value the construction management strength of Bob Droll and Greg Weisbrich. We met every Wednesday for the four months we were building, and everything happened exactly how we wrote it up."
In addition to creating the project's landscape design, Droll met with students in Yelm High School's landscape program as a guest lecturer to bring real world projects into the classroom. "That was a lot of fun," he says. "It was amazing that they were all paying attention and really wanted to learn what landscape architecture was all about." Both Droll and the Thurston County branch of Renewable Energy Systems donated $2,000 and $5,000 to the project.
With the new field in place, the second aspect of the grant can unfold: community partnerships. Multiple local groups will use the new facility for games and events, including Thurston County Youth League Football & Cheer, the new Boys & Girls Clubs of Yelm, the Prairie Soccer Club and the American Cancer Society. "This allows us to host seven weeks of games all day long every Saturday through the youth football season," says Andrew Mohl, president of Yelm Tornado Youth Football & Cheer. "It's the first time we've had more than one weekend of games at the high school field so we're really excited about it as coaches and the kids get a kick out of playing there."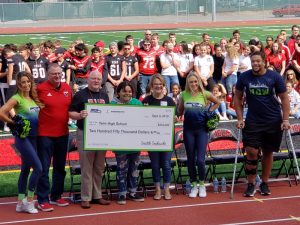 Dave Lott, president of Prairie Soccer Club, says the new field will allow for local tournaments, something the club was previously unable to host. "We'll be able to have them in our hometown instead of having to outsource," he says.
For the YHS football team, the biggest advantage will come with the rain in the fall, according to Head Coach Jason Ronquillo. "Every year when the rain hits, our team was pretty much practicing in the mud," he says. "It's really hard to train fast and top-end speed when you can't get traction. I always felt we were at a disadvantage come post-season because of our practice fields and inability to practice fast. This will level the playing field come October and November."
Learn more at the Yelm Community Schools website or by calling 360.458.1900.
Sponsored