For more than a quarter century, the Capital Invite has been the season-opening event for almost every local high school cross country runner.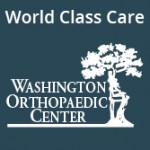 At 2.23 miles, it's slightly shorter than the 5,000-meter distance the athletes will build up to as the year progress. It also has the unique feature of having classes compete against each other rather than everyone thrown into the same race.
Seniors run against other seniors, juniors against juniors, and so on.
"It really is a great way to kick off the season," said Northwest Christian head coach Mike Michael. "We always love coming out here and competing. The kids all know each other, but with the different classifications the local schools don't always compete against each other during the season. So, this is perfect."
With its festive atmosphere, highlighted by its seemingly never-ending catchy playlist of past and present hits blaring over the PA system, the Capital Invite held its 26th edition on September 14. The meet saw 31 schools with more than 1,200 runners participate.
Local runners comprised half of the top 10 finishers in the senior boys' race with Olympia's Connor Griffith posting the overall fastest time at the meet. He covered the 2.23-mile distance in a speedy 10 minutes, 58.22 seconds.
Griffith, who was last year's junior division winner at the event, was the only athlete to post a sub-11 minute time in the race. His winning mark this year was more than 46 seconds faster than what he ran in 2018.
Northwest Christian seniors Noah Phillips and Garrett McSheffrey finished second and fifth, respectively, with Phillips clocking in at 11:08.27 and McSheffrey crossing the wire in 11:15.97.
Griffith's teammates Max Barnes and Ben Kosa also had strong season-opening debuts. Barnes was eighth (11:22.35) and Kosa ninth (11:23.35) in the senior boys' division.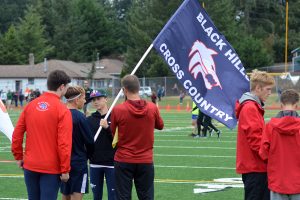 The Bears were the only team at the meet to triumph in two divisions. Olympia's Ethan Coleman joined Griffith as a Capital Invite champion after winning the sophomore boys' race in 11:13.68. Coleman was sixth at the meet last year. His time this season was a remarkable 2:25-minute improved over his performance as a freshman.
Prairie's Meri Dunford captured the senior girls' title, stopping the clock in 12:55.40. Henry Jackson's Anna Skoog was second (13:41.91) and Tumwater's Olivia Bailon was third (13:52.82).
The Thunderbirds also received a 10th place from Lillian Gow (14:47.32), while North Thurston's Payton Huss (seventh, 14:33.57), Capital's Shasta Hecht (eighth, 14:38) and Rainier's Sophie Beadle (ninth, 14:40.88) each placed in the top 10.
Capital's Aubrey Harrington registered the best time among the local girls as she finished fourth in the sophomore race with a time of 13:46.46. Washington's MaryAlice Mitchell won the race in 13:34.79. Rainier's Selena Niemi (14:25.17) was sixth in the race.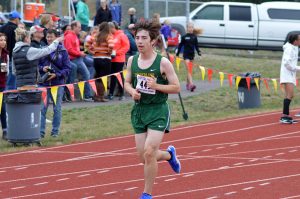 Samir Amin of North Thurston had an impressive showing in the junior boys' race, taking home second place with a time of 11:15.16. Brenden Charbeneau of Henry Jackson edged Amin for first place, crossing the wire in 11:14.24.
Amin's teammate Ian Coker was sixth (11:53.97) and Capital's Troy Peternell was seventh (11:58.93) in the junior boys' division.
Four local sophomores collected top 10 finishes in the boys' race with Tumwater's Beau Fields (12:04.94) placing fourth, Jeron Griffin of Black Hills (12:07.20) fifth, Rochester's Levi Jennings (12:10.82) sixth and Olympia's George Merrifield (12:14.78) claiming ninth.
In the two freshmen divisions, Northwest Christian girls' Jose Ryder (14:59.88) and Rachel Carlson (15:23.90) finished fifth and seventh, respectively, while Timberline's Riley Wilson (sixth, 12:16.21), Tumwater's John Hoffer (seventh, 12:18.88) and North Thurston's Dagim Cherniske (12:37.98) all took home medals.
Preston Fradet of Gig Harbor's Kopachuck Middle School won the boys' middle school race. Fradet covered the 1.6-mile distance in 9:16.78. Tumwater seventh-grader Luke Grunenfelder was second (9:47.16) and Tenino eighth-grader Carson Hunt was third (9:54.92).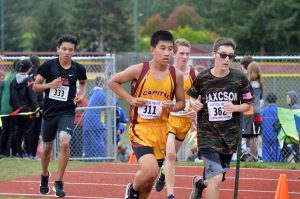 Grunenfelder joined Rochester's Taydee Evenstar as the only seventh grade to finish in the top 10. Evenstar with fifth (10:01.61). Tenino's Tate Nelson was sixth (10:01.79), while Tumwater's Devin Rodrick (seventh, 10:02.07), Joseph Langan (eight, 10:13.42) and Campbell Bonds (ninth, 10:14.95) all finished among the top 10.
Northwest Christian seventh grader Maddie Ingram notched a first-place finish in the middle school girls' race with a time of 9:57.78. Rochester seventh grader Kaylee Lehman was second (10:08.37).
Additional top 10 local placers in the middle school girls' race was Tumwater's Lilly Kincaid (fourth, 10:27.87), Bush's Alaina Hagara (eighth, 11:12.18) and Milynda Johnston (10th, 11:22.34).