Get ready for the thrill of your lifetime as dinosaurs invade Huntamer Park in Lacey for the annual Children's Day community event on Saturday, October 5, 2019 from 11:00 a.m. to 2:00 p.m. This free event is made possible by Lacey Parks & Recreation, the Lacey Timberland Library, and North Thurston Public Schools (NTPS). It's a full day of family fun, with this year's highlight being Jurassic-sized encounters courtesy of the Dino Crew. You will not want to miss this walk in the park with dinosaurs!
The Dino Crew, an entertainment company from Phoenix, Arizona and Seattle, Washington, brings prehistoric dinosaurs to life to delight audiences of all ages. Imagine the thrill when your child sees "real life" dinosaurs! The dinosaurs, including the very popular velociraptor and baby T-Rex (standing at almost 7-feet tall!), will be available throughout the day to interact, pose for photos, and play games with your children. The Dino Crew will also hit the stage at 12:00 p.m. with an interactive performance. "A dino dance off perhaps?" says Jeannette Sieler, recreation supervisor II for Lacey Parks & Recreation. There will also be a fossil dig and other dinosaur-related exhibits for families to enjoy.
Don't worry about your little ones being frightened, we have it on good authority that the Dino Crew knows how to wrangle their Jurassic charges. They can be quite friendly for young ones, but also delightfully scary for the older or braver children.
After experiencing the dinosaurs, there are plenty of other activities for your family to explore during the Lacey Children's Day. "Community businesses and groups will provide free games, crafts, face painting, and more," says Sieler. Keeping with the theme, kids will have the chance to make a dinosaur puppet or a necklace made of dinosaur teeth, and take part in a paleontology activity. And, you definitely don't want miss the giant jungle slide!
After the dinosaurs leave the stage, there will be more entertainment for kids of all ages to enjoy! The event includes performances by local youth dance, cheer, orchestra, baton twirling, and more.
And, you can't have a delightful day at the park without delicious snacks! Children's Day will have plenty of great vendors with food for purchase when your family needs a lunch or snack break.
Now in its 23rd year, Children's Day started out at Lacey City Hall in partnership with the City and Lacey Timberland Library. As the event grew and NTPS joined the partnership, it was moved to Huntamer Park, where there is plenty of room to have a full day of fun – even with dinosaurs! "The event offers families a place to come and celebrate kids and enjoy a fun day of free activities," says Sieler.
The three-entity partnership is what makes the day possible. "The City organizes the event, plans the theme and the main entertainment, sets-up all of the businesses and groups that participate at the event, and promotes it," shares Sieler. "The Friends of the Library help with financial support. The Library and school district help with promotion and also provide an activity for the event."
Lacey Children's Day is free and happens – rain or shine – on Saturday, October 5 from 11:00 a.m. to 2:00 p.m. at Huntamer Park. Parking is available at the lots surrounding the park. It's also a short walk from the Intercity Transit Lacey station. Don't miss this day of free, Jurassic-sized family fun!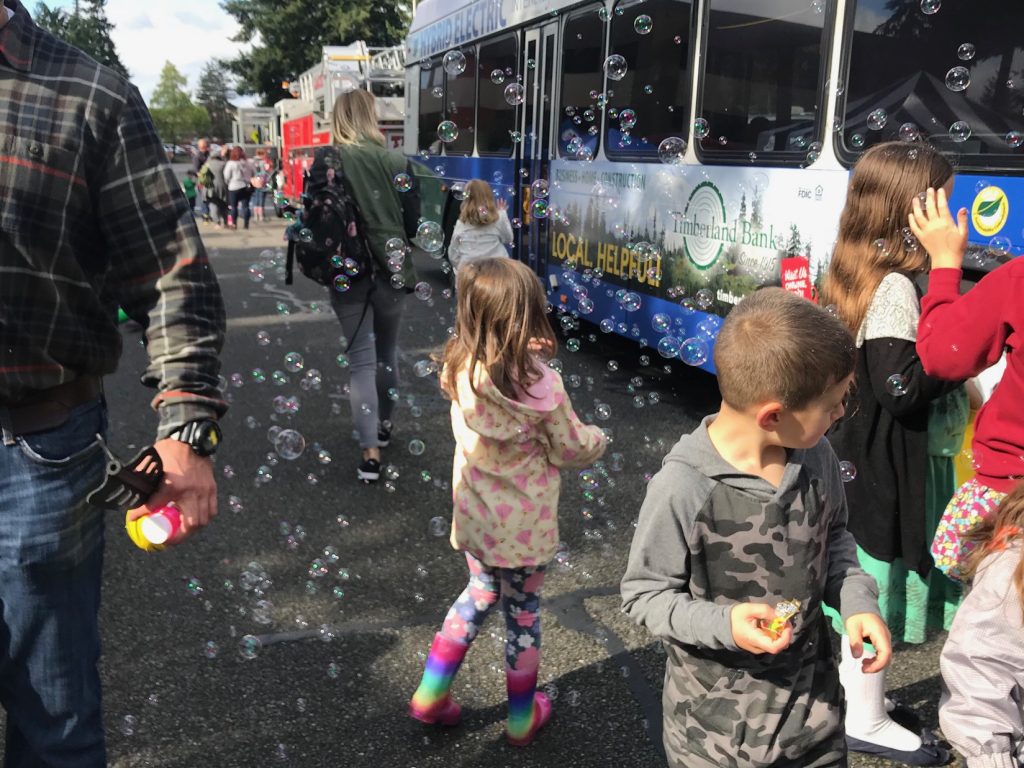 Sponsored