Fall quarter at South Puget Sound Community College ushers in new and returning students to the college campus. Coinciding with the beginning of classes on September 23, the college hosts its annual Welcome Week, a time for students to engage with peers, activities and school resources. This year's Welcome Week runs from September 23 to October 6 and The Office of Student Life has prepared a plethora of events that range from academically focused seminars and art projects to meetings with college leadership.
Not just an introduction to the college campus, Welcome Week also helps both new and returning students to find a sense of belonging and a support system as classes begin.
"From a theoretical perspective, students that are engaged in a community, whether that be through a campus club or an event, or a group of people, are more likely to persist and stay at an institution," explains Director of Student Life at SPSCC, Robert Lane. "Because they feel a sense of community."
Here are the highlights of SPSCC's Welcome Week Schedule.
September 23-24
September 23 and 24, SPSCC staff, faculty, and student leadership host tables around both campuses with a special Welcome to SPSCC event. From 7:30 a.m. to 6:00 p.m., staff and volunteers will be present to provide directions, serve as a friendly face on campus and answer general questions about college life. Each table will also contain a variety of SPSCC swag available for free to students, including water bottles, fanny packs and coloring books. These tables are also an introduction to a variety of campus amenities.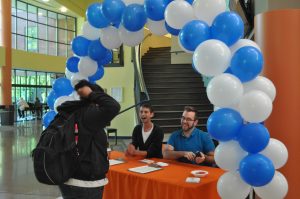 "We give them a welcome guide that has all the campus resources on it," says Lane. "What kind of programs do you want to see here? What resources are we missing? Because we know as an institution, we're always growing and changing, and our population of students is always growing and changing and so we want to be responsive to their needs."
September 26
September 26 from 11:00 a.m. to 1:00 p.m., is the Kickoff in the Quad, a SPSCC resource fair with live music and food. At Kickoff in the Quad, students can learn more about financial aid options, veterans and access services, counseling, advising, clubs, and the Diversity, Equity and Inclusion Center. Most of the resources presented at the fair are free to students. Outside community resources, like the Timberland Regional Library, will also be at the event.
"It's kind of easy to be in an information overload when you sign up for college," says Lane. "You get a lot of emails. You pick your classes and then you might tune out for the summer and so this is a way to kind of re-engage and familiarize yourself with the resources that are paid by your tuition."
September 30
From 8:00 a.m. to 7:00 p.m. on September 30, a banner will be set up in Building 27, the Student Union Building. Students will have a chance to participate in the interactive art piece, This Year I Will…. Whether it be striving for a certain grade point average, earning a specific degree, joining a club or making a new friend, students are encouraged to share their goals for the upcoming quarter and academic year.
"No one's going to be there following up with you in four months, but it's really just writing it down to paper," says Lane. "Last year, we had over 150 fill out the banner throughout the day and we were able to hang it in our Student Union Building as just kind of a reminder that it's a new day. It's a new quarter. It's time to commit to whatever you want."
October 1
The Fireside Chat with the President will take place on October 1 from 1:00 p.m. to 2:00 p.m. at the Student Union Building (Building 27) fireplace. SPSCC President, Dr. Tim Stokes, in addition to the college's executive team and the SPSCC Student Senate, will be able to speak with students individually.
"We want people to know that the President of the college, Dr. Tim Stokes, is invested in their success and able to meet them and welcome them in person," says Lane.
In addition to getting to know college leadership, this event is a dialogue for students to voice challenges and ideas for potential student programs.
October 2
The Diversity, Equity and Inclusion Center's Open House will take place on October 2 from 12:00 p.m. to 2:00 p.m. in Building 22. The DEIC Open House is a chance for students to learn more about the work of the center, upcoming events and further opportunities to participate in DEIC programs, including the IGNITE program. IGNITE is specifically designed to aid low income, first generation, students of color and students with disabilities in their academic and professional goals, from completing degree requirements to transferring to a four-year college.
At Welcome Week, new and returning students can learn about the college layout and about college resources at their own pace. There are activities to fit a diverse range of interests and personalities. Lane says that the takeaway of Welcome Week isn't to necessarily participate in every single activity, but for each student to choose what interests them and participate in the events that will help them connect further with the SPSCC community.
"I think my biggest piece of advice would just be to take advantage of the opportunities that you're already paying for and make the most of the experience when you can," says Lane. "We have all these resources for individuals at their fingertips and it's really up to them to jump in and take advantage of it."
Fall quarter classes begin on September 23 and the fall quarter application deadline is September 9. There is still time to enroll. To learn more about enrollment, Welcome Week and the schedule of events, visit the South Puget Sound Community College website.
Sponsored