Labor Day is the last long weekend of the summer. Before the kids return to school and cool weather sets in, get the most out of the last minutes of summer with fun, free things to do locally.
Olympia Harbor Days
Three days of fun begins on August 30 at 5:00 p.m. until September 1 at 6:00 p.m. at Olympia Harbor Days. Celebrate the return of the vintage tugboats and say farewell to summer with entertainment, food, art, history and more along the waterfront.
The weekend features plenty of free fun for the family. The Olympia Kiwanis Club and Oly Arts presents Shakespeare's "The Tempest" at 8:00 p.m. at the Port Plaza under the Lookout Tower on August 30 and 31.
Friday is the Squaxin Tribe Blessing Opening Ceremony followed by Rich Wetzel and his Groovin Higher Orchestra and Vuelta La Luna Circus Performers.
On Saturday, Tour the Working Waterfront with Port of Olympia Tugboat Show Walk-aboard. From noon until 4:00 p.m., hear singing pirates and more on tugboat Patricia Ann. Find South Sound Reading Foundation book giveaways at Percival Landing and meet the Lakefair Princesses.
Sunday is the Water Show by the Harbor Patrol Rescue Boat Integrity and Sand Quick-Carve Contest at the Midway Stage. Noon boasts the Procession of the Tugs with Olympia Highlander Bagpipers Tug Escort March to the tugboat races. At 3:00 p.m. is Pirate Parade Samba Olywa Style at Port Plaza.
Visit a floating museum at an over one-year-old boat tugboat Sand Man docked at Percival Landing. Open for free tours every Saturday and Sunday from 11:00 a.m. to 4:00 p.m., this recognized historical vessel preserves the maritime history of Olympia.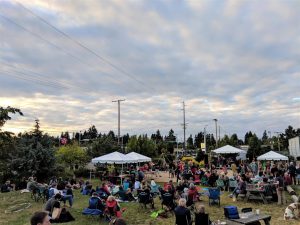 West Central Park
The corner of Harrison and Division Streets in West Olympia is home to West Central Park. This community park project is community funded and maintained to be a walkable neighborhood gathering place while hosting fun events for all to enjoy.
Don't miss Friday Free Film Fun on August 30. Sing along while watching "The Greatest Showman" and enjoy popcorn and tea. The movie begins at dusk, but come early to get a seat.
On Saturday, August 31, at 7:00 until 10:00 p.m. rock out to tunes from Heavy Pettys, Olympia's own all-female Tom Petty cover band.
Come back on Sunday, September 1, at 10:00 a.m. and lend a hand Maintaining the Beauty of the Park. These volunteer work parties every Sunday to keep the park looking lovely with gardening, pruning, litter pickup, bird and bee house painting, and more.
Other Events
Gaze at the stars with Lacey Timberland Library's Star Party on Friday, August 30, at 9:00 p.m. Featuring The Evergreen State College professor Rebecca Chamberlain, astronomy educator Shannon Pangalos-Scott, Saint Martin's University professor Dr. Andrea Kunder, and local astronomers Richard Miles and Dennis Rech. If the skies are not clear that night, you can still have fun with indoor activities.
On Friday, August 30, at 7:00 pm. is the 5th Annual End of Summer Block Party featuring Form Destroyer and ERINA at Percival Landing Park. Hosted by The Bridge Music Project, this rocking party is a free all-ages outdoor event.
Extended until September 28, Sasquatch Revealed at The Lacey Museum is the largest collection of Bigfoot artwork and artifacts. From expert Christopher Murphy, the temporary exhibit showcases everything from early Sasquatch sightings to pop culture references.
Go back in time at Nelson Ranch with their Summer Fun Annual Open House on Saturday, August 31. The fun lasts from 2:00 p.m. until 4:30 p.m. Experience the historic farm with tours, horse-drawn hayrides, heritage displays, cider pressing and more. While there, buy delicious Nelson Ranch Beef for Labor Day cookouts.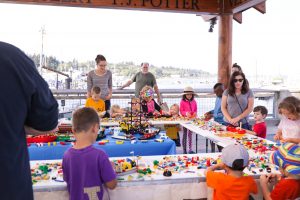 Labor Day weekend is a great time to wrap up any outdoor projects. Do-it-yourself on August 31 at 10:00 a.m. with a free seminar by Eli's Paver Patios and Professional Stone Products, Install Pavers Like The Pros. Let the professional show you how to install paving stones right the first time.
Faith Community Center invites all to their first free Community Festival on Saturday, August 31, at 11:30 a.m. until 5:00 p.m. Bring a blanket or lawn chairs to sit on, for this outdoor event. Enjoy live music, food, bounce house, prayer tent, vendors and backpack school supply giveaways. Hear special speakers and an appearance by the mayor of Lacey, Andy Ryder.
Harbor Church hosts End of Summer Community Block Party on Sunday, September 1, from 12:30 to 3:30 p.m. Everyone is welcome to enjoy free barbecue hamburgers and hot dogs. KidZone includes inflatables for the little ones, a dunk tank, cornhole tournament, giant Jenga and more fun games. Harbor Church is collecting gift cards for local foster families and let them know you are coming for a chance to win a $50 Amazon Card.
Olympia and surrounding areas are full of Labor Day fun. As the unofficial end to summer, spend some time outdoors enjoying all that the area has to offer with free events all weekend long.
Thrifty Thurston highlights inexpensive family fun in Thurston County. The weekly series focuses on family-friendly activities throughout our community. If you have a suggestion for a post, send us a note at submit@thurstontalk.com. For more events and to learn what's happening in Olympia, Lacey, Tumwater and the surrounding area, visit our complete events calendar.