A diagnosis of childhood asthma can leave a child and their parents feeling pretty defeated. However, Dr. Frank Wood of Kaiser Permanente's Olympia Medical Center has created something that will help empower kids when they find themselves facing asthma. Meet Albuteman, a superhero comic book character whose mission is to educate, entertain and inspire kids to bravely face their asthma diagnosis.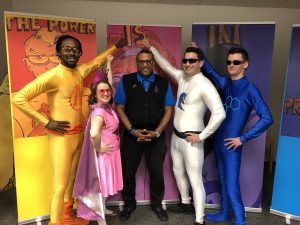 Albuteman and his fellow superheroes are named after common tools used to treat asthma. Albuteman is based off Albuterol, one of the primary medications used to treat asthma that opens up the pathways in the lungs. Albuteman's sidekick was once called Cromolyn Boy, but Cromolyn isn't used as much anymore. "Now we see more combination medications where bronchodilators and steroids are fused together, so I changed his name to Fusion," says Wood.  Aerosol Girl gets her name for the many asthma treatments that come in aerosol form, and Steroid Sam rounds out the team. He is based on the anti-inflammatory prednisone.
Making technical terms into superheroes is just one way a child can feel more comfortable with their treatment. Each superhero educates kids about using a bronchodilator. They stress the importance of knowing how to use emergency and maintenance medications. And they remind children about the proper methods to use an inhaler with a spacer. "Kids really like the colorful pictures," says Wood, "and parents dig it, too."
Wood wrote and illustrated the first comic book himself in 1993. "I've loved comics for years and years, so I created this comic to show kids that asthma doesn't have to be that big scary beast," he explains. "It's something you can manage and with that management you can lead a full and healthy life."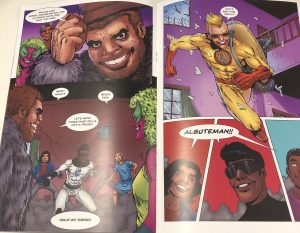 Over the years, the comic book itself has evolved from a simple pen and marker drawing, to a five comic book series complete with professional graphic design. "My comic got the attention of a professional graphic artist, and he put me in touch with a comic book artist who was able to recreate my story, word for word, panel for panel, into a professionally made comic book," Wood shares.
Not only has Wood created the Albuteman comic book series, but he also hosts events where his patients can meet the heroes of the stories. Thanks to some very brave volunteers over the years, who fearlessly don bright spandex suits, Albuteman and his compatriots come alive to reinforce the messages from the comics. For many years Wood was a pediatrician in the US Army. He was always able to find volunteers eager to help children. Later when he began working for Kaiser Permanente, he met more people who volunteered to wear the spandex.
"It seems wherever I go, I am always able to find someone that has a heart for children and doesn't mind dressing up as a superhero to help educate them to help them bravely face their diagnosis," he says. Wood hopes that as kids and families become educated and are able to work together with their medical team the effects of asthma can be minimized.
Treatment of childhood asthma has come a long way since 1993. However, the childhood illness still has a massive impact on children and their families. 8.3% of children in the United States have asthma. Collectively, American children miss over 13 million school days a year dealing with the condition.
Children don't have to be afraid when they are diagnosed with childhood asthma. They can take a proactive approach to their own treatment, and be prepared for when an asthma attack strikes. Knowledge is power, and when kids know how to handle their condition, they become their own superhero.
Learn more about Kaiser Permanente by visiting the Kaiser Permanente website or by calling 360-923-7000.
Kaiser Permanente Olympia Medical Center
700 Lilly Road NE, Olympia
360-923-7000
Sponsored