As the days get shorter and the leaves turn, we all start thinking about pumpkin spice (whether you love it or hate it, you just can't avoid it!), haunted houses and harvest festivals. No matter whether your family is looking for something sweet or scary, we have plenty of fall activities in Olympia and throughout Thurston County for everyone to enjoy.
Norse West Viking Festival
September 7: 10:00 a.m. – 6:00 p.m.
September 8: 10:00 a.m. – 4:00 p.m.
Wilkowski Park
Rochester Street SE, Rainier
Usher in fall with some awesome Norse craziness at the Norse West Viking Festival in Rainier. Get your fill of food, period and non-period vendors, classes, fighting demonstrations and more. You will not want to miss the horseback jousting demonstration, battles, trebuchet (defend the shield wall), spear throwing, archery and more. There will be classes such as games, skinning and mead making, and plenty for the kids like face painting and the kids korner. Kids can even participate in a battle! There will be 30 small wooden swords and shield for the battle that will also be for sale. All these events happen until 4:00 p.m. each day.
On September 7, stay for music and a Meet the Vikings in the Viking Village from 4:00 p.m. to 6:00 p.m. For more information, visit the Norse West Viking Festival website and Facebook page.
Northwest Glass Pumpkin Patch
September 7: 9:00 a.m. – 3:00 p.m.
Thurston County Fairgrounds
3054 Carpenter Rd SE, Olympia
The Northwest Glass Pumpkin Patch tour is the perfect kick-off for fall! You can walk among this crystalized patch created by local glass artisans. There will be anywhere from 1,000 to 2,000 glass pumpkins that have been hand-blown. Each one is one-of-a-kind! Be sure to take home one or two to start your fall decorating off right.  Pumpkins come in a variety of colors, shapes, sizes and price ranges. This fall event in Lacey is not to be missed! Admission is free and the event is rain or shine.
Girlfriends Fall Market
September 13 – 14: 10:00 a.m. – 4:00 p.m.
Thurston County Fairgrounds
Expo Center & Heritage Hall
3054 Carpenter Rd SE, Lacey
Fall is a great time to look for fresh décor, but also to start and maybe even finish, your holiday shopping before the craze sets in. The Girlfriends Fall Market is a one-stop shop for all our needs! Freshen up your décor just in time for Thanksgiving guests and select meaningful, one-of-a-kind gifts for those on your list, no need to ever set foot inside a mall! You will find vintage, shabby chic, farmhouse, industrial, mid-century items that have been saved, rejuvenated, and repurposed! You will also find handcrafted and artesian items. There will be coffee and wood fired pizza trucks as well. Admission is $5, kids and parking are free.  For more information, follow the Girlfriends Fall Market on Facebook.
Sip, Savor, & Stroll
September 28: 2:00 p.m. – 5:00 p.m.
Various Locations
For some reason, as the weather turns colder, our attention turns to food. Delicious, heartwarming, comfort foods that warm our bellies on cool nights. Olympia Downtown Alliance's premier event, Sip, Savor, & Stroll, is a perfect fall affaire. Taste the art of local gourmet chefs in a progressive dinner that allows you to also meet the chefs, brewers and restaurant owners. You will even get to see a bit of the behind the scenes in the kitchens! It all starts at the Olympia Ballroom with check-in beginning at 1:30 p.m. Live music will be provided by Hook Me UP Band and Lois Ann Marler will emcee. This is a walking event. You will then go to 4 of the 12 participating restaurants and then end at Rhythm & Rye at 4:30 p.m.
There are three different "tracks" available for the September 28 event, including a vegetarian friendly track, breweries and bars track, and variety track. All are 21-years-old and over events. There is a prize for best dressed. Notify event planner if there is a need for dietary restrictions such as gluten and dairy free or vegan options. Tickets for Sip, Savor, & Stroll Olympia are $55 can be purchased here. For more information, visit the Olympia Downtown Alliance website.
Wolves & Wine
September 28: 5:00 p.m. – 8:00 p.m.
Norman Worthington Conference Center
Saint Martin's University
5000 Abbey Way SE, Lacey
360-264-4695 ext. 210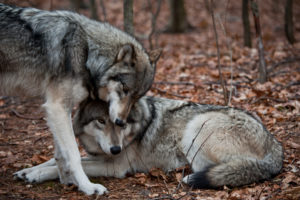 Wolves are often depicted in the fall, howling under a harvest moon or gazing at you from deep within a spooky wood: the stuff scary stories are made of. Wolf Haven International's Wolves & Wine is an annual fundraising event where you can learn true stories about real wolves and how to help conserve them. The event includes beer and wine tastings, hors d'oeuvres, and a silent and live auction. Proceeds from the evening go to support their mission, "To conserve and protect wolves and their habitat." Tickets are $75 a person. To purchase, call 360-264-4695 ext. 210.
Nisqually Watershed Festival information
September 28: 10:00 a.m. – 4:00 p.m.
Park at Ridge River High School
350 River Ridge Drive, Lacey
The 30th anniversary of the Nisqually Watershed Festival is happening this year, and it's sure to be a hoot! This family friendly fall festival in Lacey includes science, art, discovery, and lots of hands-on activities. Paint a wood fish to decorate next year's festival or a salmon lifecycle keychain. Watch fish and shellfish dissections. There will be performances with live animals, music, and storytelling. Join in a walking tour and see the insect extravaganza. When you are hungry, there will be a salmon barbeque, coffee and other food options. This year's poster contest winner was "The Great Horned Owl" by Charlotte Millar, a third grader. Park at River Ridge High School and take the free shuttle running every 15 minutes. Handicapped parking available at Billy Frank Jr. Nisqually National Wildlife Refuge, 100 Brown Farm Rd, Olympia. For more information visit the Nisqually River Council website.
BOO-CODA
October 1-31
Bucoda
If you are craving a town full of spooky fun, you must head to BOO-CODA (Bucoda)! Their month-long Halloween Spook-Tacular includes all kinds of family fun! For BOO-CODA 2019, here are some of the event highlights:
October 5: Pine Box Derby
October 12: Pancake Breakfast, Hearse Procession and viewing, Newly Dead Game,
October 19: Pancake Breakfast, Family Fun and Fright Day, Pumpkin Carving, Coloring Contest, Athena Derby Children Casket Race, Monster Mash Dance
October 26: Thrill the World Thriller Dance
Don't forget the Scary-Nights Haunted House is every Friday and Saturday night at the Bucoda Community Center, First Floor North Room: 202 S.Main Street. For more information visit the BOO-CODA website.
Olympia Fall Arts Walk
October 4: 5:00 p.m – 10:00 p.m.
October 5: 12:00 p.m. – 5:00 p.m.
The Olympia Fall Arts Walk is a great time to get out and see all the good things Downtown Olympia has to offer while celebrating the talented local artists that call our area home. There will be arts, demonstrations and performances throughout the streets of Downtown – be sure to pop into the locally owned shops and restaurants as you wonder through. Be sure to take the Olympia Fall Arts Walk map with you so you don't miss any of the stops! For more information visit the City of Olympia website.
My Morbid Mind Haunted House
October 4-5: 7:00 p.m. – 11:00 p.m.
October 11-12: 7:00 p.m. – 11:00 p.m.
October 18-19: 7:00 p.m. – 11:00 p.m.
October 24: 7:00 p.m. – 9:30 p.m.
October 25-26: 7:00 p.m. – 11:00 p.m.
October 27: 7:00 p.m – 9:30 p.m.
October 29-30: 7:00 p.m – 9:30 p.m.
October 31: 7:00 p.m. – 10:00 p.m.
Kids Walk Thru October 26 and 31: 5:00 p.m. – 6:30 p.m.
4548 Marvin Rd SE, Olympia
360-455-3330
Those looking for a truly terrifying fall event or Halloween activity in Olympia need to check out My Morbid Mind Haunted House. One of the best haunted houses in Washington State, My Morbid Mind is 5,000 square-feet of macabre thrills and chills! Find real live actors, props, special effects and a separate 3D Experience that gives you two haunts for the price of one! There is popcorn, soda and candy available for purchase. This event is recommended for brave kids 12-years-old and older. Special kids walk-thrus happen on October 26 and October 31 only. During these events the lights are turned on and the event is aimed at being family friendly, where the monsters hand out candy instead of scares! For more information visit the My Morbid Mind website or their Facebook page.
Children's Day
October 5: 11:00 a.m. – 2:00 p.m.
Huntamer Park
618 Woodland Square Loop SE, Lacey
The City of Lacey's Children's Day is a perfect way to spend a fall day with then entire family. The 2019 theme is dinosaurs, and you are sure to find plenty of Jurassic-sized fun! The "real" Dinosaurs of the Dino Crew will be on hand to entertain children of all ages. The entire family will enjoy games, activities, arts and crafts, entertainment and plenty of food. This is the 23rd annual Children's Day and is a partnership with Lacey Parks & Recreation, The Lacey Timberland Library and the North Thurston Public Schools. Children's Day will be held rain or shine and is free. For more information visit the City of Lacey website.
Avanti High School Haunted House
October 17-19, 24-26: 5:30 p.m. – 8:30 p.m.
The Avanti High School Haunted House will once again return for two weekends in October 2019. Put on by the students, the haunted house is the primary fundraiser for students attending the Oregon Shakespeare Festival. The school uses it as a teaching tool, for costume and props as well as improv acting skills. It's well worth the $7 donation.
Boo Bash
October 26 and 27
Hands On Children's Museum
414 Jefferson St NE, Olympia
Boo Bash at the Hands On Children's Museum offers two days of fun Halloween-inspired activities without the fright. Dress up the family in your best costumes and join the costume parade! There will be tons of exciting activities, door prizes, face painting, fun, and food! Visit the Hands On Children's Museum website for more information.
Revel Lacey Haunted House
October 30 7:00 p.m. – 9:00 p.m.
211 Hoh Street SE, Lacey
Join the Revel Lacey Team for a family-friendly haunted house. There will also be cider, cocoa and of course sweet treats! RSVP by October 28 by calling 360-459-9866 or contact@revellacey.com.
Annual Harvest Festival Evergreen
The annual Harvest Festival at The Evergreen State College will be happening once again! Check back for more details.