With an enrollment of almost 6,000, there is an educational pathway for every student at South Puget Sound Community College (SPSCC). Whether a part of the Running Start Program, studying an applied science or working toward a transfer degree, SPSCC offers multiple education options, allowing students with varying schedules the opportunity to work toward the graduation stage.
The SPSCC Class of 2019 officially graduated on June 15. In total, 1,445 students graduated, with 1,887 associate degrees and certificates presented. Included in the certificates awarded were 234 high school diplomas. The number of graduates earning a transfer degree was 929, with the average GPA among transfer students being 3.24.
One of these graduates was culinary arts student, and this year's graduation speaker, Tawni Andrews. A returning adult student, a hobby of cooking turned into a full-time career as a chef for Andrews as she graduated from SPSCC with an associate degree in culinary arts. While attending classes within the SPSCC Culinary Arts Program, she was able to complete an internship in the culinary field and maintain her position on the Aberdeen City Council.
Previously a bookkeeper with no formal training, Andrews was a working mom who always wanted to return to school. "I had been out of school for 20 years," says Andrews. "So, I started taking the pre-requisites online when I was still working full time. And I just started taking classes here or there."
Looking to try something new, Andrews decided that she wanted to pursue school full time and soon after enrolled in the culinary program in the fall of 2017. With a longtime passion for cooking at home, Andrews saw a potential career in the culinary field after being diagnosed with diabetes and modifying recipes to fit a diabetic diet.
"I had five kids total that I've helped raise over the years, so I've always been cooking," explains Andrews. "But, with recipe flipping, it is interesting when you start breaking it down and have to change out ingredients to make them friendly for one group or another. So, I just got interested again. I've always been the person who sits at home and watches the 'Food Network' or the 'Cooking Channel.'"
As a full-time SPSCC student, Andrews has been able to attend school while also keeping up with activities outside of campus, most notably as an intern at the Ocean Crest Resort restaurant in Moclips and as the president of the Aberdeen City Council, where she resides. "The culinary department has been awesome," says Andrews. "I've always been able to attend courses. The culinary program was 7:30 a.m. to 1:30 p.m. every day, so I had the rest of the afternoon. We did special events and wine-paired dinners, but I always knew in advance, because it's on our calendar, so I just scheduled my other stuff around it."
In addition to being a chef and a city council member, Andrews is also running for Mayor of Aberdeen in the fall. "I'm a little busy, what can I say?" remarked Andrews.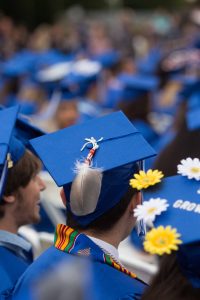 Because of her public speaking experience as a member of the city council, Andrews decided to audition to be SPSCC's graduation speaker. Adding in a culinary twist to her graduation speech, Andrews was awarded the job the same day as her audition. "My speech centers around the fact that I'm an older returning student," explains Andrews. "Life is a recipe and different things in your life adds to your recipe as you go along. That was my hook. Each ingredient plays an important role. Everyone at SPSCC added to my journey."
Now graduated from SPSCC, Andrews will be working at the Washington State Patrol Training Academy, preparing daily meals for trooper cadets starting in July. Because of the job's consistent morning schedule, Andrews will still be able to pursue public office in Aberdeen. "At the State Patrol Academy, they feed trainees breakfast, lunch and dinner four days a week and breakfast and lunch on Fridays," says Andrews. "So, I'm going to be cooking for them. It's a Monday through Friday job and you don't find a lot of those in our industry."
To open more opportunities for working and returning students, SPSCC is preparing to launch a suite of online and evening classes starting fall quarter of 2019. The evening classes will focus on certificate programs and applied science degrees. So, employees looking to elevate their education and be more competitive for opportunities in their career field can attend classes that will not conflict with daytime work schedules. Classes in fields like automotive, early childhood education, administration and medical assisting will be expanded. In addition, more online degree pathways will be added for students who cannot attend on-campus classes.
To learn more about SPSCC and the degree options offered, visit the South Puget Sound Community College website.
Sponsored