Running Start enables high school juniors and seniors to enroll in college classes numbered 100 or above while receiving both high school and college credit. Enrolled students can attend college tuition-free and by the time they earn their high school diploma, they can also earn an Associate Degree. At South Puget Sound Community College (SPSCC), 21 percent of students are in the Running Start program and most plan to transfer to a 4-year college after graduation. For students, the 25-year-old program can be a way to save money on college, have more educational freedom and can be a more accessible path toward future career plans.
For teens ready to take on the responsibility of college, Running Start can open up a new world of class subjects that aren't offered in high school. By attending college, the students can choose what they want to study, while still having the framework of working toward a degree. According to SPSCC, 84.9 percent of students are successful completing classes. "Running Start really helps you decide what you want to do," says Jake Olson, high school junior and Running Start student at SPSCC. "There're so many different classes you can take. There's not a lot of variety since you have to get pre-requisites and stuff like that, but my abnormal psychology class, you would never get to take that in high school. I took sociology last quarter and public speaking, so it helps with what I'd like to do."
Running Start is also a host to a variety of extracurricular programs both at SPSCC and at the student's home high school. At SPSCC, Running Start students can study abroad, join campus clubs, find campus employment or participate in student government. High school senior and Running Start student, Thanh Tran, attends SPSCC full-time while also participating in the journalism program at Timberline High School. "I like that I have a lot of freedom," says Tran. "Whether that be choosing what classes I take or how I schedule my time. I think it's cool sometimes that I'm so young, but able to take college-level courses. It's like being a part of two communities."
Running Start is also a chance to interact in the real world by meeting people from a wide range of backgrounds. Attending community college as a teen can be an introduction to the challenges of adult life. "I've learned about different people and that you shouldn't take stuff for granted," explains Olson. "Last quarter there was a 32-year-old mother of 2 in class. She had a full-time job and here I am only working 15 hours a week and playing one sport and that's not even close to what she's doing. So, realizing when you're an adult, you're an adult. Food doesn't just appear on the table. I haven't gotten to the point where I'm all alone, but Running Start is helping me get ready for it. Just by meeting all the people who have to work really hard to survive."
For students who already know what they want to do as a career, enrolling in Running Start can be a pathway to that career on a shorter timeline. "I want to become a doctor," says Tran. "I definitely think Running Start is super beneficial because I can get my pre-requisites for medical school out of the way now, when I can pay less money. I'm under less stress and it's a foot in the door, rather than going all four years to high school and then jumping into college when you've never experienced what it's like."
At SPSCC, Running Start is also cost-effective. Since Running Start students don't pay tuition, they can save over $8,000 over two years by attending community college during junior and senior year of high school compared to attending a four-year college for four years. According to SPSCC, in 2017, Running Start students saved a total of $39 million in tuition. "It saves money," says Olson. "I think that's number one for a lot of people. College is not really an option sometimes, but everyone should be able to go to college in my book."
Tran recommends the program for students who want an economical education and for people who are ready to work toward their career goals. "Running Start is good for people who are financially in need, because it's cheaper if you're looking at what you're spending on tuition here versus at a university. I also think it's good for people who know what they want to pursue and why, because then you can streamline your process faster."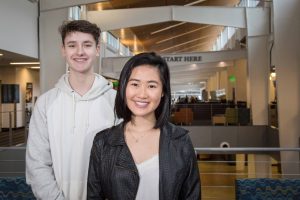 For Olson, who eventually wants to become a psychiatrist and move to San Francisco, Running Start has shown him life outside of an enclosed high school community. "It helps you realize the world is not just high school," explains Olson. "You get to learn new things about people. You have everyone from different walks of life combined with the classes you get to take. It's so much more interesting. I feel like in high school, you're forced to learn. I'm not trying to bash high school, but here I'm excited. I come home so giddy because the diversity that I get to experience is amazing."
To learn more about the Running Start Program, or to attend an upcoming Running Start info session, visit the South Puget Sound Community College website.
Sponsored