Crafting the perfect sandwich isn't easy. You need just the right amount of meat – too little will diminish the flavor and going overboard will overwhelm the other ingredients (and you might not be able to fit it into your mouth). You need just the right sauces in just the right amounts – too little and it's useless, too much and it's mushy. And don't forget the veggies – but which ones? It's good to be creative, but you don't want to get weird (anchovies and jam anyone?).
Not everyone can pull off the perfect sandwich, but we all know when we've tasted one – and we all know where. At Northwest Sausage & Deli, the team knows how to create a truly sublime sandwich.
Their sandwich proficiency began with the man himself: Dick Young, founder of Northwest Sausage & Deli, renowned crafter of memorable meats and purveyor of brewing perfection. Dick personally crafted many of the restaurant's staple sandwiches. His Prime Rib Dip, Reuben and Tri-tip sandwiches are still beloved best sellers today.
"Most of our menu is still his original recipes," says Julie Pendleton, Dick's daughter and co-owner of Northwest Sausage & Deli and Dick's Brewing Company.
Julie and her husband, Dave, inherited both businesses after her father unexpectedly passed. She had to learn quickly to uphold the businesses' strong reputations. Long-time employees stepped up to help and Julie's many years working in and being raised around the businesses kicked in. "I'd been around it so long," she recalls. "That helped a lot."
The trickiest part was maintaining the integrity of Dick's well-loved recipes, many of which he knew by heart. Julie scoured his records for written copies. "I found some that were just on random pieces of paper tucked into books," she recalls with a smile.
There was an element of trial and error – and one especially salty batch of kielbasa – along the way, but Julie and the rest of the team pulled through with Dick's original recipes as good as ever. Today, Julie still feels better overseeing the seasoning process herself. "That way, there's only myself to be mad at if something goes wrong," she says with a laugh.
With almost a decade of ownership under her belt, Julie has the creative process down to a science. Now she and her team are creating their own exciting additions. They've added many hits to the menu including a mouthwatering French Dip sandwich, Hot Pastrami sandwich, and The Cuban; a delicious combination of smoked pork loin, ham, pickles, mayo, mustard and Swiss on a toasted alpine roll. It's so savory, you'll hanker for another before you're even done.
Dave is following in his father-in-law's shoes as well, experimenting with various culinary concoctions. He gets ideas from meat cookbooks and by following his intuition. "He likes to experiment," Julie says.
One particularly savory creation included hot links, cream cheese, bacon and sauerkraut. "The cream cheese really balances the hot link," Julie adds.
Dave also experiments with various meat recipes to find the best ones. He enhances the meats' natural flavors by adding different beers and a variety of spices like Cajun or traditional German mixes. The right meat flavor is a key component in making the perfect sandwich. "It takes time and experience," Julie says. "You kind of have to know what works well together."
And, she emphasizes, you have to start with the best ingredients. "Northwest Sausage & Deli uses higher quality products and more specialty items," she says. "We don't just use the generic stuff."
For example, they could use basic bread for The Cuban, but it simply wouldn't be the same. "The alpine roll makes that sandwich so much better," Julie says. "It's light; chewy but not heavy. It toasts well and goes really good with the sauces.
Like all their meats, their pepperoni is made in-house. It takes a whopping 14 hours to complete. Processing day is Julie's favorite part of running the business. "I love the smell of smoking meat," she says. "That smell of something cooking is a home smell – a family smell. There are certain days when the weather can be just right and the smell can take you back to childhood."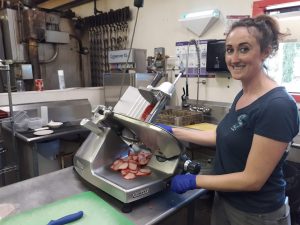 Northwest Sausage & Deli's sauces are traditional enough to be innately delicious but unique enough to be exciting. Their brat, for example, is served with a caddy of mustards including cranberry mustard, pickle mustard, bacon mustard, and sweet hot mustard.
The team at Northwest Sausage & Deli perfectly pair tradition and innovation. This began with Dick himself, and the whole family pitched in. Julie's mom, Marilyn Gallagher, even created the ever-popular Grand Mound Trio: a Roast Beef, Turkey and Ham sandwich with double the meat.
They're still keeping the creative tradition alive with inventive daily specials. Julie's favorite is the Tri-tip. "It has a lot of that smoke flavor which is really nice," she says. "It's a really good cut of meat; tender and juicy." And although she's not partial to tomatoes, she says most sandwiches just don't look complete without some.
Nicole Hawkins has been with Northwest Sausage & Deli for eight years. She's the creative mind behind a particularly exciting recent special – a cheeseburger with chili sauce, bacon and pineapple. She gets her culinary ideas from past experience and online sources like Pinterest. "I like to mix it up a bit," she says.
Courteney Bremgartner has been with the restaurant for two years. She concocted the Cuban in Paradise, which includes turkey, Swiss cheese, chili sauce and grilled pineapple on an alpine roll.
Colton Rhodes loves to experiment with different flavors and spends much of his free time watching cooking shows like Gordon Ramsey and Diners, Drive-Ins and Dives. His favorite personal creation was a trio of sliders with ham, roast beef and turkey. "I was so hungry," he recalls.
Be sure to check out Northwest Sausage & Deli's daily specials for yourself. And don't miss their Prime Rib Dinners every Thursday and Friday from 5:00 – 8:30 p.m. "We've been doing it for 20 years," Julie says. "We have tri-tip, pork loin, rib steak, veggies and potatoes." Like everything Northwest Sausage & Deli has to offer, this smorgasbord is not to be missed.
Sponsored