If you prefer to be literal, a pizzeria bakes and sells pizza. Pizzeria La Gitana literally fulfills that definition, but this beloved family business takes the time and energy to deliver a culinary experience that reminds many of their trips to Italy. Whether you have really been to Italy or not, you can create real memories right here in Olympia. Yes, you can dine on pizza pie plus a whole lot more.
Owner Marian Licxandru is excited about the recent, extensive renovations. "There's a whole new feeling inside," he said pointing to the pergola midway into the restaurant built around a bar. Warm light string lights and blooming plants hang over the seating adding to the sense of being outside, but you have the comfort of being inside. It's a comfortable place for you and your friends can cozy up to a glass of wine while perusing the menu. There's a new page of pasta options that you will definitely want to check out.
If you are a previous diner of La Gitana, you know the pizza is cooked in a hot, wood fired oven. This requires continuous attention—by the chef, not you—in order to keep your pizza from becoming a cinder. That's baking excitement. Now there is also fresh pasta dishes with different sauces to add to your choices. The Italian noodles are made from organic or non-GMO flour and are always boiled upon order. Yes, it is true that in the near future they will serve fresh organic pasta. It is a matter of weeks until that will happen "there is still some logistic details we are close to figuring out," says Marian. Nonetheless your pasta dish will be cooked upon ordering, just like most of the sauces, such as the boscaiola, a white sauce of cream and ham with organic mushrooms and garlic. The carbonara sauce is also made when you order. This signature white sauce will kiss your pasta with cream, bacon, organic egg and grated Italian parmesan cheese. They make their own pesto for the creamy pesto pasta and the star of the show is probably the Bolognese sauce, that has been in the works for 10 hours. It's a rich, meaty sauce that needs time to allow each ingredient to add its magic. Feeling hungry yet?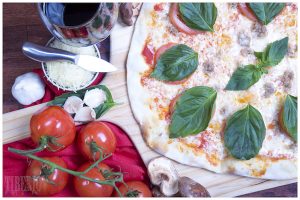 It's easy to order your favorite combination each time, but be sure to check the weekly and monthly specials, which highlight seasonal or special ingredients. For example, consider the colorful pizza dressed with red radishes, fresh mozzarella, local tomatoes and bright sunflower greens. "It's a concert of colors," said Marian and we will have it available in a couple of weeks paired with a wine that will match it perfectly.
He believes that it is critical to choose quality of ingredients that he would gladly feed his family, which includes two young children. Business partner, Catalin Stanciu, also has a young family. He manages the restaurant in Yelm while Marian manages their Olympia location.
A cauliflower crust is making its way onto the menu. You can already find gluten-free options. Also ask about the keto-inspired pizza. Salads and house-made desserts round out the menu. Marian is continuously on the quest to add or adjust the menu to satisfy his already happy customers.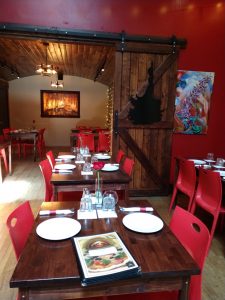 Pizzeria La Gitana strives to make every meal special. It can be just right for a date night or family time. Each table features a real rose. For private parties and larger groups, you can reserve the Wine Cellar area near the back of the restaurant, where fashionable barn doors frame the room, which fits up to 25 people. There's a backlit photo of a canal in Venice installed within a window frame that adds to the feeling of being in Italy. There is no additional charge to use the room.
Live jazz on Friday and Saturday evenings adds to the atmosphere in the whole restaurant and for that reason Marian recommends that the guests make a reservation. "It is easy. You can go online on our website or visit our Facebook page and in less than 2 minutes you make a reservation."
"We exist because of the community," emphasized Marian. In appreciation, the restaurant hosts a monthly fundraiser where 20 percent of the sales go to a local organization. Previous recipients include the Washington Center for the Performing Arts, SOGO, Big Brothers – Big Sisters, Olympia Symphony, WA State Combined Fund Drive and the Olympia Film Society. Awareness of the wonderful organizations in our area only adds to the flavors of your meal. Now That's amore.
Andiamo! That is Italian for "Let's go!"
No passport required.
You can order online or have your order delivered via GrubHub or UberEats. For more information, visit the Pizzeria La Gitana website.
The Olympia Pizzeria La Gitana
Olympia
518 Capitol Way S.
360.753.2929
Monday – Thursday: 11:30 a.m. – 9:00 p.m.
Friday – Saturday: 11:30 a.m. – 9:30 p.m.
Sunday: 12:00 p.m. – 9:00 p.m.
Yelm
309 Yelm Ave E.
360.400.2929
Monday – Thursday: 11:30 a.m. – 9:00 p.m.
Friday – Saturday: 11:30 a.m. – 9:30 p.m.
Sunday: 12:00 p.m. – 9:00 p.m.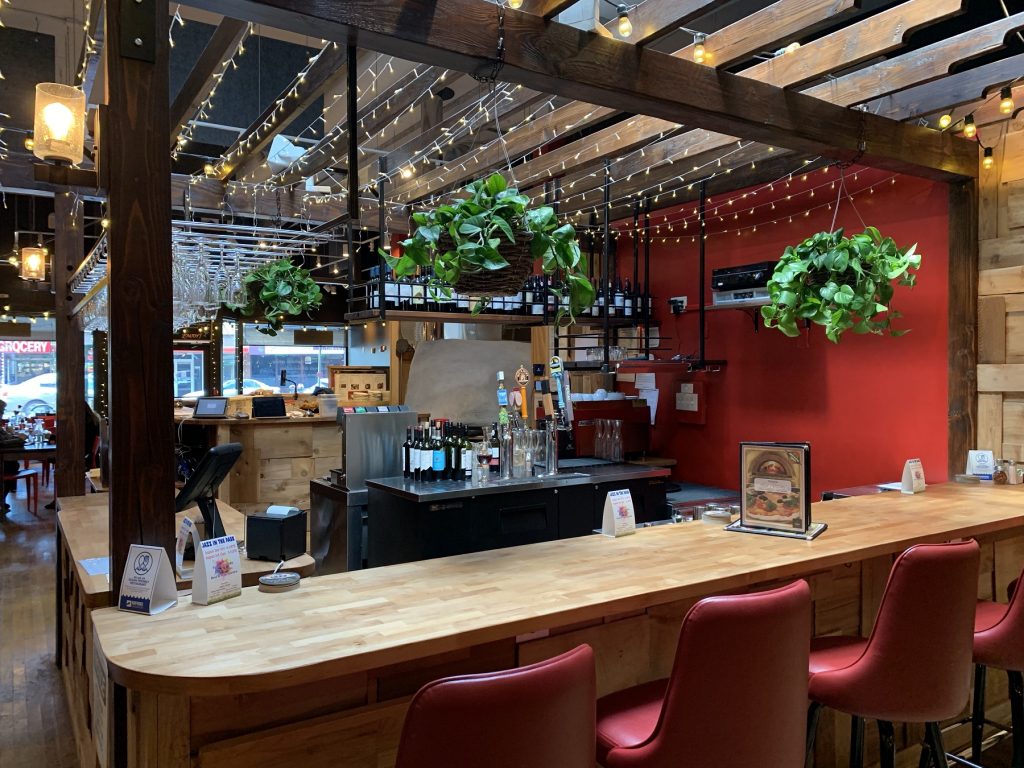 Sponsored