When Ava Shackell signed with Arizona State University earlier this month the Sun Devils were simply getting Shackell, the Northwest Christian High School long-distance runner.
Things have since changed, and when she arrives on campus in August, ASU is now getting Shackell, a three-time state champion.
Shackell closed out her high school career in grand fashion at the Class 2B state track and field championships by claiming three titles.
Held at Eastern Washington University, Shackell won the 800, 1600 and 3200 state championships, helping the Navigator girls finish second overall in the team standings.
Shackell wasn't the only local athlete to leave Cheney with multiple state titles as Pope John Paul II sophomore Kobe Deutscher put on a show at the 1B boys state championships, winning the 800 and 1600, and finishing second to older brother, Caden Deutscher, in the 3200 as the Eagles finished second as a team in just their second year as a program.
Shackell opened her remarkable run by setting the meet record in the 800 with a time of 2 minutes, 17.16 seconds.
"The 2:20 mark in the 800 had been a thorn in her side forever," Northwest Christian Coach Mike Michael said. "She was very emotional after she won that. She was finally able to get that monkey off her back. We set up a race plan to break the meet record knowing there would be no one there to push her. She stuck to that plan and did it."
Shackell finished second in the event last year. This time around no one got within striking distance of her as she won the race by 4 seconds.
"I struggled with breaking the 2:20 barrier all season. It had been goal of mine but for some reason each time I tried something wasn't working out. It just wasn't clicking for me," Shackell said. "I just went into this race knowing it was the last time I was going to run the 800 in my high school career. I wasn't really thinking about the time when I raced. I just went out and executed what my coach thought I could do."
Shackell won the 1600 by 9 seconds (5:02.59) and the 3200 by almost 8 seconds (11:15.45).
"None of the races were tight," Michael said about Shackell's dominating performance.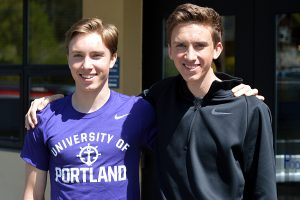 The same can be said for Kobe Deutscher in the 1B ranks as he became Pope John Paul II's first ever state titlist after he crossed the wire in 4:29.60 in the 1600. Caden Deutscher was second in 4:30.74.
"Kobe just treated this like another race. He's just always calm and cool under pressure," said Eagles Head Coach Scott Carter. "It really helped a lot of the kids who were a little nervous about the meet. They saw the way Kobe was handling everything and it helped them relax."
Kobe Deutscher notched state title No. 2 by winning the 800 (2:01.31) before finishing second to Caden Deutscher in the 3200. The older Deutscher covered the distance in 9:49.27, while Kobe Deutscher stopped the clock in 10:02.42.
Tim Sellars became Pope John Paul II's third state champion after the junior won the shot put with a throw of 49-05.00. Sellars also finished third in the discus, while the Eagles' 4×400 boys relay team of Trevor Dugo, Sean Foley, Joe Oczkewicz and Mattox March took home third.
The Eagles finished with 70 points in the team standings, second only to state champion Mount Vernon Christian, which registered a meet-high 82 points.
The Pope John Paul II girls finished fifth overall, getting a second-place finish in the 3200 and a third in the 1600 from sophomore Clare Kondrat (3200) and a trio of thirds from Molly Zepeda (100, 300 hurdles and long jump).
"Every single kid performed incredibly for us," said Carter, who had 20 athletes qualify for state with 14 of those placing. "The kids really rallied together."
Rainier had a pair of state champions at the 2B boys meet with junior Brody Klein winning the pole vault (13-03.00) and freshman Jeremiah Nubbe triumphing in the discus (147-01).
Junior Garrett McSheffrey of Northwest Christian finished third in both the 800 and 3200 at the 2B state meet.
In addition to Shackell, the Navigator girls also received top 5 placings from junior Nina Fraser, who was second in the long jump (16-10.50) and freshman Whitley Stepp, who finished second in the high jump with a height of 5-05.00.
Rainier senior Elaina Hansen was fifth in both the girls 2B 1600 and 3200 and teamed up with Kaeley Schultz, Selena Niemi and Sophie Beadle to grab third in the 4×400. The Mountaineers also got a third from Theresa Geray (shot put), a fourth from Isabaella Homes (discus) and a fifth from Schultz (high jump).