The Mountain was out on the day that I visited Olympia Country & Golf Club (OCGC). And so were the people. It's hard to stay indoors when the sweeping waterfront views, 99 acres of green space, outdoor swimming pool, and deep-water dock lay at your fingertips.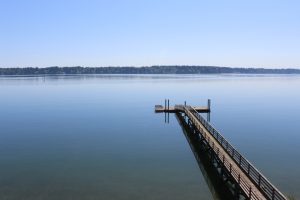 Off of Cooper Point Road, standing proudly along the shore of Butler Cove in Budd Inlet, the country club's history is as rich as it's playing greens. Olympia Country & Golf Club opened a nine-hole course at its current location on May 15, 1926, but the club's history extends far beyond that. The earliest iteration of the club was in 1899 when it was one of six pioneering golf and country clubs in our region, according to Martin Pool of the Northwest Hickory Players. It shared the distinction with courses in other cities, including Tacoma, Seattle, Spokane and Walla Walla.
In the earliest years, the club bounced around to a few different locations, finally settling on its current majestic one. At year's end, in 1920, the Morning Olympian quoted then club President, Clarence J. Lord in saying,
"Someday we are going to have a club down the bay on a large tract of nearly 200 acres which I have promised to donate when the time is ripe It is the ideal location for the club which ours will someday grow to be, on the shores where yachting and motor boating can join with pleasures on the green. This will make our Olympia club one to draw people from all quarters to visit… From these beginnings, the accomplishments I see ahead will develop, possibly in 5 years time, but if not then, then certainly not long after."
And Lord was right.
Over the years, the Olympia Country & Golf Club has done nothing but take that vision and improve upon it. The only truly private, members-only country and golf club in our area has seen steady growth in recent years, especially among 23- to 39-year-olds. Mike Campbell, general manager, feels that may be attributed to the club's innovation and focus on family inclusiveness, but, it's also the amenities.
Mike informed me that you don't have to be a professional golfer, or even a quasi-one to enjoy the club. You can be a professional duffer, (like myself), and still hold a social membership at OCGC.
For $121/month for a family or $84/month for a single adult, you gain access to the country club as a social member. While the golf portion of that membership is limited to the practice facilities- such as the driving range and putting green, a family could spend their entire summer at the country club's life-guarded pool. It is, after-all, one of only three non-residential outdoor pools in Thurston County.
Or spend your time dining al-fresco at Terrace on the Green, enjoying quintessential Pacific Northwest fare and hand-crafted cocktails. With sweeping views of the Inlet, an excellent chef, and themed culinary adventures like Tour of Mexico, the restaurant is an area hidden gem, but this "diamond" is only open to members.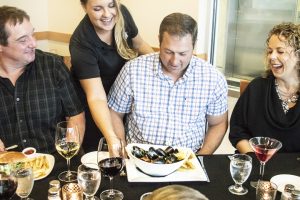 Mike recalls that all-summer-long, club members enjoy boating up to the deep-water dock on the club's 250 feet of waterfront beach and having Terrace on the Green bring their food order down to them. It's a special service that the club provides, but that's not the only thing that's special.
The club hosts a Summer Concert Series where members enjoy outdoor performances of live music, and on Friday evenings the membership comes together for a fun patio party.
Social memberships also provide access to the club's Fitness Center where use of the Life Fitness equipment comes standard, or join a group exercise class led by top-notch instructors for a small additional fee. The waterfront view that you get while taking the class is priceless.
As a social member, you have the ability to rent out the facilities, including the pool and the historic waterfront banquet facility, which was the original clubhouse. In the club's long history, it has been a beautiful backdrop for many generations of family events including weddings, reunions and retirement parties. On a smaller scale, the club makes for a serene meeting place for business people and a gleeful gathering place for friends.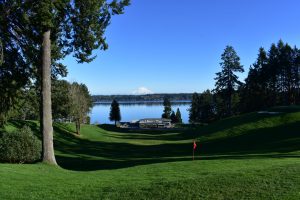 Experience the legacy that is the OCGC, and perhaps start a family legacy there of your own. Visit the Olympia Country & Golf Club website to learn more, or contact Mike to take a tour. Maybe the Mountain will be out on the day you visit too? There's only one way to find out.
Olympia Country & Golf Club
3636 Country Club Drive NW, Olympia
360-866-7121
Sponsored