It's hard to believe, but just three short years ago, the City of Yelm hosted only two events annually: the Prairie Days celebration and Christmas in the Park. Today, residents and visitors can look forward to a multitude of community events involving hot jazz, cold water and lots of delicious things to eat. The summer season will kick off with the opening of the Yelm Farmers Market and things won't slow down until after Labor Day.
A sampling of what's coming up:
Yelm Farmers Market
May 25 – October 26
Saturdays: 10:00 a.m. – 3:00 p.m.
Yelm Community Center
Last year the market moved from its previous location at Nisqually Springs Farm to its new home in the heart of downtown Yelm. Over 30 vendors will be present on opening day, including three non-profit organizations who will be providing fun activities for kids. As always, children 5- to 12-years-old can sign up for the free Power of Produce program and get $2 in market tokens each week to spend on fruit, vegetables or a plant that grows food.
"It's looking like it's going to be the best season we've ever had," says Market Manager Jon Jamieson. "We'll have more vendors, more kids activities and great opportunities for the community to come together to enjoy locally made products in our freshly renovated Yelm City Park."
Target Completion Date June 21
Yelm City Park
As the weather heats up, Yelm residents will have a new option for cooling off through a 1,780-square-foot splash park located in the City Park near the Community Center. It will include fountains, water rings, water cannons and other water features, all using recirculated water to keep it environmentally friendly and easy to maintain.
"It's a very unique project," says Public Works Manager Patrick Hughes. "It's at a great location right on the main street where it's going to be very visible. The park is quite popular and it's just going to add to the use it already gets."
Re-Imagined Prairie Days
June 28 -29
Yelm City Park
The annual Prairie Days parade and celebration have been staples in Yelm for decades. Recently, both got a make-over when the Lions Club handed over hosting duties to an ad hoc committee comprised of representatives from many different parts of the community. Instead of a carnival with rides at the City Park, which destroyed the park's irrigation system in previous years, the celebration will now include a 5K Run on Sunday, a street dance on Friday night and activities hosted by a number of community groups.
"A dozen organizations in the community are organizing their own part of the event, but no one is in charge" says Yelm Mayor JW Foster. "When I put out the word and said, 'Is anybody interested in helping to recreate Prairie Days?' the community showed up in force. They all wanted the same thing – just a place to get everyone together in this beautiful park with its new amenities."
July 6
Yelm Community Center
This brand new event will provide an opportunity for amateur barbecue enthusiasts and professional chefs alike to compete against one another. It will include live music throughout the day, kids activities, martial arts demonstrations, a beer garden and more – plus a whole lot of tasty barbecue. The Yelm Chamber of Commerce is supporting the event, which is being run by a volunteer committee. "Yelm has always had that small town feel and we like to have fun," says Yelm Chamber Executive Director Line Critchfield. "This event is going to be old school, quintessential Yelm."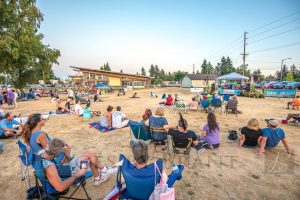 August 2-3
Yelm City Park
Now in its third year, Jazz in the Park is the brainchild of Pizzeria La Gitana owner Marian Licxandru. Over 700 people attended last year's event and this year it will extend over two days rather than just one. Food vendors, a beer and wine tent, plus talented regional musicians make it a great occasion for friends and families to gather.
"It's going to be two evenings of Paris-like music and ambiance," says Licxandru. "We'll have fire pits and string lights throughout the entire park." During the Farmers Market that day, young  jazz musicians from surrounding schools will be entertaining shoppers, along with members of Yelm's popular theater troupe Standing Room Only.
While none of the ideas for these events came from City Hall, Foster is clear about the city's role in facilitating them. "We're interested in providing opportunities for our community to come together," he says.
City of Yelm Communications Specialist Andrew Kollar credits Foster for creating an environment that encourages innovation. "Three years ago, we had just the two events in Yelm," he says. "Now all of these different organizations feel like they can come and talk to someone here at the City and their event will be brought to life."
Learn more about the City by visiting the City of Yelm website.
Sponsored