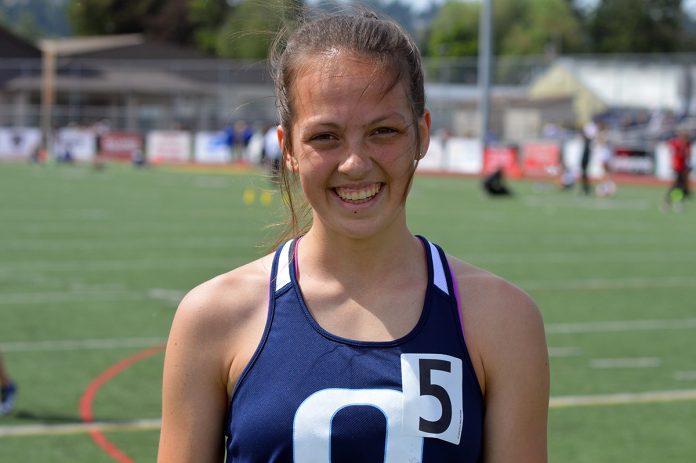 Katelyn Rigg had opened a sizeable lead with 200 meters to go.
In fact, there was only one runner that loomed as any kind of threat as she exited the final turn in the girls 800 at the 4A West Central District track and field championships – South Kitsap's Paxton DePoe.

"I was very nervous," said Rigg about her mindset despite holding a considerable lead. "Paxton is absolutely incredible, and I haven't beaten her yet this season. She's outkicked me twice before."
But not this time as the Olympia High School freshman posted a personal record time of 2 minutes, 15.67 seconds to win her heat and place third overall at the district championships at Sumner High School on May 18.
Up next for Rigg and several of her teammates will be the state championships, which will be held May 23-25 at Mount Tahoma High School in Tacoma.
Olympia received a first place at the district championship from senior Beatrice Asomaning in the discus. Asomaning, who was named the 4A SPSL girls field athlete of the year, won the event with a throw of 137-03.
Asomaning, who also finished third in the shot put, heads into the state meet as the clear-cut favorite in the discus. Her top mark this season of 150-03 is more than 12 feet farther than any other competitor in the 4A classification.
The performances by Asomaning and Rigg helped the Bears finish sixth overall in the girls team standings at the 4A WCD championships. Olympia finished with 36 points. Tahoma won the girls team title with 152.5 points. Kentwood (53.5 points), Curtis (43), South Kitsap (39), and Kentridge (39) completed the top five finishers among the 25 schools.
DePoe had edged Rigg when the Bears travelled to Port Orchard for a league meet on April 18 and again at the 4A South Puget Sound Championships where DePoe (2:16.45) finished second in the race to Bellarmine Prep freshman Ella Borsheim (2:14.86). Rigg was third (2:16.49) as DePoe caught her at the wire.
With Borsheim running in the second heat, Rigg knew DePoe was the one to beat in race and immediately established a large lead the moment the race started.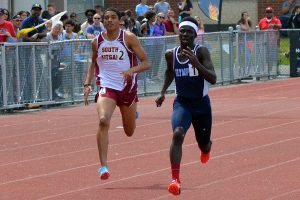 "I needed a cushion," Rigg said about her race strategy. "I knew I couldn't be conservative about it."
Rigg gradually pulled away from the rest of the runners, and by the time she reached the final 100 meters only DePoe was within 25 yards of her.
"I had more than I thought I did," said Rigg when asked about how much she had left in the take during the final strides. "It was hard though. I have not been that tired at the end of a race for a while. I am shocked and I am super excited."
Borsheim won the second heat with a time of 2:14.19, while Sulin Degollado of Rogers High School (Puyallup) finished second in 2:14.68, giving Rigg the third best time in the event at the district championships.
Fellow Olympia freshman Ava Wolin finished fourth in the 400 with a time of 58.77. The Bears also received a third in the javelin from senior Camryn Wilson (119-02).
Olympia freshman Ethan Coleman finished second in the boys 3200, stopping the clock in 9:26.49. Junior Connor Griffith was sixth in the event, posting a time of 9:30.40. Griffith also finished third in the 1600 (4:20.11).
The Bears also received a third in the javelin from sophomore Jack Olsen (175-06), a fourth in the 400 from junior Will Anderson (50.59), and a fifth in the triple jump from senior Drew Thompson (44-00.25).
Camas won the boys team title with 87.5 points. Olympia was ninth overall with 34 points.
The Timberline girls finished third at the 3A WCD championships, receiving a second place from freshman Abigail Pedro in the shot put (40-50.00), a third from senior Jessica Neal in the high jump (5-02.00), and a pair of thirds from junior Arianna Bush in the long jump (16-09.75) and triple jump (34-09.75).
Capital received a first place from senior Emily Jackson in the 800 (2:19.46) and a third from freshman Aubrey Harrington in the 1600 (5:08.88).
North Thurston's 4×400 girls relay team of Payton Huss, Madison Vu, Sydney Vu, and Audrey Olson took home first place (4:10.48). Olson also collected a second in the pole vault (9-06.00).
Yelm seniors Carissa Stovall (discus) and Alexis Sapegin (300 hurdles) both finished second in their respective events.
On the 3A boys side, Capital's Oliver Salmon (400) and Colby Wilson (pole vault), Timberline's Alexander Wright (long jump) and Yelm's Bryce Cerkowniak (3200) all took home second-place finishes, while Capital's Armando Peters (javelin), North Thurston's Samir Amin (800) and Andrew Ahlf (discus), Noah Cunningham (200), and Jamarcus Graham (triple jump) of Timberline all claimed third-place medals.