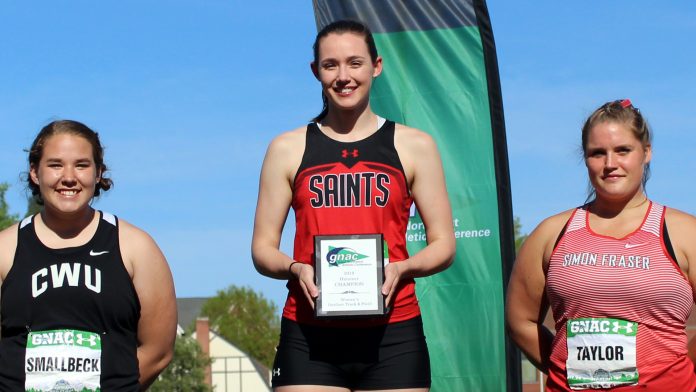 Liz Larson entered the Saint Martin's University women's track and field program four years ago with aspirations of ending her collegiate career an All-American.

The senior will get her chance of making that goal materialize when she competes in the 2019 NCAA Division II Men's and Women's Outdoor Track and Field Championships at Javelina Stadium in Kingsville, Texas, May 23-25.
Larson, however, will not be the only Saint traveling to the Texas A&M University-Kingsville campus to challenge for a national championship as she will be joined by freshmen Tyler Cronk (high jump) and Keshara Romain (triple jump) at the event.
Larson, a three-time Great Northwest Athletic Conference All-Academic Team selection, earned her first ever GNAC Championship in the hammer with a throw of 54.86 meters.
"I'm very happy with the outcome of conference. I set a goal freshman year to win conference as a senior so seeing that come to life was really great," said Larson, who is a mathematics and biology major with a 3.86 GPA. "My throws weren't as far as I had hoped they would be, but that just means I'm saving up the distance for nationals."
Larson enters nationals seeded ninth among 20 competitors in the hammer with a best mark on 57.37 meters. Sunflower Greene of Millersville holds the top seed with a mark of 61.05 – one of three athletes in the event to surpass 60 meters this year.
"My biggest goal for nationals is to become an All-American," Larson said. "That's another one of the goals I set as a freshman and to end my track career as an All-American would just be the best way to finish my four years at SMU."
Larson, along with Cronk and Romain, was named to the All-Region team by U.S. Track and Field & Cross Country Coaches Association (USTFCCCA) earlier this month.
"One of the greatest moments, a true underdog story, was last year at our indoor conference meet. (Larson) came in ranked 12th in the GNAC for the weight throw," SMU coach Jim Brewer said. "No one considered her to be a threat until she had over a 2 1/2-foot PR and placed third. She went from 12th to All-Conference. This is a testament to her and the coach (Dwight Midles) she has."
Will Larson closes her SMU career out at nationals, Cronk and Romain will each look to cap their sensational freshman campaigns on a high note.
Romain, a graduate of Timberline High School, finished second at the GNAC Championships in the triple jump and is one of just four freshmen to quality for nationals in the event.
"I was really happy with my performance. Even though I came out with second place I was still jumping for joy because I finally jumped 40 feet," Romain said. "This will forever be a memorable moment for me."
She only trails Jade Johnson of Alabama-Huntsville for the top mark among first-year athletes. Romain is seeded 14th overall with a 12.37 meter
Annie Topal, a sophomore from NM Highlands, heads the qualifiers with a jump of 12.98 meters.
"I've been feeling good. I've been jumping pretty consistently, so another PR would be nice," Romain said. "I'd be very grateful for whatever place I get because I'm proud of making it this far as just a freshman. There's so much room for improvement and it just goes up from here."
Cronk will have plenty of momentum heading into nationals as well as he finished second overall at the GNAC Championships, becoming just the second jumper in conference history to surpass the seven-foot mark in the outdoor season.
Cronk, who was an NCAA All-American and All-Region recipient in the indoor season, is seeded third in the high jump with a mark of 2.15 meters. He is one of six athletes to post that height. Kevin Schultz of NW Missouri (2.20 meters) and Tyler Arroyo of Chico State (2.19) hold the top two marks.
"We wanted both Tyler and Keshara to attend Saint Martin's because we know the potential they have," Brewer said. "(Two freshmen) qualifying for nationals, I believe, is a first for SMU. This will be a repeat for Tyler as he competed in indoor nationals, too. Hopefully, Keshara can PR at the national meet and Tyler can match his PR. If this happens then I think they both have a chance to be All-Americans."
Stream the NCAA DII Outdoor Championships
The 2019 NCAA Division II Men's and Women's Outdoor Track and Field Championships will be streamed live on www.NCAA.com each day. The championships will be held May 23-25 in Kingsville, Texas at Javelina Stadium.