Sarah Peterson, Washington State Refugee Coordinator, is passionate about her work helping our state's newest residents – refugees from around the world. Refugees are people who have been forced to leave their home countries because of racial, religious, ethnic, or political persecution. Each refugee has gone through a rigorous and formal approval process. Once they reach Washington, the work of creating a new life begins with finding a home, accessing healthcare, and

securing a job. Refugees often need to learn English and figure out how to navigate a new culture, all while dealing with traumatic events in their past.
"Refugees are very diverse. They come from all over the world," says Sarah. "They have very different experiences. Some are professionals who are highly educated in their home countries and others have no education and speak no English."
Sarah and her team work with the refugee community leaders and more than 60 different area agencies across the state like World Relief and the Episcopal Diocese of Olympia to "make sure that we are responding to all of their needs and making good investments."
"The Washington Office of Refugee and Immigrant Assistance (ORIA) is one of the state's best-kept secrets. Not many people know about us," says Sarah. "It's a privilege and an honor to be the Washington State Refugee Coordinator. Our team gets to work with so many valuable community partners to create and implement programs and services that help people become economically stable and integrate into our communities by becoming U.S. citizens."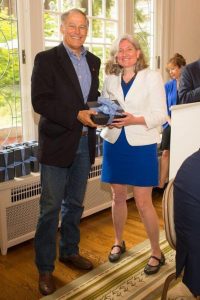 ORIA is part of the Community Services Division within the Economic Services Administration in the Department of Social and Health Services (DSHS). Sarah and her team work with organizations across the state to offer a variety of services catered to a broad spectrum of refugee communities. ORIA invests nearly $25 million annually to local agencies that provide services focused on health and wellness, employment and training, immigration and naturalization assistance, and services for the whole family. All of these programs specialize in being culturally relevant and linguistically appropriate. One resettlement agency, Lutheran Community Services Northwest, has helped to resettle refugees in Thurston County.
"Washington has a long legacy of welcoming newly arrived refugees," Sarah shares. "The contemporary refugee resettlement program began in 1975 and in 1980 with the Refugee Act.  We were one of the first states at the time to step up and welcome refugees from Vietnam and Southeast Asia."
Over time the refugee communities have shifted. Where they come from changes along with world events. Where they end up settling often depends on where they have family ties or local connections. Today, Washington's largest group of refugee arrivals is coming from Ukraine.
"The hardest part of my job is just being nimble enough to respond to the needs of the community and to the constantly changing environment," says Sarah. She has proven to be a steady hand through the shifting sands of funding, public perception, fluctuating number of arrivals, and tragic events in different parts of the world that bring a wide variety of refugees to our state.
Sarah regularly attends "listening sessions" with the community and the agencies that provide services to refugees. They talk about the strengths and weaknesses in the current programs and how they might fill any gaps in services. "It's one of my favorite things to do, to meet with people," she says. Sarah recently held two listening sessions in Kent and traveled to Kennewick to meet with people helping to resettle refugees there.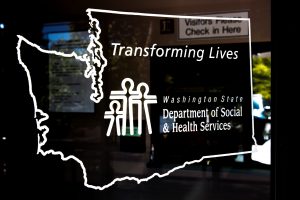 Last fall they hosted a statewide refugee summit. "We welcomed more than 300 people. We are hoping to do that again next fall. We are also looking at promoting opportunities for refugee career pathways." There is a program called Career Ladder for Educated and Vocationally Experienced Refugees (CLEVER) developed so professionals can get back to work in their field of study. It involves developing a career plan, translating credentials, and re-certifying their education here in the US. Sometimes they may need to take exams. CLEVER connects them with American mentors can help them navigate that process, and also help to get their foot in the door. "We think this is a promising program that works with people across the spectrum," Sarah adds.
OIRA will be partnering with community organizations on a new youth mentoring program where volunteers will work with refugee youth ages 15-24. Mentors can help young people finish high school and go on to college.
"What has been so inspiring about the work that we do is Washington's long commitment to embracing diversity," says Sarah. "Wherever I go, there are organizations and people committed to working with the newest members of our communities. They are interested in contributing to welcoming newcomers. They recognize the value that people from around the world bring to our community in the tapestry of our society. And what makes Washington unique is that every thread, every color is valuable, and it brings equal strength. That has really inspired me."
This article is part of an ongoing series highlighting the work and contributions of public employees. It's produced with support from WSECU.