In Nicole Gugliotti's ceramics class at South Puget Sound Community College this quarter, everyone is trying something new. That includes visiting artist Joseph Seymour, who specializes in Coast Salish art. This is his first venture into teaching ceramics and also the first time he's taught students with no background in native art.

"It's a totally new area for me," says Seymour. "The students are really interested in how Coast Salish art is interpreted. They don't necessarily understand the elements, but when I talk with them about the use of positive and negative images in the actual design, I see the gears turning. It's nice that we can provide a bit of education about indigenous culture along with the lessons in ceramics."
Seymour joined Gugliotti's class for a four-week project focused on the theme of traditional foods through a three-dimensional ceramics piece. The workshop will culminate in an exhibition in SPSCC's Kenneth J. Minnaert Center for the Arts from April 29 – May 3. Student pieces include shellfish, starfish, salmon, and even a cake. "We talked with the class about the theme and everybody seemed to really like the idea of 'Setting the Table,' says Seymour. "They just took the whole idea of food and they're having a great time with it."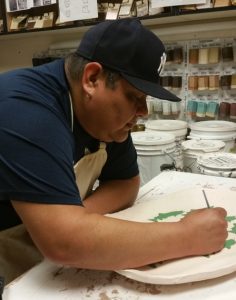 His artistic career began in 2003 when he carved a paddle for the intertribal canoe journey to Tulalip. Seymour says he wasn't really involved with his Squaxin Island and Pueblo of Acoma heritage until that experience. "Being part of that seemed to wake up my desire to be more culturally significant," he says. "Working with my cousin and carving that paddle really showed me what could be."
Still, he didn't consider himself a professional until he attended The Evergreen State College Longhouse residency of renowned Tlingit glass artist Preston Singletary, who became a mentor. "That's when I made the decision to quit my job as a commercial diver and become an artist," says Seymour.
Along the way, he pulled his first drum and learned how to paint, take photographs, and weave. At Evergreen, he also discovered printmaking. "I took my carving background into it when we were working with wooden blocks," he explains. "That really gave me some clean prints." He also learned how to work with hot, cold, and cast glass through his mentorship with Singletary.
Regardless of medium, Seymour's focus is on preserving culture. "That's my goal when I create work," he says. "I think about how each piece educates people about Coast Salish culture and how it keeps my culture alive and relevant. It's not about the medium, it's about the work."
For students in Gugliotti's class, the directive was to create something that represents who they are around the theme of traditional foods. One woman is making a bowl shaped like a leaf with clearly delineated veins and patterns, while another has created a ceramic cake. "I totally dig that idea," says Seymour. He's equally enthusiastic about several students who are building sea urchins. "It has the potential to be a multi-media thing. I'm not quite sure where they're going to go with that."
His wish is for members of the class to leave with a greater sense of the land where they live and the ancestral homeland they inhabit. "Everything around them comes from indigenous cultures," says Seymour. "I hope they get to appreciate a bit of that."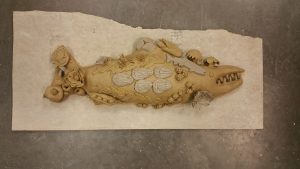 Many have never participated in an exhibition before or shown their work to the public, he notes. 'They're working toward an exhibition in a gallery and that's exciting. I really dig on that because I remember that feeling. Now, I get to experience that through these potentially emerging artists."
As for himself, the workshop experience has developed a greater appreciation for all of the work involved in creating a single ceramic piece. "There's so much that goes into it, from the time it's cut out to the block of clay and the process of molding it and painting it and finally seeing the finished product," says Seymour. "My mother worked with pottery from her side of the culture, but I never did. I've gotten to feel a little of how she felt working with ceramics."
Visit the exhibition of student work at the SPSCC Gallery at the Kenneth J. Minnaert Center for the Arts between April 29 and May 3 to see completed projects.
Learn more about South Puget Sound Community College by visiting their website.