Michele Humble, more commonly known by her students as Mrs. Humble, is on the final stretch of her very last year of teaching science to the children of Tenino Middle School. Throughout her career, she has shown boundless energy in her passion for teaching, a passion that started at a very tender age.

"When I was in first grade, my teacher's name was Mrs. Goforth," recalls Mrs. Humble. "At home my mom taught me how to tie my shoes. I came back to school and I taught all the other kids how to tie their shoes. And Mrs. Goforth said, 'Michele, you should be a teacher.' And I thought, 'I have a goal in life!' So literally I knew I wanted to be a teacher from first grade."
Mrs. Humble graduated from South Kitsap High School in Port Orchard and then graduated from Central Washington University in 1973. But as a Navy brat, she had already lived in Alaska, Tennessee, and California. Her first teaching job was for the sixth grade in Oregon. Due to her husband's career as a superintendent, they bounced around Oregon for about 13 years and then Idaho. When her husband Ed received his PhD, he became an educational consultant which eventually brought them to Olympia. Then Principal Mike Duffy hired Michele to teach sixth grade in 1996. Tenino is her seventh school district.
Michele has always taught middle school aged children. One might wonder what drew her to the age group – it is the experience of watching the deer in the headlights sixth graders on their first day of middle school that Mrs. Humble finds so endearing.
"Oh, I'm crazy!" exclaimed Mrs. Humble. "Anyone who is in middle school is crazy with a good sense of humor. I love the kids. I love watching their progress. It's not easy to go from being a child to a young adult. A lot of days, it's three steps forward and two steps back. But it's nice to teach sixth graders because you get to see them when they first come in the door. Then again when they're eighth graders and they leave to become high schoolers. You see this magnificent growth. It's wonderful."
At Central Washington University, Mrs. Humble minored in education and majored in science and math. There is a special opportunity in teaching science to sixth graders, who were only exposed to the curriculum in small doses in elementary school. For the first time, science becomes a dedicated subject and Mrs. Humble has the opportunity to open their eyes to it.
"Science can't just be a worksheet, textbook, or even a Chromebook," says Mrs. Humble. "Kids learn science by doing science. Even if I don't teach them that much, if I can get them interested in science, and to think of themselves as scientists, and then who knows where that can lead. I feel my job is the same as when I coached. If you win a few games that's nice, but more importantly is that you learn some skills and sportsmanship and have a good time. If you learn science and that lights a little fire and I can feed you some fuel, who knows where that will go. Right now, the kids are working on the microscope unit, and they are having a ball, looking at slides, focusing, drawing what they see, and thinking of themselves as scientists."
After retirement, Michelle Humble has no plans of slowing down.
"Mrs. Schall (the social studies teacher) has threatened to do me bodily harm if I don't go to Outdoor School at Cispus," laughs Mrs. Humble. "So, they are stuck with me and I'll be here volunteering a bunch. I'm not the kind that can just sit at home and read. I have to go and do and contribute somehow."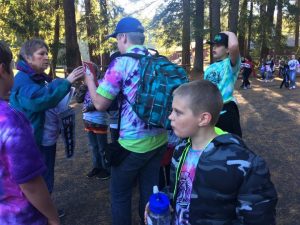 She will also continue her work with the Friends of Tenino Park, which Mrs. Humble has been assisting in launching the Living Classroom. The objective for the Friends of Tenino Park in their partnership with the school is to use the Tenino Park as a Living Classroom to teach children about the symbiotic relationships in nature.  Through field trips to Tenino Park, students from the Tenino schools can have hands-on experiences with nature that will educate but also give the children an appreciation for the tremendous asset that the park is to the community.
"We already have two days planned," says Mrs. Humble. "One day we are going to haul all the eighth graders and another all the seventh graders. Rachel Stendahl from the Department of Ecology is going to train us how to use the water test kits. Mrs. Blanksma, the art teacher, is going to do art in the woods. The kids are going to rotate. It's going to be great."
But it isn't all work and no play for the Humbles.
"Both my husband and I love traveling," says Michele. "So twice a year, we are going to take a month and go live in a foreign country. At the end of October, we will go to Spain. Then it's to New Zealand, Eastern Europe, Ireland, and Argentina. I think we have the first four years figured out."
And though Michele Humble will be missed in the day-to-day workings of the classroom, it's a relief to know she will still lend a capable hand in Tenino.
This article is part of an ongoing series highlighting the work and contributions of public employees. It's produced with support from WSECU.