When beginning classes at South Puget Sound Community College (SPSCC), navigating the campus comprised of almost 6,000 students can feel a little daunting. The college is working to provide multiple opportunities to acquaint new and prospective students with the campus, as well as the college's many pathways to success. To that end, they are hosting a variety of guided campus tours, college info sessions, and are debuting a new student-created college tour app to accommodate every preference and schedule.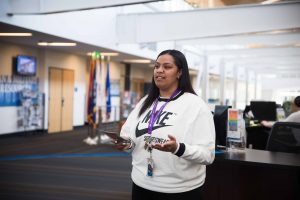 Guided Campus Tours
Guided campus tours are hosted on the main SPSCC campus on the last week of every month. A campus tour is led by a current student ambassador who knows the campus and can answer any questions about the school along the way. A traditional campus tour will lead new and prospective students through various educational buildings where classes take place, as well as the offices for a variety of student programs including academic advising, the Veteran's Office and Learning Support Services.
A guided tour can be helpful for a prospective student who wants an inside look of what the school has to offer and for new students who want to connect with an ambassador and know a familiar face on campus once classes start. "I think campus tours are really important for incoming freshman and also returning adults," says SPSCC Outreach and Admissions Specialist Tusalava Kuaea. "I feel like our campus is compared to a four-year campus. It's as big as that. If you're confused about going to classes and navigating the fastest way to get here, our ambassadors definitely can teach them all the tricks."
Information Sessions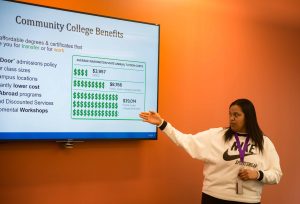 At an SPSCC info session, college programs and offices are discussed more in depth. In an info session, prospective students can learn more about the admissions process at SPSCC, and the many resources available to students. The session guides the prospective students through multiple pathways to success including Professional Technical programs, and transfer degree options. The session also shows real-world examples of graduated students in their desired career field.
The session can start the conversation on how enroll in school, even with a job or external obligation, highlighting online and hybrid classes as well as traditional courses at different times of the day. The session also mentions a wealth of extra-curricular programs like athletics and study abroad options. Info sessions reiterate SPSCC's support for students and the college's dedication to helping each student walk across the graduation stage. "We cover all the onboarding processes and how to get started here," explains Kuaea. "The five simple steps, different ways to pay for college, all the funding options. We will go into detail and preview the campus culture."
Touring App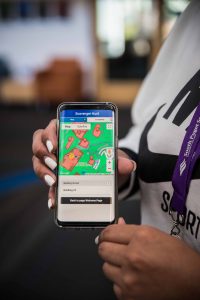 A new development for touring the SPSCC campus is a student-created app that can guide new and prospective students around the college without the need for a guided tour. This can be helpful for students who have a full schedule and can't make traditional tours or for students who want to roam the campus at their own pace. The app's creator, Souleymane Dembele, is studying computer science at SPSCC. He is an international student from Burkina Faso and chose to attend school on the West Coast because of the wealth of tech companies based in the region. Passionate about coding, he began to collaborate with the SPSCC outreach team on a self-guided campus tour app. Dembele wanted to create something practical, a program that could help students get to know the campus. He hopes to earn a Bachelor of Computer Science after graduating from SPSCC and continue his work as a software developer.
The layout of the app is a scavenger hunt and can pinpoint the user's location on campus. The app guides the user through the campus buildings while providing a description of each campus location. The app is structured like a game and each new stop on the map will include an activity related to each landmark. "We have used the app on one of our groups of high school students," says Kuaea. "They came in, they used the app and they absolutely loved it. When we go into it, some places on the map will ask you to take a selfie. It's really fun and it kind of puts you through different puzzles. If that's what you like and you don't like that traditional-style tour, then the app will take you through every building."
To learn more about SPSCC guided tours, info sessions and the new touring app, visit the South Puget Sound Community College website.
Sponsored