In the Tenino School District, teachers and students know how to spot the signs of human trafficking. Thanks to training for middle and high school students and faculty from Washington Trafficking Prevention (WTP), they have learned not only how to identify red flags, but how to report anything suspicious. Now, North Thurston Public Schools are getting that same training.
The Thurston County Coalition Against Trafficking (TCCAT)is WTP's local community effort to engage concerned citizens to raise awareness and raise funding to support training in youth services organizations.
On April 27 the non-profit (TCCAT) is hosting its annual Race Against Trafficking 5K run starting at Mountain View Church in Tumwater, with all proceeds going to their Youth Empowerment Program (YEP). Last year the event raised $27,000 and had 413 participants. This year, if 500 people register, one donor will contribute an additional $5,000. Register online on the Trafficking Prevention Network website.
Gundersen Dental Care is a key sponsor as part of its ongoing support of TCCAT and Washington Trafficking Prevention (WTP). Dr. Arne Gundersen says it's a natural fit for his dental practice, which has been caring for people's teeth in the community since 1964, when his father, Dr. George Gundersen, started the practice. "We know that people's oral health has a significant impact not only on their ability to enjoy food, but also their overall health and how they feel about themselves," says Gundersen. "In the past several years, we've been excited to partner with WTP, as they are also focused on improving people's lives in our community by seeking to stop human trafficking." Aside from providing financial support, Gundersen Dental offers a downstairs meeting space for TCCAT's regular meetings.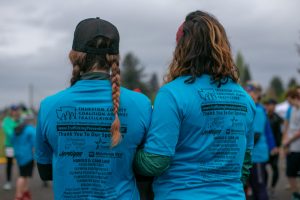 TCCAT's focus on equipping adults and youth in youth serving organizations is a relatively new development. Previously, funding was directed toward training law enforcement. But after 23 people were arrested for trying to buy children for sex in a sting operation in Lewis County in 2016, the Washington State Patrol let TCCAT know that it was just the tip of the iceberg. "Knowing this happens here, we believe the best investment to stop this scourge is in prevention," says Race Director Malcolm Miller. The YEP program is aimed at stopping the problem at the root by educating teachers and students.
Malcom believes efforts like YEP are critical in combating a problem that can seem overwhelming. "Traffickers don't take vacations, they don't have sick days or holidays," he says. "They don't have a warehouse where they can keep product that they can't sell. If they can't sell it, the product has to be destroyed. People disappear around us every day and for the most part, we feel helpless to do anything about it."
Malcolm got involved with TCCAT through Capital Christian Center's Peace Team. Participants choose a local project in addition to an international one, and he chose trafficking. "It's because of my desire for young people to succeed or at least have a chance to succeed," says Miller. "Every year in the United States alone, about 738,000 people are reported missing. Of those, somewhere around 68,000 leave of their own volition, but the rest, we don't know."
Race volunteer Susan Leyster recently retired after 30 years in higher education at Saint Martin's University, where she helped students become aware of the problem. "We would go out into the community in Old Town Portland, where the sex trafficking scene is very heavy," says Leyster. "I didn't have much time to pursue the issue then because I was so busy but since I've retired, I've gotten more involved. This is something I've wanted to do for a very long time."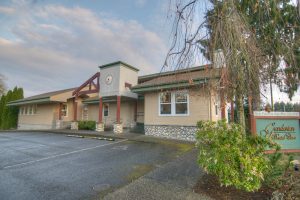 In addition to working with students and teachers, TCCAT trains law enforcement and more recently, local hotels. "We've been reaching out to the hospitality industry to engage them in the training because often they see signs of human trafficking but don't know how to identify them," says Gundersen.
Getting the Community Involved
Every January, the organization hosts a community conversation about trafficking that includes law enforcement, representatives from the county prosecutor's office, and concerned citizens. Attendees get some real-world figures about trafficking and often are inspired to attend trainings and learn how to spot signs and file reports. "We hear from a couple of different speakers and then break up into groups and have discussions about what we could be doing to tackle this problem," Gundersen explains. "It's a way to get the community's feedback."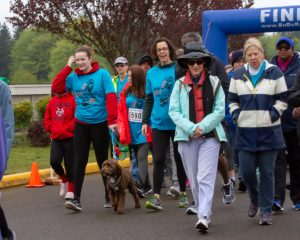 Registration for the 5K begins at 7:30 a.m. with the race starting at 9:00. "We're encouraging people to build teams," says Miller. "We'll have snacks and desserts afterward as well as raffle prizes." The race will be timed with chip bits for the more competitive participants, but walking is fine too, he notes.
Leyster believes it's important to raise funds and spread the word about the ongoing dangers of trafficking, and the 5K is one way to do that. "The money goes toward people on the front lines, to educating and training teachers and schools," she says. "As a grandmother of eight little grandbabies, I want their world to be a safer place. It's about getting people to become aware of this issue."
Register for the 5K through Runsignup.com or the Trafficking Prevention Network website.
Sponsored