Along with stunning nature, Thurston County is home to an abundance of wildlife species, and a community that fosters the value of protecting and conserving our wildlife and the natural environment. This sense of importance surrounding environmental stewardship can be seen at the Billy Frank Jr. Nisqually National Wildlife Refuge. Located on the Nisqually

River Delta in northeastern Thurston County, this 3,000-acre wildlife refuge provides ample habitat for a diverse range of species of birds and other wildlife. Complete with walking trails, opportunities for boating and hiking, a visitor center, and an environmental educational center, the Nisqually National Wildlife Refuge creates a perfect opportunity for the entire family to get outdoors and experience nature while protecting critical habitats for wildlife.
The wildlife refuge was founded in 1974 with the mission of providing a protected habitat and nesting grounds for waterfowl and migratory birds. The location provides various landscapes with natural features, including salt and freshwater marshes, grassland, riparian zones, and an estuary. In fact, the wildlife refuge contains the largest undisturbed estuary in all of Washington. The Nisqually River and the Puget Sound meet within the wildlife refuge, providing both fresh and saltwater to the area, which allows for a concentrated, diverse range of habitats.
These habitats provide sanctuary for more than 20,000 birds, with over 200 different species visiting the refuge each year during their migrations, including song birds, eagles, falcons, and more. Other birds such as ducks and geese end their migration at Billy Frank Jr. Nisqually National Wildlife Refuge and stay for the winter, along with resident species of birds that use the refuge as their permanent home.
Estuaries are necessary for all species of migrating birds, but the majority of estuary habitats, and other important habitats, are rapidly being lost to human development. Protected areas like the Billy Frank Jr. Nisqually National Wildlife Refuge ensure that the wildlife that relies on estuaries and similar environments are able to safely access them, and continue to survive as a species. The estuary at the Billy Frank Jr. Nisqually National Wildlife Refuge was a part of the largest estuary restoration project in the entire Pacific Northwest, which involved the removal of the Brown Farm Dike and others in order to reconnect 762 acres to the Puget Sound.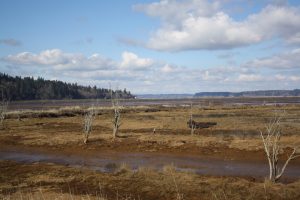 Other wildlife that depend on the refuge for habitat include 24 species of fish, including at least four different species of salmonids, a family of fish that includes salmon, trout, chars, freshwater whitefishes, and graylings. Salmonids are anadromous, meaning they are born in freshwater streams, migrate to saltwater to spend most of their adult lives, and then return to the same freshwater stream they were born in in order to spawn and die. This means that they are very sensitive to changes and loss of habitat, and the protected lands of Billy Frank Jr. Nisqually National Wildlife Refuge allow them to return to the same stream they hatched in in order to complete their life cycle.
Along with birds and fish, Billy Frank Jr. Nisqually National Wildlife Refuge also provides habitat for amphibians and reptiles such as frogs, snakes, and newts. Be sure to keep an eye out for mammals such as beavers, coyotes, deer, otters, and mink. The wildlife refuge protects threatened and endangered species, such as the peregrine falcon and the coho salmon.
Originally named the Nisqually National Wildlife Refuge, legislation was approved in 2015, as a part of the Billy Frank Jr. Tell Your Story Act, to rename the wildlife refuge after Billy Frank Jr., a treaty rights activist and tribal leader native to the area. Billy Frank Jr. was raised on the Nisqually Reservation, and spent his entire life living there and dedicating his life to fighting for treaty rights for the tribes. One of the most significant aspects of Billy Frank Jr's legacy was his work to enforce the Medicine Creek Treaty, which ensured that tribes had the rights to half of the annual catch of salmon.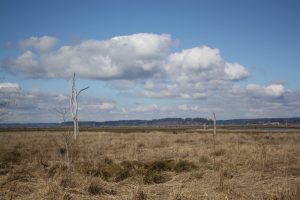 "Nisqually Wildlife Refuge is an excellent way for birders of all levels and backgrounds to connect with the natural world," says Parisa Ardekani, an ornithology student at The Evergreen State College. "As birds are the most visible of all of nature's animals, a pair of binoculars can assist in viewing birds from a great distance. If you are looking for a specific bird at Nisqually, it's best to do some research on the preferred habitat, and what time of year they are most likely in that area." she advises.
While spending time at the wildlife refuge, visitors can learn about the history, ecology, and wildlife of the area, while enjoying the scenery and activities offered. Billy Frank Jr. Nisqually National Wildlife Refuge is open from sunrise to sunset every day, with the visitor center opening at 9:00 a.m. and closing at 4:00 p.m. from Wednesday to Sunday each week. Visitors interested in boating or wildlife viewing should plan their visits around the tide. The highest number of bird species in the estuary are present within two hours of high tide. The daily fee to visit the refuge is $3 for four adults, and children under 16 enter for free. Please be aware that dogs are not permitted in the refuge, along with any activities that disturb wildlife.
Thrifty Thurston highlights inexpensive family fun in Thurston County. The weekly series focuses on family-friendly activities throughout our community. If you have a suggestion for a post, send us a note at submit@thurstontalk.com. For more events and to learn what's happening in Olympia, Lacey, Tumwater and the surrounding area, visit our complete events calendar.