Olympia and Thurston County are known for having an amazing community, full of positive people doing incredible things for the region and beyond. The inclusive and celebratory spirit is found in every corner of the county, from the historic buildings to the forests and trails.

It is outside where we find the Olympia Mountaineers, a dedicated group of outdoor enthusiasts, educating, inspiring, and celebrating the great outdoors of the Pacific Northwest. The Mountaineers Organization is an alpine club that serves the State of Washington and has been a leader in getting people out into nature since 1906, with the Olympia branch playing a large role in the history and, hopefully, the future of nature stewardship in the Evergreen State.
The Olympia Mountaineers are like Thurston County, a great mix of people of all walks, and hikes, of life. Friendly, passionate, and fun to be around, getting to know them is as easy as signing up for a few free events on their website, attending talks by outdoor leaders, or just reaching out.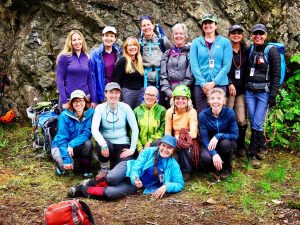 Recently, a group of Olympia Mountaineers got together and invited Thurston Talk to listen in and get to know this awesome group. Described as a very local and friendly group, the gang of five quickly accepted me, treating me like family. The Olympia branch is so well-known for their friendliness and acceptance that people drive down from Seattle and Bellingham. It also helps that the schedule and availability of events is much more open than other branches, making Olympia the perfect place to get out.
Meryl Lipman is one of those who was welcoming and friendly. Meryl moved up from Portland, hoping to join a local group to meet new people. In 2010, Meryl's mom died, and one of her friends took her to Mount Saint Helens. It took them 12 hours to reach the summit.
"On the way up, I cried, whimpered, said I'd never hike again," Meryl shared. "Once I got back, I got involved in a group right away because I knew I would enjoy it. Reaching the summit was inspiring."
Lisa Katzman had a different reason for joining the Mountaineers, but one that was equally as personal. A few years ago, she was 320 pounds, and was close to being diagnosed with diabetes. She started exercising and hiking to get into shape, but was going about it in an unsafe and dangerous way. She decided to join the Olympia Mountaineers to learn the right skills and has since made great friends. Today, she is a hike leader and also on the steering committee for the Mountaineer's Diversity, Equity and Inclusion.
The Olympia Branch of the Mountaineers feels very collaborative. Mountaineering can be competitive, but Olympia is inclusive. In 2018, two of their members passed away, bringing the community even closer and helping them reach out to their friends and family to join.
"Olympia is a place where people can find themselves," Meryl stated. "Those who join have a lot of room to explore and see what their passion is, and discover where they want to explore. With Olympia, you are not forced to fit in to someone else's box; any marginalized group is more than welcome and encouraged to join."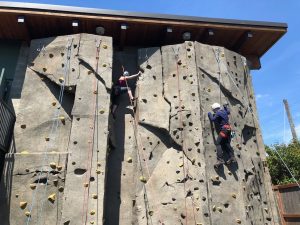 Katja Hurt, who is a hike and scramble leader and a member since 2016, joined after a dangerous situation on Mount Washington in the Olympics. After this experience, she wanted peace of mind for future trips. As a fourth generation Mountaineer, she decided to look into it and joined, starting with scrambling class.
"When you sign up on the Mountaineer's website, you get two free events," Katja shared. "Come out for a hike, meet people, explore the region and see if it is for you. Ask whatever you want."
Katja also mentioned that the Mountaineers host film festivals, like the Banff Film Festival, as well as a monthly speaker series on the first Wednesday of every month. While the crowd here is said to be older, there is a guest speaker and potluck, giving ample opportunity to ask questions and get to know the members. These events are educational, but the Olympia Mountaineers also give back to the community. They clean trails around Wynoochee, Mount Ellinor, and Mount Rose, teach kids about the 10 essentials and water treatment, as well as do numerous conservation projects around the region. In 2018, they challenged every member to get involved in conservation, resulting in thousands of hours of volunteerism, and helping hundreds of kids and families to get outdoors.
Some of the events many will be intrigued by are the Wilderness Skills Courses that are put on by the group. Open to the public, these events help take the mystery out of outdoor adventures, teaching interested community members how to set up tents, treat water, and generally feel more comfortable and safe outside.
The Olympia Mountaineers are a quiet, yet integral, part of the community. Working to educate others to get outdoors feeling safe and prepared, the people involved are your friends, family members, and neighbors. Their love for the outdoors is infectious, as is their desire to share their favorite hikes, climbs, and paddling destinations with you. Take a few moments, sign up for a couple of classes and see if the Mountaineers is the right fit for you. You might just find yourself standing on the stellar summits of Washington State with new friends and a new outlook on life.