What was once just a sketch, a drawing on a napkin, has now become the freshly constructed Toscana Apartment Homes in Lacey. This burgeoning apartment complex is in high demand and the new units are a welcome fixture that will add more living space to the city's tight housing market. Toscana's ribbon cutting ceremony garnered community support, including attendance from the Lacey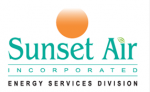 Chamber of Commerce, Mayor of Lacey, Andy Ryder, and the Thurston County Chamber of Commerce. Developers Ken and Julie Brogan built the Toscana Apartments and they are thrilled to see this property opening its doors to new residents.
Toscana is the Italian word for Tuscany, with the apartment's color palette and common area décor reminiscent of the region. Plans for Toscana reach back to over two years ago and construction is still in progress on a portion of the units. There are also plans to create more units on surrounding property.
"The plans were finished about 12 months before the project started," says Ken Brogan, building developer and owner of Toscana. "The plans were done at the end of 2016. We finished 51 units two weeks ago and they are now full. Two weeks, 51 units. We own that whole other side and that will be 228 more apartments in addition to this."
The Brogans are no strangers to developing properties in Thurston County. Just in the past five years, they have been involved in several substantial building projects in the area. "We built a property called 8Hundred West in West Olympia," says Brogan. "We bought a property on Fern Street and it was called Little Tuscany. It was a condo deal that didn't get finished until we bought the existing condos, we bought all the land around it and built a really nice community. And then the Views on Fifth on the lake downtown. And that is slated to finish in December of 2019. These are our larger focuses right now."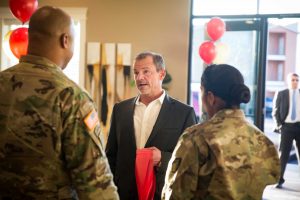 A goal for this project was to deliver high-quality units to the people of Lacey while also keeping rental costs moderate. "We are market rent," explains Brogan. "So, we are really matching the surrounding properties. We're just building a better product. We don't have a lot of general contractors and profits and all that stuff built into the number. It helps us keep our rents market, with a superior product."
When creating Toscana, Brogan sought to make the home amenities high quality and efficient, while also creating a sense of community for residents. The apartment units themselves are built with an open concept, in addition to 14-foot-high top-floor ceilings and a washer and dryer in unit.
"I really focus on functionality and flow and comfort and technology in the buildings to make it super-efficient," explains Brogan. "As far as the units themselves, super-efficient heating, all LED lighting, all of our approach lighting is motion activated, all granite countertops. Then the commons with a pool, hot tub, and a common room that is usable by anybody, so they can have events and a really great gym. We try to keep things up to date, a nice little community."
A huge support during the entire building process has been the City of Lacey. The city's mayor, Andy Ryder, and Chamber of Commerce attended the ribbon cutting ceremony and were encouraged that more housing is now available for future and current residents. "Probably the easiest part of this deal was working with the City of Lacey," says Brogan. "And you don't get to say that often. I do like Lacey a lot and I want to do more. They are great to work with."
After over two years of permit acquiring, testing, designing, and constructing, the ribbon cutting is momentous for Brogan. "My favorite part is bringing it to the finish line," says Brogan. "The last two weeks is always high pressure. No sleep, just around the clock with the whole team. That's got to be it for me, got to be what keeps me coming back."
For the Brogans, a completed project is not just a professional achievement, but an important personal milestone, as well. "This was just an idea, just a napkin," explains Brogan. "We take this pretty personally. We've done a lot of hard work, even just getting things financed. The whole process is just a series of steps before you even get to the building. You're exhausted, you're really just beat up and you have to have the stamina and all that to endure it. But we have a lot of great people, and a lot of great help and support from the city."
To learn more about Toscana and the types of units available, visit the Toscana Apartment Homes website.