The Squaxin Island Tribe, the People of the Water, are renowned hosts. In 2012, they welcomed 104 canoes from all over the Northwest to their ancestral home, Budd Inlet, aka Steh-Chass. On February 16 and 17, they will be sharing that same generous spirit during the 11th annual Sa'Heh'Wa'Mish Powwow.

"Powwows originated from the plains," explains Leslie Johnson, tourism director for the Squaxin Island Tribe. "Over the years, we now have what are called intertribal powwows. In the plains, there are many that are ceremonial only and not open to the public, ours is open to everyone and it is free."
Expect food booths, arts and crafts, drumming competitions and, of course, amazing dancing at the Little Creek Casino Events Center the entire weekend.
"People come from all over," says Leslie. "It is getting bigger and bigger. We have returning dancers, drummers, and vendors. The drumming really is an integral part of the powwow, we have at least 10 drum groups."
Though the Coast Salish tribes are better known for potlatches, powwows have become increasingly more popular over the last 20 years. The gifts and prize money have increased, as have attendance and participation.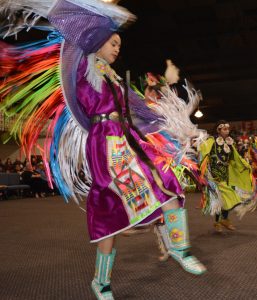 Though tribal Teen Advocate Jaimie Cruz personally prefers potlatch dance ceremonies, she sees the value in the powwows for the local youth. "For now, we have the powwows." says Jaimie simply.
Jaimie sits in the Teen Room surrounded by four local teenage girls from the Teen Council. She has watched the local teens balance their busy high school and tribal responsibilities with the recently added pressure of preparing for the powwow.
Desire, Practice, and Regalia
"The girls have been practicing since November," Jaimie says. "Rehearsing and getting their regalia together." The regalia includes not only the intricate dress that is worn, but also accessories specialized for each dance – shawls or scarves, plumes, jewelry, feather fans, moccasins. There is a lot to learn and a lot to gather together.
"One of the greatest things about the powwow is that the regalia is very colorful and beautiful," says Leslie. "Often they are handed down from families, some of them are very old." Though a few of the new dancers are able to use family regalia, it has taken effort for others whose families have never participated in a powwow.
"Sophia, Haley, Kiona, and Liz were the four girls who said they wanted to compete," Jaimie explains. "Liz is from Standing Rock, she is Sioux and already has her regalia done. Haley and Sophia have been on their own. Hopefully they will be able to compete." Jaimie looks over at Sophia and nods.
Laying out the shimmering fabric, Sophia Pinon carefully smooths the front section. The zipper is in but the final seams, decorations, and the work of attaching 400 jingles, the silver cylindrical bells that will provide the rhythm and adornment, are yet to be done.
While organizing the rows of jingles exactly one inch apart on the fabric, Sophia explains, "What I learned growing up is 'don't forget where you came from.'" Laying a wolf figure in its place on the fabric she looks up, "This is from me, it is my clan and it is coastal."
Representing with Mind and Heart
Keesha Vigil drops into the Teen Center. She began competing in powwows when she was eight. Her first competition regalia was borrowed from a cousin, but later her grandmother made her a dress of her own.
"I was the first in my family to powwow dance," Keesha says. "That was when native sisters, the teens when I was little, were all going into it so I feel it was because of them. And then I fell in love with it."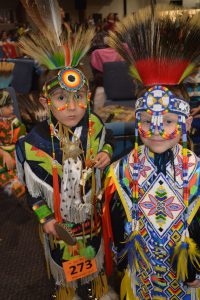 Keesha went on to become Squaxin Tribal Royalty when she was 12. Royalty are young tribal dancers who compete with a speech as well as two dances. Once they win the title of Royalty, they represent their tribe during powwow events.
This is Sophia's first powwow. When asked if she had any desire to run for Royalty this year, Sophia pauses, "I do, but it would be against my cousins. We have talked about it. It is a different story when you are competing against your cousins."
After a moment, Jaimie breaks the quiet, "When you are doing an activity, you make sure that your mind and heart are with it."
New Times, New Traditions
Leslie recommends that if you have never been to a powwow then be sure to attend the Grand Entry. "All of the dancers are entering one at a time until they are part of an entire group with all of the drums playing," she says, smiling. "I think it is a combination of the incredible beauty of the dancers and the beat of the drums. It is an uplifting and amazing experience."
The Sa'Heh'Wa'Mish Days Powwow opens with The Grand Entry on Saturday, February 16 at 1:00 p.m. There will be two other opportunities to experience the Grand Entry, Saturday night at 7:00 p.m. and Sunday afternoon at 1:00 p.m.
The youngsters start out the Powwow with Tiny Tots, those under 6, dancing first. They are then followed by 14 categories organized by gender and age up to the 60 and over category.
As with any time you are visiting a different culture, it is wise to have an understanding of local customs so you can be a good guest. Here is a guide to help you.
Sa'Heh'Wa'Mish Days Powwow will take place February 16 and 17, 2019, at 1:00 p.m both days at the Little Creek Casino Event Center.