2019 is almost upon us. If your New Year's plans are all wrapped up in the midnight party, you might not have thought about breakfast on New Year's Day. If you are like me, you won't really feel like making a meal, but who really wants to start the new year with cold cereal? To top it off, quite a few restaurants will be closed, taking the day off after their own New Year's Eve celebrations. From substantial meals, including vegan and gluten free choices, to mimosas and bloody marys, Thurston County has plenty of choices for New Year's Day eats. To take out some of the guess work, here is a list of some great local restaurants offering reasonably priced breakfast and brunch options on New Year's Day.

Blue Camas Buffet at The Nisqually Red Wind Casino
If you want to carry your midnight celebration directly into breakfast, the Nisqually Red Wind Casino has you covered. The Blue Camas Buffet will be hosting a special all-you-can-eat Twilight Breakfast from midnight to 3:00 a.m. for only $12.95. Enjoy all your breakfast favorites like scrambled eggs, sausage, bacon, hash browns and pancakes, along with an omelet and waffle station.
12819 Yelm Hwy SE, Olympia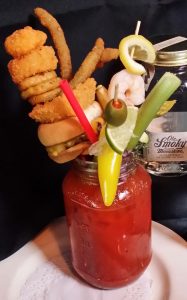 River's Edge in Tumwater
New Year's Day is a big college bowl game day. Not only will River's Edge Tumwater have delicious breakfast and brunch items, including some awesome takes on the bloody mary, you can sit back and watch some football as well. River's Edge will be open bright and early, at 7:00 a.m., on New Year's Day. Don't forget to check out their take on the bloody mary—the mother mary or the morning mary. Each amazing drink features a 32-ounce bloody mary with a full meal of breakfast or lunch favorites skewered on top. You must see it to believe it, and you might want to split it with a friend.
4611 Tumwater Valley Dr SE, Olympia
Tipsy Piano Bar
Sleeping late? That's okay. Grab brunch at Tipsy Piano Bar in downtown Olympia. On New Year's Day they will be serving brunch from 11:00 a.m. to 2:00 p.m. with some substantial meals to fill you up. Their food coma is a customer favorite, featuring a chicken fried steak, biscuits and creamy sausage gravy with hash browns and eggs. Also try the julip blossom, a delicious bubbly drink, made with prosecco, orange bitters, Salish Sea's peppermint liqueur, finished with an orange twist.
514 Capitol Way S Olympia
New Moon Cooperative Café
New Moon Cooperative Café will serve their breakfast and lunch menus on New Year's Day from 7:00 a.m. to 2:00 p.m. Customers enjoy New Moon because it's a place with something for everyone. Whether you are looking for vegan options, gluten free choices, or the ever-popular bacon and eggs, they have it all. They also feature a terrific kid's menu. Don't forget to ask them about their specials, as they change regularly.
113 4th Ave W, Olympia
McMenamins Spar Café
Just down the street is McMenamins Spar Café. They will open their doors for breakfast at 7:00 a.m. and will be serving brunch until 3:00 p.m.  The current brunch menu features some unique seasonal mimosas, like the apple cider mimosa and the cran-apple mimosa. The spar bloody mary is also a popular favorite. The breakfast bowls are a great choice, and they feature flavors you won't find anywhere else.  Try the red eye breakfast bowl, which is a mix of chili-coffee pork carnitas, peppers, onions, and cilantro, severed over cottage potatoes and topped with two eggs cooked to order. Angel's crunchy French toast is a good choice as well, served with whipped butter and red raspberry jam.
Hopefully, this list of thrifty breakfast and brunch spots should help you get your new year started off right. So, grab your friends or family, and skip the cereal on New Year's Day.