Water. We drink it, bathe in it and understand it is essential to life. At my house I have potable water, hot and cold, available all day, any day. What a luxury. In too many parts of the world, women walk over three miles to get water for their families only to have their children or themselves become sick or die from waterborne illness. Friendly Water for the World, 501(c)3 non-profit global organization located in Olympia, has a mission to "expand global access to low-cost clean water technologies and information about health and sanitation through knowledge-sharing, training, community-building, peacemaking, and sustainability."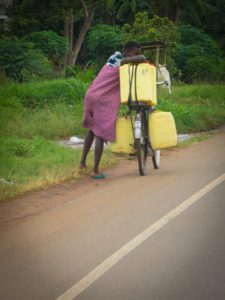 Friendly Water takes a leap from customary support when it comes to change. It is not about dropping off bottles of water in desperately needy places. It is about engaging with the local people to establish practices so that they take care of their own clean water needs. The ramifications of communities living with safe water are astounding. First it includes hope. It also means empowering people to have more control over their health, finances and their future.
Friendly Water has volunteers around the world and takes trained teams into communities to teach people to fabricate, distribute, install and maintain bio-sand water filters. They also learn to build rainwater catchment systems, thus ending those long and often dangerous walks to water. The filters are low cost mechanisms that remove bacteria, viruses, protozoa, amoebae, worms and heavy metals from the water. These filters do not add chemicals or require power to operate. Unsafe water is poured into the filter to arrive at a bio-layer where organisms cannibalize each other. After transiting through the finely ground sand and gravel layers, 99 percent of the micro-organisms are removed resulting in water that meets all World Health Standards, leaving behind the threat of cholera, typhoid, bacterial dysentery, Rotavirus, hepatitis A and cryptosporidiosis to name a few. It takes less than an hour for the water to be filtered.
A single filter costs approximately $12 – $26 to construct and can process 21 gallons (80 liters) per day. Astonishingly, there is basically no required maintenance for 30 years. Consider this. Uganda has the highest birthrate and the lowest life expectancy. It is a country where people earn $75 per month and often half or more of that goes toward medical expenses. Children (and adults) are sick with waterborne illness and time must be taken away from work to visit a doctor. Adults miss work because they are sick. Not spending the resources of time, energy and money on sickness means that families can actually have the possibility to plan. "They are empowered to take control of their own lives," says Curt Andino, executive director for Friendly Water for the World. It means people can make more decisions about where and how to spend their money. One filter can manage a large family or a school of 70 children. Imagine a whole village where the daily emphasis shifts from managing sickness to engendering wellness.
Friendly Water for the World is active in eight countries and has worked in fifteen. It was founded on January 1, 2010 at 1:00 p.m. The date is clearly embedded in the memory of David Albert, the deeply committed board chair. He was at that inaugural meeting when 22 people came together and raised $32,000 to get the project going. Del Livingston of Tacoma had been in Kenya meeting people and making connections and wanted to increase support for providing clean water. David and Del joined efforts and Friendly Water was born.
The current Friendly Water board board of consists of 14 members. Nine of them recently took a trip to Uganda to bring new computers and supplies for the volunteers working abroad. They were accompanied by Curt, who oversees the entire organization. He has worked with other NGO's (non-government organizations) and finds Friendly Water to be especially remarkable. He knows this work is making a powerful, global and long-term difference. He humbly expresses his heartfelt satisfaction knowing that the lives of over 500,000 people are benefiting. That number will only grow.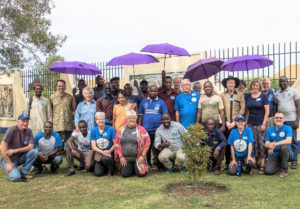 To realize that within the past decade more people in the world have died from waterborne illness than in all the wars combined is sobering. To know that simple, tested means are available and already at work through regions in Africa offer hope and growing opportunities for the world. "Friendly Water for the World is not a traditional charity, but a knowledge and training organization," which is a statement from the Join Us page. The goals and objectives are to ensure safe drinking water, create self-sufficiency and to teach Americans effective ways to spend their volunteer dollars and time.
You can be part of meaningful social action in several ways. People like David Albert and Ron Storey are Friendly Water board members and actually go on trips as part of the team. This is wonderful and amazing, but not required. You can attend an event or buy coffee or holiday cards. You can spread the word. You can donate any time. Giving Tuesday is coming up on November 27 right after Thanksgiving, making it easy to contribute from the comfort of your own home. Learn about supporting the Thousand Mothers Strong Campaign and know that it is possible for any individual, including you, to make a difference in this world.
Sponsored