Fall is in the air and before the holiday season begins, now is a great time to have a fun staycation. Rates are lower in the off season so find adventure in a new and unexpected place locally. There are unique vacation rentals all over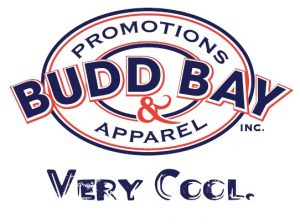 Thurston County that offer affordable places to relax and unwind or to explore a new part of the area. Staycations offer a chance to get out of your everyday routine, save money, and make memories by being a tourist in your own city.
Cozy Sailboat Sonrisa
This unique vacation rental Cozy Sailboat is truly a one-of-a-kind experience to sleep on the waters of Puget Sound. The amazing location adds to the value of this property, with beautiful water views, Olympia's best restaurants in walking distance, and the charm of downtown nearby. Fall is a great time to stay aboard Sonrisa. There is an amazing heater that keeps the boat warm and cozy and a nautical lantern that hangs midship offering an amazing glow.
Midweek rates are lower and the rates decrease for fall and winter, offering a value for a romantic getaway on the water. "The best part of being a host is seeing people's face light up when they come aboard the first time," says Jenni, co-host of The Cozy Sailboat. "We love hearing guests say "I have always wanted to do this!" This staycation is perfect for those looking for a romantic getaway, tranquility, adventure, or maybe just wanting to check another thing off their bucket list.
The other co-host, Bob, is a USCG Captain offering sailing adventure charters. From the beautiful boat, you can see Puget Sound in all of its breathtaking glory. Take the helm or just sit back and relax while enjoying the natural beauty. If you are lucky, you might even see a whale.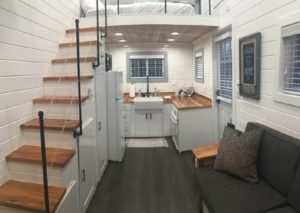 Farm Style Tiny House
This adorable and new Farm Style Tiny House has all the comforts of home. There is a fully stocked kitchen, full bathroom and tub, TV with access to Netflix, Hulu, and more, with room for three adults to sleep comfortably. The farm style is not just in the bright and cheery decor – there are also goats to feed and guests can even fry up some farm fresh eggs from ducks who live on the property.
The tiny home rents for only $85 from September to May and there are no hidden fees making this rental more affordable than a typical hotel. Rates are the same every day and a discount is given for a week or more. Anyone who books a stay and mentions this article will get 10% off. Ask Chad about kayaks for a fun adventure.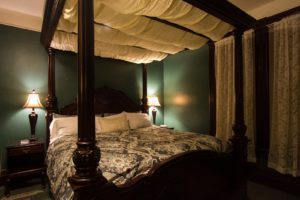 Swantown Inn and Spa
The Swantown Inn and Spa is truly a place to relax and unwind. This bed and breakfast is an 1887 historical Victorian mansion with luxurious rooms in a great location. "The Inn is close to downtown, but far enough away that it is tucked in a quiet corner for relaxation," says innkeeper Casey.
Wake up to a three-course breakfast catered to guests' dietary needs. With rates starting at $129 and discounts for multiple-night stays, the Inn and Spa have options for everyone. The Puget Suite is a brand new, family-friendly, two-bedroom suite, or book a room for a romantic weekend as a couple. The blend of B&B and day spa is perfect for staycations. In fact, until December 10, Swantown Inn and Spa will offer ThurstonTalk readers 10% off a two-night spa package.
Treehouse with Panoramic Views
For a rustic experience unlike any other, spend the night 16 feet in the air in a secluded Treehouse with Panoramic Views. The beautiful location is seen from the treehouse's wrap-around deck overlooking a pond. There is no running water, but a wash basin with soap and towels is offered. Given the height of the rental, guests must be over 13. Plan a romantic couple's retreat in this quaint location that is sure to be remembered.
Millersylvania Lakeside Cottage
For a family getaway, while staying local, Millersylvania State Park offers a Lakeside Cottage. The park offers tons of fun with hiking and biking trails in old-growth forests and Deep Lake provides boating and fishing. Kayak, paddleboard, and pedal boat rentals are also available.
The scenic views of the lake are found in the private setting of The Lakeside Cottage. The comfortable home has everything a family could need to have a cozy stay. A family of six will find plenty of room with two queen beds and cozy sleeping alcoves. Winter and shoulder season weeknights are only $99 per night and weekends and holidays are $119.
There are plenty of options locally for family fun or romantic getaways. Or find relaxation and book a unique cottage, treehouse, or even a sailboat by yourself. Staycations are perfect getaways from life without the added expense of traveling.