The talk all last season among the Black Hills High School volleyball team centered around one thing – making it back to state.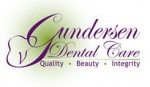 The Wolves were able to succeed in that mission, ending a six-year drought to make their first trip to the Class 2A state tournament since 2011.
"We always talked about state before," said Black Hills coach Jessica Prigge, who enters her fourth year with the Wolves. "However, these girls didn't truly understand what state was until they walked in the gym amongst the best teams in the state."
Black Hills was sent home following back-to-back 3-0 setbacks, losing in the first round to White River, which would go on to finish fourth in state, and in the consolation bracket to eventual seventh-place finisher Liberty of Issaquah.
The topic of choice remains the same this year – it's been all about working toward making it to state in consecutive years. But the tone is different among the players. It isn't about simply making an appearance in 2018.
The Wolves want to make a statement.
"Last year we didn't make it far," said senior Hannah Rongen "This year we're going far. We talk a lot about bringing hardware home from state this year."
Black Hills certainly features a front row that can accomplish just that.
Behind 6-foot Rongen, who was a second team member of the Washington State Volleyball Coaches Association 2A all-state team last year as an outside hitter, and fellow seniors Madison Shepler (5-foot-11) and Maisy Williams (6-0) the Wolves sport more length, athleticism, and experience along the net than most any other team they will face this season despite losing a strong senior class from last year's squad.
"There has definitely been change here," said Williams, a state long jump champion in track and a second-team all-2A Evergreen Conference selection last year as an outside hitter. "We lost five valuable people, but we gained five valuable people. We have a very strong team still and I think we can only get better. We expect to go further than last year."
In addition to Rongen, Shepler, and Williams, Black Hills also returns senior defensive specialist Ainslee Eberle and junior outside hitter Brenna Nelson. Both were honorable mention all-conference players a year ago, and will play large roles in the Wolves' success this year.
Despite graduating several key players from last season's deep postseason run, Black Hills enters this year with the value of knowing exactly what needs to be done to return to the state tournament.
"It absolutely did serve as motivation," Prigge said about last year's success serving as this year's carrot. "These girls now know what it takes. It's no longer foreign. They got a taste and it's now feeding the motivation."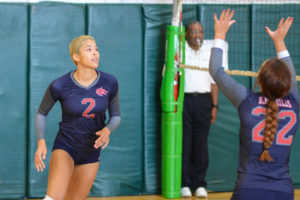 The Wolves are coming off a 2017 campaign where they finished second to rival Tumwater in the 2A EvCo, going a strong 7-3 in conference play with all seven of their triumphs coming in 3-0 sweeps. They followed up the regular season by claiming second at the district tournament, losing 3-2 in the finals to Ridgefield, a squad that would go on to finish second at state.
Black Hills last placed at state in 2011, finishing seventh overall.
"We're working so hard. We are working in the gym and we're working in the weight room every day," Shepler said. "We're getting those gains because we want that state placing. We've been there. So now it's time to improve on it."
It would be a fitting end for this year's quartet of seniors as they mark Prigge's first four-year class.
"It is a different feeling (coming into this season)," Prigge said. "These girls will always hold a very special place in my heart. This is such an incredible group of girls. I've said it since day one. They make me proud."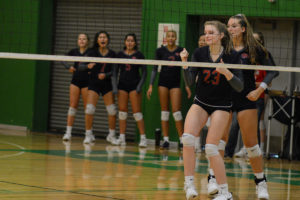 While all three are terrors at the net for opposing teams, they each feature different off-the-court traits that complement each other's strengths. Shepler has always been the team's vocal leader, Rongen is the quiet, lead-by-example player, and Williams is simply one of the state's top three-sport athletes.
"All three are so similar, yet so different," Prigge said. "All three are constantly striving to be better than they were yesterday. They walk into the gym every day with a smile on their face, ready to work. These girls truly understand that you get what you work for. Nothing is handed to you. Their determination and dedication mixed with their leadership and kindness is inspiring."
"They are truly an incredible group of girls, on and off the court. All three have grown and matured in so many ways. That's one of the biggest rewards as a coach, watching these girls grow into amazing young women. These players have molded the program standards and expectations over the last four years."