Evan Bartlett grins widely when he mentions his youth soccer club the Diamondbacks.

It was there the Tumwater High School senior first starting playing soccer with many of his current Thunderbird teammates.
"Club soccer brought us all together, then summer league," Evan said. "That was a while ago. When we came to high school a lot of us had already been playing 8 or 10 years together. It's just amazing."
There's Evan and fellow seniors Jamin Schultz, Britton Fine, Cole Wise and Nathan Seaman, and junior Dakota Seddon.
Most started playing together at the age of 4 and Brett Bartlett, Evan's father and the T-Birds' head coach, has been there with them every of the set of the way.
"About a quarter of our varsity this year has played together pretty much every year since they were 4," Brett said. "They've been doing this 12, 13 years. I stepped away for a little bit when they were in club for a couple years. I just wanted to be a spectator, be a dad for awhile. Then they showed up back here at Tumwater High School. From a personal standpoint this group obviously means a lot to me."
It's certainly not unusual for a team to feature several players who have been together for a number of years, but the fact that this group comprises more than a quarter of the T-Birds' varsity roster and have been coached by Bartlett for the large majority of their years together definitely makes this a rarity, a fact not lost on Evan and his longtime teammates.
"It's just a dream to be playing with these guys. There's no better way I would rather end my high school career than with these guys," said Evan, who will attend Gonzaga University in the fall. "There's nothing I would rather do than play my last year here with this team and with my dad as the coach."
According to Evan, the total number of combined games over the years far surpasses triple digits, creating a comfort zone and familiarity few teams can boast.
"On a mental level we all know what each of us is going to do and how we are going to do it," Evan said. "The group just has super chemistry. It's crazy. We're always messing around, always having fun together, but when it's game time we just click. Everyone works together."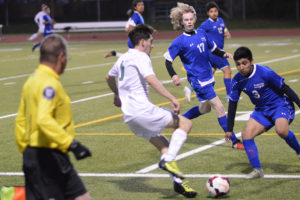 The T-Birds finished the regular season with a record of 8-4-3, including a 6-4 mark in the 2A Evergreen Conference to place them third in the standings.
Tumwater will open 2A Southwest District tournament play against at Woodland, the second-seeded team out of the 2A Greater Saint Helens League, on May 5. The T-Birds and Beavers last met in the postseason in 2016 with Tumwater picking up a 2-1 victory in the first round of the district tournament.
"We've made a couple mistakes," Evan said about his team which will look to snap a three-game skid in the playoffs. "We've had a few hiccups along the way. Hopefully, we got those games out of the way (in the regular season) instead of the postseason."
The T-Birds last advanced to state in 2012 when they finished fourth.
---
Black Hills Boys Claim Evco Championship
Behind a balanced offensive attack and a stingy defense, the Black Hills High School boys' soccer team claimed the 2A Evergreen Conference championship and will take the conference's top seed into the Class 2A Southwest District tournament.
The Wolves (14-2) will take a six-game winning streak into the postseason when they host R.A. Long, the fourth-seed out of the 2A Greater Saint Helens League, at 5:00 p.m. on May 5 at Tumwater District Stadium. The top three teams out of the district tournament advance to state with the district championship being held on May 12.
Black Hills, which last secured a trip to the state tournament in 2008, has posted seven shutouts this season and have outscored their opponents a combined 24-3 with three shutouts during its current winning streak.
The Wolves' last loss came in a 2-1 setback to rival Tumwater on April 13. The team's only other defeat this year was in a non-conference match against 3A North Thurston (5-2).
Coached by Frank Soiza, Black Hills is led by seniors Bekele Dowty, Yitagesu Dowty, Matt Jones, Bemnet Lester, Hengy Liao, DevenJhade Marquez, Christian Rees and Chad Turner this season.