Intercity Transit's 2018 Bicycle Commuter Challenge (BCC) runs for the whole month of May.  With this year's theme of "The World Looks Different When You Ride," the Olympia tradition has been going on for 31 years now. That is longer than other Olympia mainstays like Arts Walk or the Procession of the Species.
"Promoting public transportation choices that support an accessible, sustainable, livable and healthy community is part of Intercity Transit's mission," says Duncan Green, BCC event organizer.  "We are lucky to live in a very bike-friendly and 'bikable' community. The BCC is one way we can encourage the use of bicycles as a practical way of getting around every day."
The Spring BCC kicks off May 1, just in time to appreciate the gorgeous weather and lush spring greenery on your commute. People can participate as much or as little as they like. Participants new to the BCC will need to create an online account in order to log their mileage on the website. Any bicycle travel in Thurston County for the purpose of getting from one place to another counts. Many take part in the BCC individually, as a family, or with a team when they bike to and from work. Green reminds readers that anyone can participate in the challenge.  Unlike recreational bicycle rides, the BCC is encouraging riding a bike for practical transportation.  Anytime you use your bike to get somewhere counts as a loggable trip. Taking your bike for a quick trip to the grocery store, heading to the library or visiting a friend all count, and logging those miles really adds up.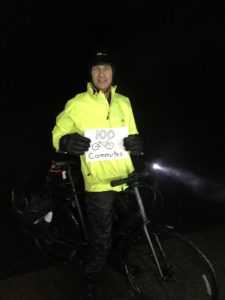 Local businesses get in on the BCC action too by donating coupons and prizes to incentivize participation. All you need to do is log just one trip to receive a packet of coupons and be entered to win some fun prizes like mugs, t-shirts and bike accessories. Participants that log rides on 10 or more days receive additional coupons, are entered to win one of 3 new bicycles, and are eligible to win the grand prize. New for 2018, the grand prize is a gift certificate valued at $4,000 for a bicycle tour from the Adventure Cycling Association.
Dan Mathis, division administrator for the Department of Transportation's Federal Highway Administration, knows a lot about getting around. He has participated in the bike challenge a number of times on and off through the years. He enjoys being able to commute to work and often rides his bike beyond the month-long BCC. Riding his bike in the morning allows him to get ready for the day he says. He sees the challenge as a good way to encourage people to consider bicycle commuting as a viable option and he encourages others to give it a try.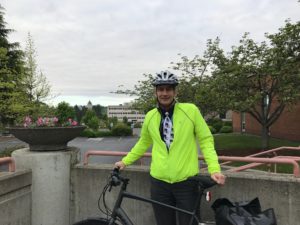 Barry Zickhur, former team captain of the Justice Riders at the Administrative Office of the Courts, started participating in the BCC in 1998 when he joined a team at work. He took off a few years because of an injury, but started back up in 2005 and has been participating regularly ever since, serving as team captain for different groups over the years.
Zickhur has been an avid bicyclist ever since he was a kid in Minnesota. Sometimes his bike was his only mode of transportation. One day, he was riding home around Capitol Lake when his phone rang. His wife, who was very pregnant at the time, was being admitted to the hospital at that moment with complications. "I just kept biking around the lake, through town, and on to St. Peter Hospital," Zickuhr says. The hospital was able to manage his wife's condition and she delivered a healthy baby boy, just one month later. "He's now biking to middle school – on my mountain bike – every day, and will be joining me in the BCC this year," he adds.
Zickhur urges bicyclists and motorists to know the rules of the road and obey them, and most of all, to be kind and patient. "I see biking as a great way to be healthy, heal the environment and be more in touch with the world around you," he says. "It's amazing the things you see and hear when you're out in the world and not inside a car. Animals, scenery, 'wow' moments – you're really more in tune with your world on a bike."
Riding a bike, for even a few trips a month, comes with a number of benefits. It can be great for health and wellness. The American Heart Association recommends at least 30 minutes of moderate intensity activity 5 days a week.  It is good for the environment, reducing vehicle emissions and chemical runoff into storm water systems. In fact, every mile you ride on a bike instead of a motorized vehicle reduces roughly 1 pound of carbon dioxide in the air. It also saves money. Research indicates that by replacing some car travel with bike travel saves about 42 cents per mile when factoring gas, vehicle maintenance and depreciation. Another benefit that is sometimes overlooked, is the reduction of traffic congestion and parking woes.
Intercity Transit has a couple fun events to celebrate the Bicycle Commuter Challenge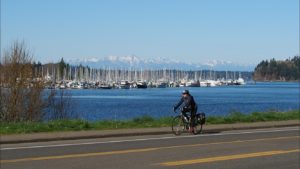 On Thursday, May 17 Intercity Transit is celebrating National Bike to Work Day. Stop by at one of six bike stops around town between 7:00 a.m. and 9:00 a.m. to fuel up your ride. Some stops will have bike mechanics to help you tune up your bicycle, and the most recent edition of the Thurston County Bike Map will be available.
Following the BCC challenge, The BCC Prize Hoopla is held to celebrate the accomplishments of all the participants. It will take place at the Olympia Farmers Market on Saturday, June 23, 2018 at 9:30 a.m. There will be some prize drawings, award presentations and the winner of the grand prize will be announced.
The Intercity Transit's 2018 Bicycle Commuter Challenge is rolling, so head over the Intercity Transit website to register now.
Sponsored