My life is purposefully fun and easy. I'm enthusiastic about incorporating environmentally positive activities. For example, I seeded 1,700 oysters in from of my home Henderson Inlet. Their daily water filtering is beneficial for the Sound. My joy goes up another notch when it involves food. Then I met Heather Wood. She pulls it all together while holding a vision of zero waste in the world. Her business, OlySunrise Compost Concierge, makes recycling your food waste a breeze.

All you have to do is put your carrot tops, banana peels and related items into the provided bucket. The bicycle-powered service will pick up your bag, transport it to a local composting hub and clean your container. When you are ready to incorporate some of that rich material into your yard or garden, it's delivered to your door.
OlySunrise Compost opened in 2012, when Wood was living on the eastside of Olympia near the Capital Vision Community Garden. The garden is one of the ministries of the Capital Vision Christian Church. OlySunrise has a primary recycling hub on that property. A relatively small space, measuring approximately 3'x 3', can accommodate many pounds of food waste. The composting areas are aerobic (open to the air), and for the most part above ground.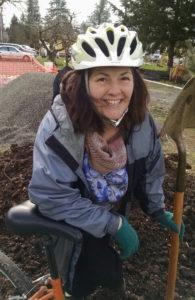 The Eastside Big Tom's recently partnered with OlySunrise to direct their food waste to the Capital Vision hub. Wood tracks the weight of every pick-up. In February 1537 pounds of food waste was set into the compost pile. The total included Big Tom's along with other neighbors. Eventually, all the material will compost and then be introduced to ground nearby. This hyper-local project epitomizes and optimizes refueling the earth without using diesel fuel or unnecessary chemicals or energy. A bike is hauling all the material. This ecological approach shrinks the larger carbon footprint involved in growing and preparing our food.
Wood's original idea was to have a composting service powered by a horse or a mule. Her research led to finding places that "up-cycled' mountain bikes into hearty cargo bikes. I guess it's easier to store and feed a bike than a hoofed animal.
The West Central Park has its own hub. This is helpful for the nearby residents, and is also available for the vendors and customers of the market during its operating season. The bed and breakfast and restaurant under construction on the property will also be able to take advantage of the composting opportunities.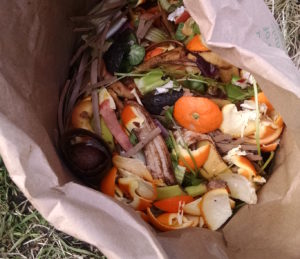 OlySunrise imagines placing recycle hubs everywhere. Neighbors can band together to find a suitable compost location for their combined food waste. People could choose to deliver their own waste or have the concierge service pick it up weekly. After the food decomposes and transforms, it can be distributed back into the community. This saves a valuable resource from uselessness in the landfill. Instead, it feeds our soil that in turn feeds the vegetables that grow in it.
You might imagine that Wood spends a lot of time on her bike. It's true, she does. In less than a month her ten-year-old daughter, who was helping, clocked in over a hundred miles. Plans for an electric bike are in motion. The business expects to employ riders to service various areas. Right now over 100 pounds per day are being transported.
Helping the Honey Bee
Composting provides an optimal segue for another of Wood's interests: natural bee keeping. Our food production depends on bees pollenating plants. Mites and pesticides have dangerously compromised the lives of bees. Varroa mites are parasites that attach to bees and suck blood from adult and developing bees, weakening and shortening their lives. That's a significant problem. The good news is that within the composting media lives the small but mighty pseudoscorpion. This teeny-tiny beast eats mites. A special bottom filled with compost can be attached to the hive box. This is great for the bees and pseudoscorpions, bad for the mites. As Wood says, "It's the simplest solution." No chemicals required.
Natural beekeepers are able to cull honey from their maturing hives. However, they are especially concerned about the bees and the well being of our food supply. Wood works with the Thurston County Food Bank, 222 Market, Sophie's Scoops and Chelsea Farms Oyster Bar, who have installed two hives on each of their roofs.
With the help of Wood, I also built a bee house for my property and will be hosting my first swarm this summer. This adds to my collection of eco pets.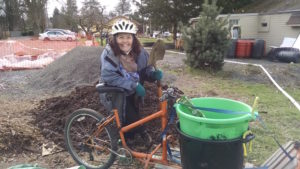 Wood is a graduate of TESC and also Enterprise for Equity. Oh Heather Honey is her business that handles bee activities. Additionally she farms an acre of catnip for use by a local pet store. Heather has her sights set on masters and doctoral degrees in microbiology. There's a universe of activity within the compost pile. Heat is created in those piles. When there was snow on the ground this winter, the inside of Wood's compost piles was a cozy 80 degrees. I keep learning about the importance of creating and maintaining a healthy gut. I see composting as part of Earth's digestive tract. We need to pay attention. I agree with Wood who said, "It matters."
Wood spends part of her time speaking to groups, often at libraries. You can contact her about setting up a compost hub or beehive near you. Ask her about Compost Cash. "I am delighted and proud to be part of a more sustainable and progressive future," one happy customer comments. "I am thankful to Heather and very happy to support her in her endeavor, and recommend this service to others who wish to compost their organic waste but don't find it easy or allowable where they live!" Be involved with your food from beginning to end. It does us all good.