Mount Tahoma High School has to be getting pretty tired of seeing Harns on the basketball court.
Five years ago, Haley Harn lit the Thunderbirds up for a North Thurston school record 33 points in the Rams' hard-fought 71-69 victory.

In December, Haley's little sister, Brooklyn Harn, duplicated the feat, torching Mount Tahoma for a record-tying 33 points in North Thurston's narrow 60-57 win.
Two sisters, one shared school record.
At least for now.
While Haley's record-setting performance occurred during her senior season, younger sister Brooklyn is just a junior, meaning she has a few more chances to claim the record all to herself.
Brooklyn is the Rams' do-it-all player this year as she has her fingerprints all over the Rams' stat sheet this season. A year after earning first team all-3A South Sound Conference honors, Brooklyn has followed up her stellar sophomore campaign with an even more impressive junior year.
"She's actually kind of shy. You would never know that with how she plays," said first-year North Thurston girls' basketball coach Jackie Meyer. "She doesn't like to be the center of attention, which is funny because being such a great athlete makes her the center of attention."
Whether she likes it or not, Brooklyn is having a hard time staying out of the spotlight.
A 5-foot-8 point guard/forward hybrid, Brooklyn leads North Thurston in points, averaging 16.1 a contest, and steals, registering a remarkable 4.3 a game, and is second on the squad in assists and rebounds, pulling down 6.2 boards an outing.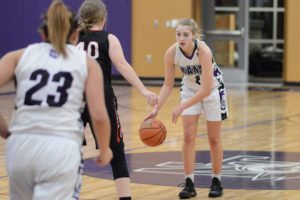 In the Rams' first 14 games this season she has hit double digits in scoring in 13 of them, including a 25-point effort in North Thurston's 66-49 loss to Shelton. The only time she failed to surpass the 10-point mark was during a 44-31 victory over Fife when she went for 8 points.
"Brooklyn is just one of the most competitive team players I've ever met," said Meyer, who also coaches her in volleyball. "She just rallies her team. She comes to practice and loves competition. She lives for competition, which is hard when you are playing with all your best friends."
It's a junior- and sophomore-dominated roster this year for the Rams, who have just one senior in Quinlan Christian, the team's second-leading scorer with a 14.6 points per game average, on the squad.
Joining Harn is fellow juniors Rokki Brown, Aurora Goodwin and Trinity Pino, and a handful of improving sophomores.
"It's a group that has played together since they were little kids, and Brooklyn pushes them," Meyer said. "She has that competitive edge, but she also enjoys the game and is coachable. She is one of the most coachable players I've ever been around. I have her in two sports and she's one of the reasons I coach both."
Meyer, who guided the Rams to the Class 3A state volleyball tournament this year, is actually the third coach in as many seasons for Harn and her classmates. Ed McClanahan coached the team last year, leading them to a 7-15 record and an appearance in the district tournament.
It was McClanahan's lone season at the helm. He replaced Brooklyn's father, Mike Harn, who coached the team for four seasons, including during Brooklyn's freshman year.
"You have different coaches with different coaching styles," Brooklyn said, "and you just have to adjust to each of them. It's been bumpy, but we're been dealing with it. Honestly, it's a new program with a new coach and we're trying to build something here. (Coach Meyer) just really believes in us. It's great to have someone like her as a coach because of that."
Despite being a year ahead of schedule with so many younger players seeing the court this year, North Thurston remains in the hunt for one of the final two postseason berths coming out of the South Sound Conference.
The Rams will close out their regular season road schedule at Yelm on January 26 before traveling to Capital on January 30 to play a pair of games which will go a long way in deciding who prolongs their season and advances to the 3A West Central/Southwest District tournament.
"I think as long as we believe in ourselves and get more confidence we will be fine," said Brooklyn, who scored a game-high 14 points in North Thurston's 60-52 win over Yelm on January 3 in the team's first match-up. "That's the only thing holding us back."