Date night! For many of us the idea of a night out with our favorite person sounds like a fantasy. Hectic work schedules and family obligations may leave us little time alone. Hiring a Friday night babysitter is a hassle, and we are often too tired to want to deal with crowded restaurants and movie theaters after a long week of work. But we also know that relationships take work to keep them fresh and keep partners connected.
The solution is to get creative. Instead of a Friday night dinner and a movie, how about a Saturday morning kayak ride and brunch or a midweek coffee date? There are plenty of fun places in Thurston County for a unique daytime rendezvous. Plus, it is a lot easier to find a sitter during the day (or exchange child care with a friend).
Whether your budget is large or small, your time frame tight or wide open, there is date spot waiting just for you. Here are a few ideas to get you started:
Take a walk with your loved one and soak up some of the beauty that dominates the PNW. A walk along the boardwalk at the Nisqually Wildlife Refuge or one of the trails at Tolmie State Park can feel like a mini-vacation with stunning views and wildlife sightings. Tumwater Falls Park offers the sounds of rushing water and salmon viewing from September through late October. Watershed Park is only minutes from downtown Olympia. Or take a stroll around Capitol Lake during your lunch hour.
Plan a coffee date in the middle of your week. Thurston County is full of small, locally-owned coffee shops with soft couches, warm fireplaces and even games. At Phoebe's Pastry Cafe in West Olympia, you can sip a great cup of coffee and eat a delectable pastry or quiche while gazing into your love's eyes on a rainy afternoon. Cutter's Point has several locations in Lacey that offer crackling fires and comfortable chairs on chilly mornings or evenings. Are you curious about downtown Olympia? Head to Batdorf & Bronson to sip one of their specialty coffees. You can also visit their tasting room to learn more about why you enjoy your favorite beverage.
Take a class together. Research suggests that trying new and exciting things together increases relationship satisfaction. Try a cooking class through Bayview Cooking School or The Pantry. Take dance lessons with OlySwing, or try ballroom or Latin dancing at Infused Fitness and Dance. For outdoor enthusiasts a class at REI may lead to a new way to enjoy nature together. A variety of classes are offered through the parks and recreation departments of Lacey, Olympia, and Tumwater. Everything from guitar lessons and photography to martial arts and scuba diving can be sampled relatively inexpensively through city-sponsored classes.
Rock climbing at Cirque Climbing in Lacey offers a chance to move and connect while you belay one another. Cirque offers introductory classes for new climbers as well as monthly memberships for those who want to make climbing together a weekly or monthly event.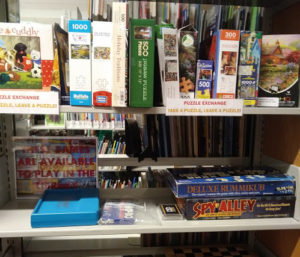 Play a game or do a puzzle in a cozy corner of library. The Lacey Timberland Library has a shelf full of puzzles and games you can try. Look for them on aisle five near the information desk. The library is always the perfect temperature and admittance is free.
Kayak the waters of Budd Bay Inlet. Tugboat Annie's and Boston Harbor Marina both offer kayak rentals. For a guided experience and a chance to see bioluminescent plankton, try a trip to Nisqually Reach with Kayak Nisqually.
Escape! Work together, or with a group of friends, to solve the challenges at Exit Puzzles before time runs out. This activity is best done in a group. Perhaps a double date with those friends you rarely see?
Get crafty. Create a piece of art together that will remind you of your special evening. Mugs or plates created at The Painted Plate will bring a welcome smile to future mornings. Check their website for date-night specials. Or create a piece of art for the living room wall at Let's Paint.
Stay home while the kids leave. One of my favorite date ideas involves sending the kids for an overnight with their grandparents while my husband and I enjoy a quiet dinner at home, a movie and sleep. When was the last time you ate an uninterrupted meal or slept past 7:00 a.m.? Have a picnic on the living room floor, take a nap in the backyard or cook up something special together. Just leave the housework for another day.
With so many stellar locations in the South Sound, why not plan a unique adventure with your sweetheart?