I have a terrible memory when it comes to my childhood. But one thing I remember very clearly was when my family hosted a student from Japan. My brother was taking Japanese and it was part of the school's language program. I learned so much about Japanese culture and their way of life that it stuck with me, decades later. This is the type of lasting impression South Puget Sound Community College (SPSCC) is creating with their international student program.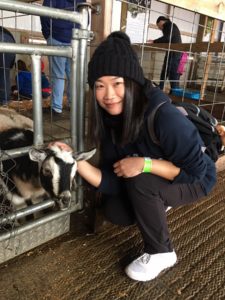 Dorothy Yu, 34, is from Shanghai, China. As an international student at SPSCC, she has been living in Olympia with host Cindy Lawrence since fall 2017. It all began back in China where her father's experiences encouraged her to travel around the world and have an adventure of her own.
"About 3 years ago, my father started his English classes at Education First (EF) Shanghai after he retired," Yu explains. "He could speak basic English, but since my parents traveled a lot, his limited English bothered him and that was the reason he wanted to learn more and improve." Her father decided to do an exchange program himself and travelled first to Chicago, where he lived in a dorm, and then to the United Kingdom where he stayed with a host family.
"He had a great time," she adds. "My father suggested that I should have some 'culture shock' experiences like he had. He said, 'You never know how big the whole world is until you make a first step out.'" Yu first attended The Evergreen State College for their EF Language Program from April to September 2017. She lived in a dorm like her father and planned to go home after Evergreen. But one day, on a bus, she passed by SPSCC and was curious. She and some of the other EF students hopped off and wandered into an office.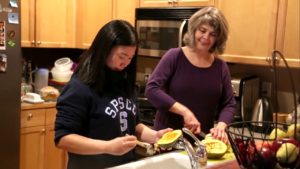 "We met Juana, the International Student Associate Director," she explains. "She was very nice and gave us a full introduction to SPSCC. Her introduction made me want to start my new journey at SPSCC."
This time, Yu would experience living with a host family, just like her father. And, she loved her adventure just as much as he had.
"I believe in fate and I think it was fate that connected Cindy and me together," Yu says. "We have many things in common – we love animals, both of us play the piano, we like to listen classical music, shopping, cooking for the family, and we both prefer being quiet."
Yu explained that for her, feeling like she had a family in Olympia was the best part of the experience. Teary-eyed, she spoke about how kind and mothering Lawrence was, like the time she helped her after a bike accident. And, for the first time in her life, she got to experience what it was like to have siblings. "I am the only child in my family, so I didn't know the feeling of having a brother and a sister until I met them," Yu shares. "We played different games at home, went to the corn maze and pumpkin patch, walked the dogs and cooked traditional American and Chinese food for each other. I enjoyed it so much."
Yu also learned academically from them. Though Lawrence shared that Yu's English was excellent and she didn't teach her much, Yu feels differently. "Maybe they don't realize it, but I definitely feel a difference in my English."
Yu asked if we could please mention her thank you. "I would like to say 'Thank you' to my parents. Without their support, I wouldn't have met the brand new Dorothy Yu and I'm proud of my parents."
Host Families Benefit Too
It's not just the student who benefits from this experience. "I learned that we have so much in common," says Lawrence, who is a web content manager at SPSCC. "But I also learned to appreciate how different cultures do things differently and yet we are all basically the same. It really is a small world after all."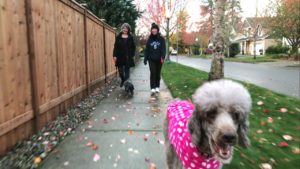 Benefits to hosting include:
Learning about another culture.
Practicing another language.
Contributing to the success of international students by providing a safe and welcoming home.
Developing life-long friendships with the students.
Lawrence plans on hosting again. Juana Alcala, associate director of international student recruitment at SPSCC, says they have many hosts that open their home over and over again. "We have families who have been hosting international students for years," she shares. "One family, the Smiths, have been hosting for almost 20 years. They have a wall in their home covered with photos of the students they have hosted, their wedding photos and birth announcements."
SPSCC is currently looking for host families, expecting an increase in demand with several new programs for international students.
Host families receive a monthly stipend to help cover expenses. They welcome families of all types – professionals, single-parent families, couples, retirees, families with young children and families with teenagers. "The most important criteria for a host is a genuine interest in sharing American culture with a student while providing a safe home and caring for their well-being," adds Alcala.
SPSCC has 100 international students from 27 countries with a majority from Asia and Southeast Asia. Families can host a student for a few days up to two years. Host families need to live on a convenient bus line to SPSCC.
In the end, the SPSCC international program brings the world just a bit closer together. As Yu says, "I learned that sharing what we think is very important. Cultural differences might cause some issues, but as long as we open our hearts to each other, to share and to listen, we will understand each other and feel closer."
To learn more about hosting an exchange student, visit the South Puget Sound Community College International Homestay website.
Sponsored