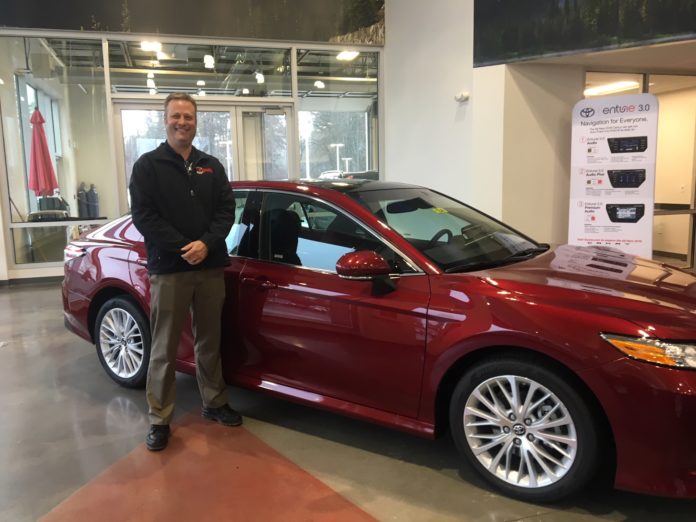 Shopping for a vehicle can be stressful. It's a large purchase and dreams and budgets don't always align. And, adding to the stress, a pushy sales rep can send us right back down the road, empty handed. Which is why when I met Sam Ellis, sales consultant for Toyota of Olympia, it was like a breath of fresh air. Suddenly, buying a car was fun again. (Which, by the way, is Toyota of Olympia's company motto, and one they live up to daily).
What makes Sam so different? To start, he is a Tumwater native with a three-decade-long history with Toyota of Olympia. He still owns his parents' house where he grew up. This means he not only knows his product, but he knows his customers.
Sam started working at the dealership when he was a sophomore at Tumwater High School. "I started out just washing cars, or whatever the owners needed me to do," Sam says. "I would pull blackberries off their other stores. I was basically the gopher, doing anything they needed."
It was a great job for a high school student says Sam, who remembers getting to drive new cars when they need to be filled with gas at the corner station or to be washed. He and his father used to work on cars, "so that's probably why I was interested in working at Toyota at first," Sam shares.
Sam stayed with the company because he found the atmosphere so enjoyable. "I like working with people and there is a really good team atmosphere here. There always has been," he explains. "Everyone here takes care of each other and has each other's back."
Through the years, Sam has done pretty much everything within the company. From driving tow trucks and working as a lot attendant, to working in the parts department and finally in the service department where he spent the majority of his career. Sam moved to sales six months ago, but he can't fully remove himself the service department. As we sit and talk, someone from service comes in and says a customer will only talk to Sam. "This happens to me all the time," he says with a smile. "I can't really leave service."
And I can see why. Sam has an honest and genuine nature – it's clear he isn't going to tell you your vehicle needs repairs when it doesn't, or try to sell you a vehicle you can't afford. After all, you don't try to cheat your friends, and Sam considers his customers friends – family even. "They are my Toyota family," he says. "I was taught to treat people like that and good things will happen. I made a lot of really good friends. Friends I go to dinner with. It's very different than a lot of people who work in service."
In fact, his Toyota family became part of his real family when he met his wife through a customer. "A customer of mine for years asked me one day if I was single," Sam says. "And, I was. He set me up with his sister. Our first date was the Race for the Cure because both of our mothers had had breast cancer." After a few dates Sam says they fell in love.
Sam Ellis's Favorite Things
Favorite Toyota model: FJ Crusier
Favorite local drive: Downtown by the waterfront
Favorite car-themed movie: "You Only Live Twice" featuring a rare Toyota 2000GT
Favorite car snack: Life Savers
Sam's parents did not just tell him to treat people like family, they taught by example. "I remember one Thanksgiving at the old dealership, a family's RV was broken down in the Toyota lot," Sam recalls. "I told my parents they were stuck camping there. My parents took them Thanksgiving dinner. I love to 'wow' people like that – to do something out of the ordinary that they would not expect."
He carries this through to his new position on the sales floor. "It's all about the people," he explains. "Cars sell themselves. What's important is the person who is selling you the car. They make the difference in the deal. I am not going to push you or pressure you."
And he doesn't need to. Toyota's many models offer something for everyone and really do sell themselves, Sam says. Couple that with Sam's 30-years of knowledge about the brand and his genuine concern for your needs, wants and budget, and you are sure to have a fun time selecting your next vehicle. And, when you do visit Sam, be sure to ask him about his other loves, chocolate Labrador Kona and Cocker Spaniel Sully.