Caitlin Yenne spent the majority of the first half watching quietly from the bench.
Three early fouls reduced her to a spectator during an early season non-league girls' basketball matchup between her River Ridge squad and Centralia.
Without Yenne on the court the Hawks were lifeless, unmotivated and rapidly falling behind the Tigers as their turnovers total piled up.
River Ridge coach Gabby Wade pulled her star guard aside prior to the start of the third quarter, asking her to light a fire under her team.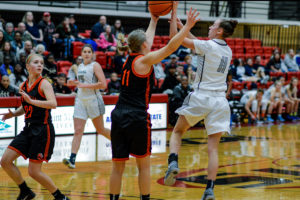 Yenne immediately went to work. Two quick steals led to a couple easy transition buckets before she buried a deep 2-pointer. Once that happened the bench sprung to life and her teammates on the floor followed suit.
"I don't think (Caitlin) realizes the effect she has on people," said Wade, who is in her second season at River Ridge. "I just have to keep poking her, reminding her how great she is. She has this amazing energy and fire inside and she's so athletic. When Caitlin gets going, everyone on the team gets going."
The Hawks still lost to Centralia by a sizeable margin, but Wade was able to pull plenty of positives out of the setback with one being Yenne's ability to energize a once-lackluster River Ridge team almost instantaneously with her play – so much so that by the end of the game you would have thought the Hawks were the victors based on the enthusiasm exuding from their bench.
"She's talking a little more this year. She's getting more confident," Wade said about the usually quiet Yenne. "I keep telling her she needs to be even more confident than she is. She's such a great teammate, and she's so humble. She doesn't even realize how good she can be."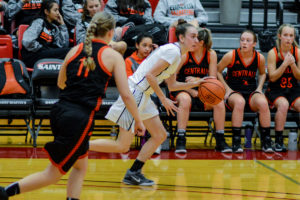 One group which hasn't overlooked Yenne's quality of play was the coaches in the 2A South Puget Sound League who named her MVP last year in the Mountain Division after she averaged 15 points, 6 assists and 5 rebounds a contest while leading the Hawks back to the postseason.
"That was a big moment," Yenne said about the recognition. "It wasn't until then that I realized people were noticing what I was doing. That's probably the most memorable thing that's happened to me so far (in my high school playing career). It felt like it was something I earned. I've been getting more confident over the years, and receiving that definitely helped."
And a confident Yenne is a dangerous one on the court, and the one Wade has been constantly calling for.
At 5-foot-9 and possessing great length and leaping ability, Yenne is a threat to score from just about anywhere. A deep three, a driving lay-up through traffic or a pretty posted move, Yenne's offensive game is about as diverse as it gets.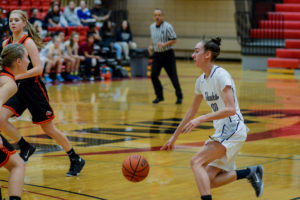 But regardless of how she's scoring she always wants to be on the fly.
"I like to play fast. I want to play fast break basketball and get as many people involved," Yenne said. "Every time I get the ball I just want to go. That's always been my mentality."
Despite her pro-offense outlook, ask her what her favorite aspect of the game is and she goes in a different direction.
"Defense," Yenne answered. "Defense leads to offense. You get a steal or a rebound and then you're off. When I was younger all I wanted to do was score. I wanted to get the crowd going. Now I always think defense first."
It's the mindset Wade has established during her second season with the team, and few have bought in more than Yenne.
"When I challenge the team she is always the first to step up," Wade said. "We had a team meeting early in the season. I wasn't happy with their effort and Caitlin was the first person to raise her hand and ask, 'Coach, what can I do better?' I wasn't expecting her to be the first one, but she was, and that's why she is an MVP."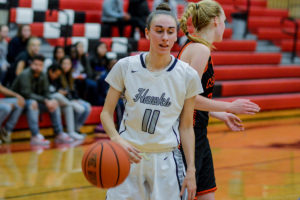 Without a single senior on last year's roster, River Ridge will once again battle for a postseason berth. The Hawks went to state during Yenne's freshman year, came within a game of duplicating that accomplishment her sophomore year and were knocked out at the district tournament during her junior campaign – something Yenne views as a step back for the program and something she is determined to avenge this season.
"It's definitely something we have talked about as a team," Yenne said about coming up short of last year's goal of returning to the state tournament. "Last year just kind of felt different than the other years at the end with how we played. We have the same team coming back this year. We've added a couple players, but didn't lose anyone. We've done a lot of team bonding and we're really coming together and getting closer."