Behind a swarming opportunistic defense and a high-powered, fast break-minded offense, the North Thurston boys' basketball team is off to its best start in 13 years.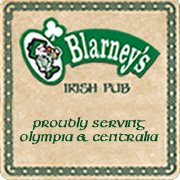 Coach Tim Brown's senior-heavy squad opened the season with a perfect 9-0 record, marking the first such start since his 2004-05 team won its first 12 games before going on to make an appearance in the Class 3A state playoffs.
North Thurston, however, isn't just winning games as it's been one rout after another for the Rams, who have won their nine games this year by an average of 26 points
The Rams ended 2017 with a 47-point drubbing of River Ridge in the second day of the 12th annual North Thurston Holiday Tournament. That dominating performance came just 24 hours after the Rams hammered Tumwater in similar fashion, posting a 45-point triumph (96-51) over the Thunderbirds.
North Thurston was hardly a generous host at their own gathering – winning its two games by a combing 92 points – but that's become a trend during the early part of the regular season for the Rams as they've won eight of their nine games by double-digits, including a 41-point win over Mt. Tahoma.
"The kids have really played hard here recently and that's why we're doing what we're doing," said Brown, who has won 315 games during his 26-year tenure at North Thurston.
The Rams were just one of four teams among the 65 schools in the 3A classification to go unbeaten during their 2017 portion of their schedule, joining Lincoln (10-0), Spanaway Lake (9-0) and Garfield (8-0).
North Thurston features a 10-man varsity line-up this year with nine of those players being seniors, including Clayton Christian, La'Darius Cuyler, Derrick Davis, Jaeger Maxfield, Gunner Nielsen, Rahjon Ponder, Jeremy Spencer, Aaron Stone and Garrett Wallace.
"When they are as experienced as these guys are, it's a lot of fun," Brown said about coaching the team. "We're throwing a lot stuff at them and they're handling it, and we keep adding stuff to them which is great."
North Thurston has had no problems lighting up the scoreboard this year as the Rams sport one of the top scoring tandems in the state in Spencer and Christian. Spencer, a 6-foot guard, paces the team offensively, scoring at a 23 points per game clip. Christian, who averaged 24 points a game last year, is adding nearly 21 points an outing this season.
Three times this year Spencer has gone off for 30 or more points, including 32-point performances against Clover Park, Central Kitsap and Tumwater.
Christian, a four-year starter who has caught the attention of several colleges, including Saint Martin's University, is quickly approaching a rare accomplishment as he is inching closer to joining the 1,500 career point and 500 career rebound club – a feat few in program history have achieved. He is a shade under 300 points from hitting the scoring mark and 50 boards shy of the rebounding total.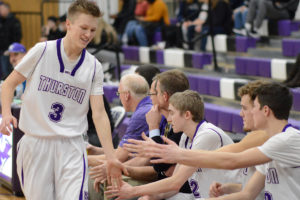 "It's just more time playing with each other, more opportunities to get to know each other's strengths so we can go out there an exploit them," said Christian, who scored a career-high 38 points against Issaquah last year and has scored in double digits in 33 out of the last 34 games over the last two seasons. "We've been playing together ever since last year, playing spring ball, summer ball, fall ball, just trying to improve as a team."
Tim Tenkley, the lone junior on the roster, is the third Ram player to average double figures, adding 11 points a game, while Wallace chips in nearly 9 a contest. Nielsen leads the team in assists, dishing out 5.1 per game, with Stone is not far behind with an average of 4.4.
While offense is obviously a strong point, its North Thurston's increase dedication on the defensive end which Brown states has the Rams off to such a strong start.
"Coach has been harping on us since last year that the turning point for this team is playing good defense," Christian said. "He's been on us every day about it."
North Thurston has yet to give up more than 60 points in a single game this year – a far cry from last season when opponents scored 62 or more points in 10 out of the Rams' first 11 games.
"We have a lot of quick kids, a lot long-armed kids and they have decided to turn their defense around this year," Brown said. "They are making it a point of emphasis. We've reminded them of that a few times and they bought in. They know the quickest way to get points is to play defense. Get a steal, get the rebound and go. We're better at it. We're not perfect, but we're doing a much better job at it."
North Thurston will get tested early in the New Year as they travel to defending conference champion Capital on January 5. The Cougars ended the Rams' season last year, defeating them 58-53 to claim the district's final state playoff slot.