Olympia is known for its outdoor enthusiasts who possess a strong love for the great natural beauty of the PNW. Close to numerous national, state and local parks, we find ourselves spoiled by the local landscape. For many, the mountains and water make for the perfect weekend getaway; for others, like Olympia resident Lauren Danner, the Evergreen State's endless natural wonders have inspired a lifetime of adventures and an incredible book about North Cascades National Park.
As a historian, an adventurer and an inspirational outdoor leader, Lauren has once again placed Washington's incredible wilderness regions at the forefront of conversation.
Growing up in New Jersey, Lauren spent a lot of time outside. Her neighborhood was next to the Raritan River, providing the perfect backdrop for her and the neighborhood kids to have endless adventures. From a young age she was drawn to the outdoors, spending most of her family vacations on the beach or in the forests of Maine, exploring and absorbing the intoxicating spirit of nature. At 12 years old, she fell in love with America's national parks and the West, leading her to relocate to the region for her graduate degree.
"I moved to Olympia in 1997 after I passed my PhD qualifying exams at the University of Oregon," Lauren said. "My husband Dave had been here since 1995, working for the state. When he was offered a full-time position, the opportunity was too good to pass up. We stayed because of the excellent schools, community and quality of life."
It was at the University of Oregon that Lauren first learned about the North Cascades, stumbling on documents and images while researching for her doctoral dissertation. Like most of us who possess a thirst for knowledge about breathtaking wilderness regions, she became more fascinated with it as time went on. For two years she studied the North Cascades, enticed so much by them that one of her advisors urged her to write a book on the region.
Lauren described her first trip to the region she had studied for two years:
"At one point, I realized I'd been researching the North Cascades for two years but hadn't ever been there, so I decided to drive up and hike Cascade Pass in late September before the snows came. I got up at 3:30 a.m., threw a backpack and boots in my car and headed north. After getting stuck for an hour on I-5 in the university district (it was freshman orientation day at UW), I finally made it to the trailhead, arguably one of the most scenic in the national park system. I opened my trunk to grab my stuff…and realized I'd taken my husband's hiking boots by mistake. After venting my frustration, which the surrounding peaks echoed quite clearly, I started pulling tissues, towels, anything I could find to stuff the boots. It actually worked well enough that when I reached Cascade Pass, I was able to keep going partway up Sahale Arm. That hike, where you look out at mountains stretching toward every horizon, helped me understand why people feel so strongly about the North Cascades."
In 2001 Lauren started to research and write her book about the North Cascades, finishing a draft in 2003. The draft ended up sitting in a drawer, with plans for it to be worked on later. Life continued for Lauren and her family, but in 2007 Lauren was diagnosed with breast cancer, taking her attention, energy and focus away from the book and onto recovery.
In 2014, Lauren had recovered enough to start planning a national park road trip with her daughter. It was during her research for that trip that she realized she once again had the energy to focus on finishing her book. For another two years she researched and wrote, contacting Washington State University Press to have it printed.
In fall 2017, WSU published Lauren's book, titled Crown Jewel Wilderness: Creating North Cascades National Park.
You can find copies of the book at Browsers Bookshop, you can order directly from WSU Press or you can purchase a copy online. Lauren asks that if you do want a copy of her book, please buy locally and swing down to Browsers, as they have been wonderfully supportive of her and of other local writers.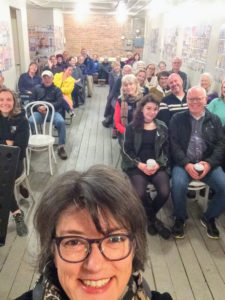 In Lauren's words, the book is more than the history of how North Cascades National Park came to be. She describes it as "a window into the formation of the modern environmental movement, which started in the Pacific Northwest when a handful of people interested in conservation became concerned about increased Forest Service timber harvest in national forests during the post-World War II era."
Lauren's relationship with the great outdoors has never been limited to the North Cascades, however. Many of the trails she wanders often are found right in Thurston County. While they do not offer sweeping panoramic views of glaciated peaks, the trails around Thurston County are celebrated by Lauren and her family.
Tumwater Falls Park is a favorite of hers, as well as the Four Cedars Trail in Tolmie State Park during low tide. She also highly recommends Woodard Bay Conservation Area and the Sequalitchew Creek Trail in Dupont.