Most of us understand the concept of wine tastings. Gathering around a table with different blends, comparing the bouquet and grapes of different regions, is familiar territory. Here in Thurston County you are just as likely to encounter a coffee tasting at one of our many local coffee spots as you are to sample fine wine. Coffee has become a big part of the regional culture thanks to three local companies roasting beans right here in the South Sound.
Whether you prefer a single origin coffee or a varied blend, there is a local handcrafted cup that is just right for you. Experience Olympia & Beyond has created a guide to the South Sound Coffee Trail that includes a quiz to discover which coffee suits your taste best. Take the quiz and then set out to explore the coffee roasters and cafes that make us home to some of the best coffee in the country.
Batdorf & Bronson Coffee Roasters
It only makes sense to begin with the roaster that cultivated the wave of handcrafted coffee in the region. Batdorf & Bronson opened their first café in 1988, long before we were all carrying around cups of coffee while we worked, walked and shopped.
They began roasting their own beans shortly thereafter and the coffee revolution in Olympia had begun. Their signature coffee blend is Dancing Goats – a bold toasted flavor with hints of almond, chocolate and spice. Don't want to take my word for it? No problem. Batdorf & Bronson offers tastings daily in their Tasting Room located at 200 Market St. NE in Olympia.
Graeme Smith has worked at Batdorf & Bronson for nine years. He enjoys sharing the nuances of each bean with customers stopping into the shop. "My current favorite coffee is the Guatemala Antigua," shares Graeme. "It is very smooth and drinkable."
For a deeper look into the roasting process Batdorf & Bronson offers a Coffee Roasting Tour and Tasting Experience on the second Wednesday of every month. Visitors will tour the production facility and learn more about the journey of coffee from plant to cup. You'll also take home a pound of coffee and a specialty dripper for delicious pour-over coffee at home. For more information call Batdorf & Bronson at 1-800-955-5282.
Olympia Coffee Roasting Company
The Olympia Coffee Roasting Company is newer on the scene but no less committed to providing quality coffee. The Olympia Coffee Roasting Company was founded in 2005 with just one employee handling the roasting and deliveries. Olympia Coffee Roasting prides themselves on having strong direct trade partnerships with the providers of the beans themselves. This ensures that Olympia Coffee Roasting has the ability to create the specific flavors they want present in the cup. An award-winning coffee from the roasting to the baristas in their signature cafes, Olympia Coffee Roasting "might be the best espresso in the country right now," according to Coffee Review.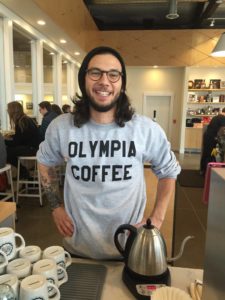 Judge for yourself at the weekly cupping which take place every Friday morning at 10:00 am. Like a wine tasting, a cupping involves breathing in the aroma and tasting the coffee by slurping, yes, I said slurping, the coffee so that the liquid reaches the back of the tongue. The coffee taster is then able to discern the feel in the mouth, the body and the flavor. Experienced "cuppers" can even identify the region of the coffee's origin.
Master Roaster Oliver, one of Olympia Coffee Roasting Company's owners, usually leads the cuppings. "We may be testing new iced coffee recipes or learning about a rare coffee like the experimental Geisha Natural that is currently in house," shares barista Vincenzo LaCorte as he works on a pour over for a customer. No matter what the topic, they are sure to be educational and delicious for any coffee lover.
Olympic Crest Coffee Roasters
Olympic Crest Coffee Roasters has been roasting coffees in Lacey since 1998 and is Lacey's only full service coffee company. The Lacey roaster features a drive thru and a full-service café open for breakfast and lunch daily. And, from the cozy café, you can view the roasters in action through a large window giving visitors a peek at how the roasting process.
Their state of the art roaster, called the Diedrich IR-12, has computerized profile controls giving the roaster many options in terms of body and flavor. Olympic Crest roasts over a dozen different unique coffees from espresso blends and a fair trade certified organic to their budget conscious Barista Blend. Coffees from decaf and milder roasts are also highlighted.
Barista Lacey Holland has been working at Olympic Crest Coffee Roasters for two years. "I love the Sumatra," shares Holland. "It has a very low acidity that makes it really easy to drink hot or cold."
For more information on the South Sound Coffee Trail and to test your own coffee taste visit www.southsoundcoffeetrail.com.
 Sponsored