Some people are naturals at choosing gifts during the holidays. They seem to know just which item will delight the recipient and they enjoy the process of choosing. Others find it excruciating to wander around a big store looking at a sea of choices, not knowing which gift will be welcomed or scorned. The potential minefield of gift giving can be avoided completely with a visit to The Popinjay in downtown Olympia.
The Popinjay is filled with gifts just right for almost any occasion. Do you need a hostess gift to bring to a holiday party, a present for a friend or something very special for your significant other? All of these items and more can be found in this delightful store and, more importantly, the staff in the shop are eager to help. I spoke with each of them to find out their favorite gifts in the store this season.
"I have wandered around with people for significant amounts of time searching for just the right gift," jokes Heidi, one of the four very helpful salespeople at The Popinjay. Heidi loves helping her customers find just the right gift and has a few favorites. "I love the Frasier Fir candles. They are a great addition to any space and smell just like the Northwest." The Frasier Fir candle was once a seasonal item that people only looked for during the holidays. But, they have become so popular that The Popinjay now carries them year round.  For a more intimate gift, Heidi recommends jewelry from two of her favorite designers ­– Kristin Ford and Firefly. "The owner of The Popinjay, Janis Dean, has over 40 years of experience," explains Heidi. "We have such lovely items in the shop, it is a fun challenge to help each customer make the right choice."
Susan has a design background and an incredible eye for just the right gift. Sweet and accommodating with her customers, she is eager to point out a favorite. "I love the mugs featuring wildlife for a unique and special gift," she shares, holding up a lovely wolf mug. A perfect choice for a hostess gift or an office gift exchange, these mugs provide a bit of style to your morning cup of joe.
A new grandmother, Susan is also partial to the line of environmentally friendly toys. Brightly colored and full of fun, they are a favorite of children and adults alike. "There are so many great choices," adds Susan. "Uniquely patterned socks are great stocking stuffers and gorgeous cookbooks will be welcomed by the chefs on your list."
McClain is the newest member of the sales team at Popinjay. She came into the store looking for some art for her baby's room when Janis was seeking a new employee and McClain and left with gorgeous art and a new job. She admits that her current pregnancy may be directing her choice but when asked about gift giving, she thinks immediately of chocolates.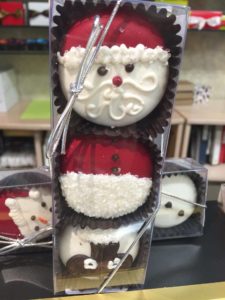 "The chocolates in the store are so delicious and we have amazing holiday choices such as my favorite, the Grand Candy Cane truffle," shares McClain. "The chocolate penguins are another fun holiday candy and we have both vegan and sugar-free candies to choose from as well." Candies from The Popinjay are beautifully packaged in boxes with colored ribbon. From a single truffle to a box of 20, they make a perfect hostess gift and would be welcomed in any stocking.
Feather is another valued staff member at The Popinjay and recently opened her own animal photography studio in Shelton. She loves to suggest a Popinjay gift certificate for those who just cannot choose from the vast array of choices. "A gift certificate can be purchased in any amount," she shares. "It is like two presents in one because you also get the experience of shopping in the store, which is a gift in itself."
I wholeheartedly agree with Feather that shopping at The Popinjay is a special experience. Any time I am downtown I have to stop in and see what new delights Janis has added to the store and check out the sale table, usually positioned out front.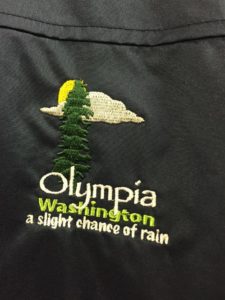 On this trip I noticed some uniquely Olympia puzzles. The puzzles are hand cut cedar with images of the State Capitol, the kissing statue and more. These puzzles, from Sibbett Studio of Tacoma, would be the perfect gift for an out of town visitor as a memento of their trip. A table of faux fur neck warmers and scarves made in Seattle catches my eye with the chilly weather looming. Janis points out the rounds of soft bamboo clothing that flow gently and are flattering for all body types. "Women of all ages want to stay current with their styles and still be comfortable," Janis shares.
The Popinjay is a wonderful, local store that has been around in one form or another for more than 30 years. Stop in this holiday to support a long-time local business, find a perfect gift or just grab a truffle for yourself.
For more information on holiday hours and special events at The Popinjay visit their Facebook Page or call 360-352-9841. The Popinjay is located at 414 Capitol Way South in downtown Olympia.
Sponsored