Mill Lane Winery in Tenino has, in a short time, established a reputation as the place to go for award winning fruit wine. Owners Dan and Deana Ferris have created a symbiotic partnership for producing great flavor profiles that will have you coming back for more.

But for Dan, a retired veteran of the Air Force, it all starts with the fruit. "I'm a firm believer in making a true fruit wine, not a fruit-flavored wine," Dan says.
Some wineries will take a grape-based wine, add fruit and call it a fruit wine. But at Mill Lane Winery the blackberry wine, unless it is marketed as a blend, is nothing but blackberries.
Dan and Deana's goal is for their wines to be true to the flavor of the fruit. When you sip a fruit wine, you should experience the sensation that you are eating that fruit. The flavor of the fruit comes from the fruit sugars. So, to create a wine that tastes like fresh fruit, a large quantity of fruit is required.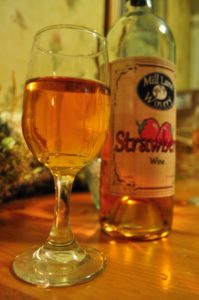 A great example is their strawberry wine. Deana calls this their "wow" wine because on first tasting most folks say, "Wow, that tastes just like popping a strawberry in your mouth."  And it does. The flavor is reminiscent of a strawberry picked in the garden at the peak of flavor, with all its natural sugars heightened by a warm day. It is wonderful to sip in the bleak mid-winter when you need a little taste of summer.
Fruit for Mill Lane is sourced as locally as possible. Cranberries and blueberries come from Rochester. Blackberries are purchased from a farm in Covington. Apricots, pears, apples, cherries and peaches are all sourced from Yakima. The exceptions are pineapple from Hawaii and elderberries from Ohio.
In the early days, Dan and Deana did go out and pick their own blackberries, but the job just became too huge. "I go through 2,500 pounds of blackberries, 2,500 pounds of raspberries and 1,000 pounds of cranberries a year," says Dan.
"We have been trying to keep up with the growth," explains Deana. "It's a good problem to have."
Full Court Press
Mill Lane has not shied away from grape wines. Their menu includes eight red wines and three whites. But since their specialty is fruit, their grape wines have a twist.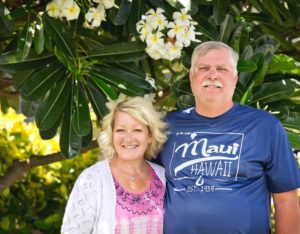 As Dan pours a taste of a red called Full Court Press, he explains his process for creating complex flavors. "I will add fruit to a grape wine. This is an Italian nebbielo grape out of the Piedmont region of Italy that has black cherry in it. You'll get the tannins up front, and it will get creamy across your palate. That's the cherry doing that, and then it will dry up at the end. A typical nebbielo doesn't do that."
Full Court Press pairs beautifully with smoky flavors like barbeque or smoked meats and cheeses.
"I will take an undertone from that particular grape and I'll add that fruit to it to bring it out even more. It changes the complexity of the fruit altogether. It tastes so much better and is more drinkable that way," Dan explains.
While Dan crafts the wine, he relies on Deana's palate entirely in creating blends. It is her palate that picks out the undertone in the juice. She tells Dan what she would like him to accomplish, and he makes it happen.
"We have a magical kind of pairing," explains Deana with a smile.
The Big
Our second tasting is Deana's favorite wine, The Big, which is a cabernet-merlot blend with aronia berry. "I love the color of it," suggests Deana. "If you really get the bouquet of it, it's floral. You have that hint of sweetness from the flowering bush."
An aronia berry looks like a blueberry, but it is loaded with tannins and has an earthy taste that is distinctly dry. After tasting an aronia berry, you will be looking around for a drink of water. But this tiny super berry has ten times more antitoxins than a cranberry and blueberry combined.
While all Mill Lane Winery wines are bottled in Tenino, they have an additional tasting room on the east side, called Mill Lane Winery Yakima. And with 800 club members and two tasting rooms this tiny winery is struggling to keep up with demand.
"I'm making 800 gallons a month, and that's not enough," says Dan.
So, expansion is on the horizon. The Ferrises are working on getting their Mill Lane Yakima partner, Ron Mehelich, certified to make wines because the presence in Yakima has gone through the roof.
Interestingly, Dan met Ron through aronia berries. Ron, who has ten acres planted in aronia in eastern Washington, was looking for someone in Yakima to make his aronia berries into wine, and the wineries there referred Ron to Mill Lane because they make the best fruit wines in the state.
Here are some more highlights from the tasting at Mill Lane Winery: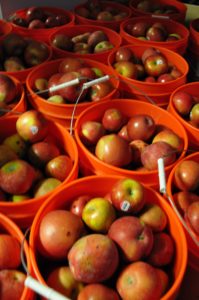 Fancy Footwork (Sparkling Rose)- This wine is Deana's all-time favorite rose' that she has ever tried. It is lightly sparkled, below the carbonation level of beer. Too much carbonation makes it bitter. It contains some notes of strawberry and lime. It is easy to imagine sipping this on a 90-degree day while sitting by the pool. But it would be equally appropriate to ring in the new year. This wine will pair nicely with a pound cake or a cheese cake.
By the Fire (Pinot Noir)- This mulled wine is a warming treat in the winter, and for Deana, she says, "It smells and tastes like Christmas." Warm this for ten minutes on medium heat for the best results.
Cranberry Rendezvous (Dessert)- This double cranberry dessert wine is a slow sipper. It has a hint of cocoa and vanilla without being overpowering.
Rhubarb-Blackberry- Dan's personal favorite, this wine bursts across your tongue with an interesting balance of rhubarb and blackberry yet has a slightly dry ending.
For a "best kept secret" kind of experience visit Mill Lane Winery. Their popularity has spread by word of mouth. Come try it out, and you will want to return with your friends and family.
Mill Lane Winery
16607 Bucoda Hwy SE, Tenino
360-459-4999