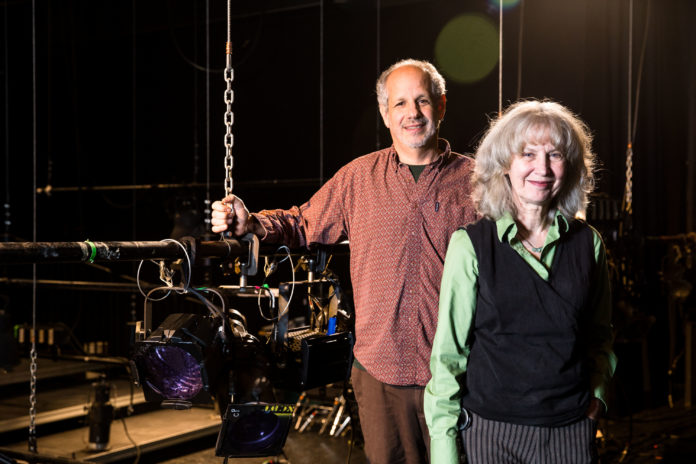 The Procession of the Species takes place every spring in the streets of downtown Olympia and is a feast for the senses. The multi-colored banners, plumed dancers, costumed children and music are signatures of the annual event. Each year, a new giant puppet makes an appearance. These overgrow creatures are what I remember most about the parade. One year, an elephant with huge flapping ears made its way down the route and the next, it was a giraffe with an elongated neck and perfectly patterned body. Jerry Berebitsky is the master behind these inventions. Creating these incredible puppets for the Procession of the Species is a labor of love for Jerry and he has been doing it for almost a decade.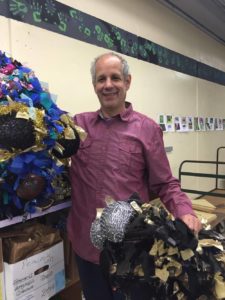 It was a coup for the Evergreen State College when they hired Jerry as the Technical Director for stage operations, sound and scenery in their theater department. Jerry has thirty years' experience in technical direction, but he almost didn't apply for the job. He was happily working at the Olympia Waldorf School as the facilities manager when he saw a post for the stage manager position at Evergreen, but initially thought it wasn't a fit. Fortunately for Jerry and Evergreen, he read the full job description and applied. Evergreen contacted Jerry for an interview one day after he left for an 18-day rafting trip through the Grand Canyon with virtually no outside communication. They knew, however, that Jerry was a gem and they waited for his return and hired him quickly.
When I met Jerry in the scene shop at Evergreen, he was surrounded by dozens of beautiful black fly puppets with shiny eyes, created by students as part of the next Procession of the Species. Jerry has been on the board for the Procession for two years. The self-styled nature of studies at Evergreen lends itself well to students participating in off-campus community events. "Students are able to connect with the spirit and the purpose of the event which is a celebration of Earth Day," shares Jerry.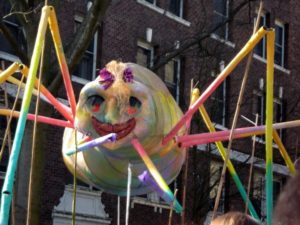 He earned his degree from the Indiana University with an individualized major of integrated fine art, theater and dance. He designed the "Wiz" for a stage performance at the Indianapolis Children's Theater. The puppet was 38 feet across and 18 feet high, extending three rows into the audience. It ultimately hung at the Indianapolis Museum of Art.
Currently Jerry is designing a set for Three Sisters, the next performance in the Experimental Theater. "Three Sisters" is a play by Russian author and playwright Anton Chekhov. Written in 1900 and first performed in 1901, this production is a collaboration with students studying the Russian literature of Chekhov and Stanislaw. Performances will be held March 16 through 18. Jerry works with a variety of students including Kendall Mahoney who is being mentored by Jerry in an individualized one-on-one course. They are installing a "reparatory plot" in the main performance space, serving as a backdrop and lighting set to most productions.
Jerry has maintained his relationship with the Olympia Waldorf School, collaborating with education students at Evergreen to stage A Christmas Carol, which is being produced and performed by Waldorf's eighth grade class. Shows will be in the Experimental Theater at Evergreen on December 8t at 7:00 p.m. and December 9 at 2:00 and 7:00 p.m.
No theater would be complete without a costume department and Evergreen's is led by costume shop supervisor, Monique Anderson. As with Jerry's title of technical director, Monique's title really doesn't do justice to the role of this seamstress/instructor extraordinaire. Anderson began sewing as a child and has over 20 years of professional experience with fashion designers, making patterns, working at a futon manufacturer and designing window displays. Monique majored in textile design and had an interest in fiber arts and weaving before programs for those disciplines even existed. She has learned over the years that all experience is useful in theater, joking that even her gardening skills will be used one day in the costuming department.
Anderson's experience helps her accommodate nearly all student needs in the areas of theater, costume design and fashion. Students are engaged in a variety of projects in her studio. One is marketing a line of bags and another was preparing to approach local shops with her beautifully hand-sewn and well-designed undergarments.
The costume shop at Evergreen State College is available to all students, not just those studying theater. "Evergreen students have access to a lot of things here on campus," explains Anderson. "We have a great database and all costumes are available to be checked out by students for a variety of uses."
A sociology class on forensics and criminal behavior stages crime scenes with students outfitted in clothing and accessories from the costume shop. A literature class may borrow clothes for a Victorian-style tea in period dress. "The curriculum at Evergreen doesn't fit into little boxes," says Anderson. Fortunately for the students at Evergreen, neither does the Costume Shop Supervisor.
Monique has worked with many area theaters and connects students with internships, volunteer opportunities and paid positions. "Olympia is a good sized city with enough opportunity that we are able to help students get their foot in the door," she says. Recently, a costumer at Harlequin Productions dropped out of a performance and a recent Evergreen graduate was able to quickly take over on Anderson's recommendation.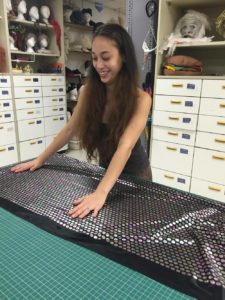 "We have lot of grads working in theater regionally from here to Portland." Monique herself recently designed the robot for Harlequin's production of Shakespeare's Cymbeline.
Whether creating magic on the Experimental Theater stage on campus or creating larger-than-life puppets or Shakespearian robots, the creative leaders at Evergreen State College are preparing students for life in, and out, of the theater.
For more information on the theater department and events on campus visit the campus calendar at www.evergreen.edu.
Sponsored