In need of a quick bite to eat that is not only convenient, but also inspired, delicious and healthy? Check out Akashic, an owner-described "epicurean" food trailer located on the corner of 4th and Plum in downtown Olympia with a variety of colorful, imaginative curries, salads, burgers and lumpias.  Tzeitel Sainath and her husband and business partner, Varun Sainath, celebrated the one-year anniversary of Akashic on October 23.
Tzeitel grew up in Olympia, and Varun is from Bangalore, India. While living on Kauai, Tzeitel worked at Kalaheo Cafe and Coffee Company. It was through her job there that she met Varun who also worked at the cafe, and they got married a year later. Tzeitel and Varun were both born on February 23 and were married on this date too. Their marriage inspired the name of Akashic's quinoa bowl, the VT-23. While living on Kauai, the two noticed the emerging food truck scene on the island and felt inspired to start their own. They contacted PDX Cart Builders about building a custom food truck. When it started to seem like their plans of opening a business could become reality, they decided to move from Kauai to Olympia to have a child and open Akashic.
"It's like a fusion of Varun and me," says Tzeitel when describing the food served at Akashic. The combination of their food styles is clearly compatible, with delicious menu items such as The Sumerian, a chickpea curry with fresh fish, roma tomatoes, Walla Walla sweet onions, tamarind broth, green chutney, yogurt and wonton crisps. The styles of food help tell the story of the owners. Their inspiration for the curries comes from India, burgers and salads from the Pacific Northwest and lumpias from Kauai.
Akashic's "gunpowder" fries are a perfect example of how the menu blends American and Indian flavors. In the south of India, the term "gunpowder" (called "malgapodi" in Hindi) is used to describe a certain blend of spices traditional to the region. In the Akashic kitchen, Tzeitel and Varun slow roast the gunpowder spices, then grind them into butter with rice wine vinegar and tamarind. Finally, they toss classic french fries into the spice mix, resulting in their famous gunpowder fries.
Tzeitel and Varun name their menu items with imaginative, eccentric names, often pulling from their personal lives, such as the Sirius salad, named after their son. They also base menu names on personal interests, such as outer space. Akashic's menu features the Planet X salad, which is an arugula, beet, and quinoa salad named after a rumored additional planet in our solar system.
Tzeitel and Varun have kept a consistent menu due to its popularity and health department regulations that require food trailers to have menu items pre-approved before being served. However, a planned menu change is on the way for Akashic. Tzeitel tells me that she and Varun have been discussing the potential of some Japanese fusion-inspired menu items, but no definite decisions have been made. Regardless, they plan to keep their distinct creative twist. "We'll still be us," Tzeitel assures me.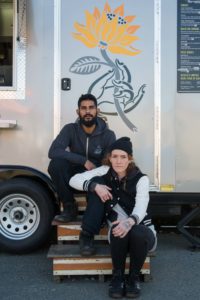 While both owners have extensive experience working with food (Tzeitel even worked at Vic's Pizzeria way back when), owning a business is a first for both. They were inspired to start a food truck business because it seemed like a more accessible option for first-time business owners.
The food trailer business is increasingly popular. This can be seen by Akashic's many neighbors. Food trailers such as Nineveh Assyrian, Arepa Latin Street Food and California Tacos all share the corner of 4th and Plum, which has become the premier hub for food trucks and offers a central dining area complete with picnic benches and landscaped greenery for patrons to fully enjoy their meals. Tzeitel says that the employees of the area's food trucks have gotten to know each other. "It's kind of like we all work together," she tells me. In fact, Eric Davis, an employee at neighboring food trailer, Nineveh, owns Celestrina Farms, which supplies Akashic with its arugula.
Akashic strives to be as sustainable as possible, sourcing as many ingredients as they can locally and organically. Much of their produce comes from the Olympia Food Co-op, their grass-fed beef is from Barten Farms in Eugene and Olympia Seafood Company supplies their fish.
Even the art on Akashic's trailer is local. A mural on the back was painted by Olympia's Kaplan Bunce,  who is currently living on Kauai. Ira Coyne, another local artist, painted the logo on the front.
For a unique culinary experience, stop by Akashic, located at 728 4th Ave E. They are open from 11:00 a.m. – 8:00 p.m. Tuesday through Thursday, 11:00 a.m. – 9:00 p.m. on Friday and Saturday, and are closed on Sunday and Monday. Reach Akashic at 360-951-1544, and be sure to check them out on Instagram.