Superintendents from the four largest school districts in Thurston County gathered recently for a roundtable discussion. Thurston Community Media (TC Media), hosts these roundtables periodically to keep the community aware of the present and future state of local schools. TC Media CEO Deborah Vinsel recently hosted Debra Clemens (North Thurston Public Schools), Brian Wharton (Yelm School District), John Bash (Tumwater School District) and the newly appointed Patrick Murphy (Olympia School District). During the roundtable, the superintendents spoke on a variety of topics. Here are some highlights for each district.
Debra Clemens – North Thurston Public Schools
The district's new strategic plan is being implemented this year.
North Thurston is in its second year of full-time kindergarten at all elementary schools and it's working well. "We have the children come with their parents during the first couple days to meet their teacher. It's a family connection experience and makes for such a nice smooth transition," says Clemens.
They are partnering with the City of Lacey and the Lacey South Sound Chamber on a compassionate community project to raise funds for a new Lacey Food Bank. Each school will be holding a coin drive to encourage students to get involved and support their community.
North Thurston High School is still under construction. It's in phase two and will continue throughout the year.
"Because we funded projects using local bond dollars, we are okay right now, but as quickly as February, the lack of capital funding will be an issue as we have new projects that were dependent on the state match in order to continue," shares Clemens.
John Bash – Tumwater School District
Construction is complete and sixth graders have migrated to the middle schools, which now have 700 and 800 students. "The students are loving it," Bash says. "We added counselors at each middle school and additional campus security staff to help with supervision and support. And it came off without a hitch."
Tumwater had 88 more students enroll than expected resulting in the hire of three more teachers. Most of the growth shows up at the elementary level, which is sustained growth, meaning new buildings are filling up quickly. "So that is a challenge we will tackle this year as part of our growth," Bash adds.
The district partnered with the Housing Authority as part of their community school efforts this past summer. Through the partnership they were able to put five formerly homeless families into housing right across the street from Peter G. Schmidt Elementary.
East Olympia Elementary is starting work on modernizing the building, with updates for students' health and safety, including closing outdoor hallways. Tumwater Hill Elementary is in the design phase of a very similar project.
The district is focused on implementing a new elementary mathematics program with an assessment system that aligns with state standards.They also have new materials in English and social studies at the secondary level.
Brian Wharton – Yelm Community Schools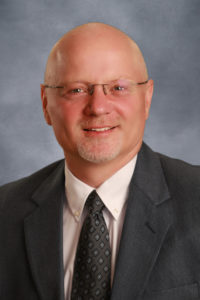 Enrollment numbers continued to climb this year as they moved the sixth graders to the middle school. They also moved ninth graders to Yelm High School, which now has 1,630 students.
The extra students at the high school level meant adding seven more buses. "It's caused some traffic issues for us that we will work to solve," says Wharton.
"Everything we are doing is focused on one of our five board goals, which is a K-12 approach to a college and career ready diploma," Wharton shares. They are launching a "College in the High School Program" with Central Washington University including a dozen courses for college credit. Also a "computer science for all" initiative, where they will be teaching coding skills from kindergarten up.
Yelm Community Schools also made some significant changes to better serve special education students.
Finally, they are preparing for a bond measure to rebuild three schools that will go before the voters in February.
Patrick Murphy – Olympia School District
At their kick-off event, Murphy said they talked about the district's successes, but also which demographics of students are not achieving as they'd like. "And that's the work we want to do," Murphy says.
Five of the 11 elementary schools are having mini buildings added to them this year, the first two should be done this fall.
"I have been given the charge by our school board to really reach out to our community as an entry plan and find out from them what their core values and beliefs are and what are those outcomes we really want for our students," Murphy says. Their five year strategic plan expires this year, so they will be using this information to develop a new one.
The new strategic plan will include early learning; students' emotional, mental and social health; and closing achievement and opportunity gaps.
Their biggest hurdle is that the school district is looking at a $9 million shortfall in the future if the capital budget doesn't get approved.
To find out more about your district, watch the TC Media video above. You can also TC Media on YouTube and their website for more community news.