In this age of automation, digitization, and almost-instant delivery, there are still a few things you can't do online. Bouncing on mattresses (to test firmness), petting fluffy pillows (fabric quality control) or discovering which button automatically reclines the entire leather sectional (red = eject) are still best done in-person, in-store at the Olympia Furniture Company.
Open seven days a week at their Harrison Avenue location, staff are ready, willing and able to help you find just the right piece to fit your needs. But don't take my word for it, check out their extensive array of popular—and delightfully silly—video blogs made by the Media Marketing Solutions (MMS Media) team.
Filmed from the Washington State Fair in Puyallup, a Las Vegas convention hotel, downtown Olympia's military-appreciation Foofaraw, and the store's many showrooms, grounds and drone-recorded airspace, this partnership has grown in just a few short months.
This past summer, owners Eddie Nelson and Allen Starkey decided to improve and upgrade their Facebook presence. Despite an already active online marketing campaign of sales, information, charitable events and fan-promotions, it was time to invest in social media. "I said no a lot," recalls Nelson, but after a few test recordings by MMS Media, "Next thing we know, we've got some really cool videos."
"With Facebook, we can really see actual interaction," says Nelson. "It's a whole different type of customer – it's like they know us already. Lots of customers come in and ask for people specifically saying, 'We saw you on Facebook.' It tears down the barriers for new customers since they have a feel for the store and staff."
The partnership was such a success that MMS Media moved in. Self-proclaimed 'film school kids', they've begun renting office space on-site. "We're really grateful to be here and allowed to incubate in the upstairs office," says Carlos Camargo, Chief Creative Officer.
For both businesses, the results of have been tremendous. More than simply showcasing product, for both of companies "what lies at the core is the ability to tell a story," says Camargo. "We approach everything from the standpoint of 'what is the story we're here to tell?' and the videos are ultimately entertaining and people don't mind sharing."
Eddie Nelson agrees. "They take the essence, not the uncomfortable parts we were worried about," like stammering or looking awkward on camera says Nelson.
"It's a match made in heaven, not just with Olympia Furniture Company but the other local businesses we work with," says Camargo, "We will do our best to represent them accurately so everyone always looks forward to next week's vlog." These include Eastside Big Tom, German Car Service of Olympia, Mediterranean Breeze, and VanDorm Realty.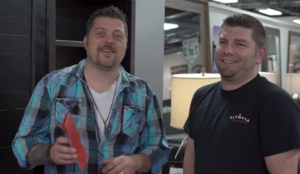 Beyond Carlos, the MMS Media team includes Matt Shields, accounts manager, Brandon Cartwright, operations manager, and Alek Beers, the senior motion graphics designer and editor. The team is deep with talent and motivation to grow.
Small business research shows that "an active social media presence has the potential to drastically improve your marketing abilities at a much lower cost than traditional media…Audience growth and clicks to website are most popular metrics for small businesses [and] social media provides valuable feedback about your customers, which can be used to improve the effectiveness of your marketing endeavors."
Eddie and Allen have clearly taken this research to heart, looking for a variety of ways to connect with their customers. And, with social media's unique way of reaching people and its ability to extend much farther than traditional means of advertising and sharing, Olympia Furniture Company knows it's getting good bang for their buck.  Their Vlogs are engaging, entertaining and tell you more about what shopping with the team at Olympia Furniture Company will really be like.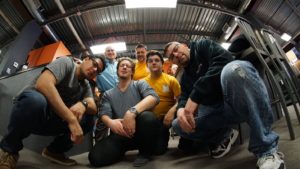 Once you've laughed yourself into exhaustion watching the antics of the Olympia Furniture Company crew on their vlogs, come on in and visit them in person. Eddie and Allen will set you up with all the durable, comfortable and elegant furniture, chairs and rugs you'll need. Eject buttons optional.
Olympia Furniture Company and MMS Media are located at 2302 Harrison Avenue NW on Olympia's west side. Learn more about MMS Media by calling 360-339-3948 or email mmsmediacompany@gmail.com.
Sponsored