Joy Nguyen dreamt of having a farm. It took a long time to find the right spot, but last spring, a friend put some property off Delphi Road up for sale and Joy and her husband Huy decided to buy it.

Before the idea of buying the property ever came up, however, Joy had signed up for a Sustainable Small Farming course through the Thurston County WSU Extension Service. There she met Joel Baranick and Ann Petricola, who were just getting Ellis Creek Farm going, among others with the same dream. The class took a field trip to Piece By Piece Farm in northeast Olympia. That trip led to Joy working at Piece By Piece over the summer and she found the experience valuable. "There are things you can only learn by doing," she says of her time on the farm.
Over the course of a few months, Joy had closed on the purchase of her land, gained growing skills and planted some late season crops. The next step was to get her produce to those who would buy it. "It seemed natural to have a farm stand," says Joy. Looking at her new property, she thought it would be a challenge to place signs and provide parking and she worried there would not be enough visibility. Right next door to her farm, however, is the Old Delphi School with plenty of open space for parking and signs and the landmark is easily seen from Delphi Road.
Joy contacted her neighbors, Shane and Macy Jewell, who manage the schoolhouse. "They've been really helpful," she shares. Joy got the rental information from the Jewells and bounced ideas off friends and other farmers. Eventually, the idea evolved to start a farmers' market. She worked out a deal to rent the space on Friday evenings. Some of her fellow, new farmers welcomed an opportunity to sell their vegetables and seedlings. Each vendor pays $10 to cover the cost of renting the property for the evening.
Next, Joy turned to her friend Martin Lee, a graphic designer and owner of Hand Eye Studio in Tumwater. "I really wanted to market to the people around here," she explains of her desire to reach out to the neighborhood. Martin came up with a sign for the new farmers' market that features a silhouette of the iconic schoolhouse anyone from the area could recognize. He also designed the logo for Joy's Prairie Oak Farm.
Joy's vision for the market is to provide a fun and easy way for people who live in the area to buy food. "I want to focus on food," says Joy, a difference from some of the other area markets. She has reached out to potential vendors and gotten interest from people who sell crafts and other items, but for now, food is priority. Along with her own stand where she sells vegetables and seeds, there are several other new-to-farming stands. "We're all learning how to sell," explains Joy. Lisa Boggess of Wishing Willow Farm and Garden echoes that sentiment. For her, having a stand at the new Delphi  Farmers' Market is not about making money, "It's just about learning," she says.
"This is a good place for people just starting out," adds Joy.
They held their first market on September 15 and the number of vendors varies each week. "It's the old chicken and egg conundrum," laughs Joy. Vendors are interested if there are lots of shoppers, and shoppers are more likely to stop if there are lots of vendors. She is working to get the word out to people who live in the Delphi Valley by putting up signs and adding vendors. Joy would like to include a hot food vendor for people wanting to grab dinner on the way home as well. "A food truck would be ideal," she suggests. A mobile coffee stand is also on the wish list.
In addition to the farm booths, recent vendors include Wild Yeast Breads selling artisanal breads, Sofie's Scoops has been there with a gelato cart and Olympia Beekeepers Association offered honey and knowledge about pollinators. A soup vendor, a soap vendor and an herbalist have participated, too.
Farming and selling what they have produced at the new Delphi Farmers' Market is about bringing great food into a great community for the farmers involved. "My intention was to have a farm, and I'm doing that," says Joy. Starting a farmers' market was an additional venture that has enabled her to meet many of her neighbors and others in the wider community. "If nothing else, I've gotten to meet some really great people."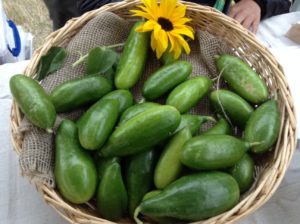 Delphi Farmer's Market is hoping to hold markets into November this year as long as there is interest. After that, look for the market to start up again in late spring when seedlings and tender spring vegetables are starting to shine. After conferring with Joel of Ellis Creek Farm, Joy says, "We'll aim for June."
The market will be open most Friday nights from 4:00 p.m. – 7:00 p.m. at the Old Delphi Schoolhouse, 7601 Delphi Rd SW. For market updates follow the Delphi Farmer's Market on Facebook.
If you are interested in becoming a vendor, contact Joy at 214-215-0758 or prairieoakfarm@gmail.com.